Lorde's "Liability (Reprise)" Lyrics Are Deep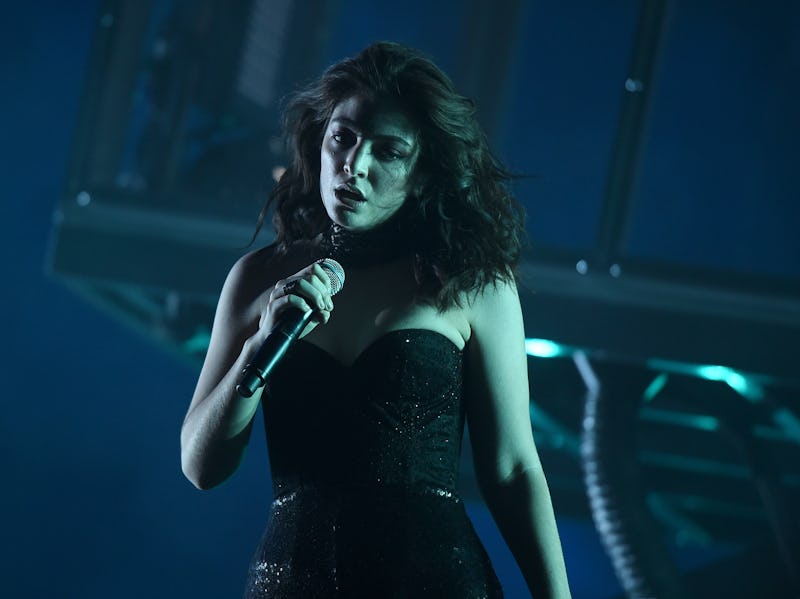 Kevin Winter/Getty Images Entertainment/Getty Images
Our New Zealand queen has gifted us with a new album full of riches, and it's time to talk about Lorde's "Liability (Reprise)" lyrics. As you might have guessed from the title, the song has echoes of "Liability," the sad and soulful fifth track. But where "Liability" is almost self-pitying, its reprise is more self-reflective. It comes just five songs later, but that can be an eternity in the life — or even the night — of a young woman. Maybe you haven't heard, but Melodrama is a concept album, and its 10th track slots right into the house party theme, reminding me of the beginnings of a hangover.
The reprise is just over two minutes long and begins with melodies and lyrics familiar from the original version. But they're repeated and mulled over just as you might turn over events from the night before in your brain.
I'm a liability
I'm a liability
Much for me
You're a little much for me, no no no no...
Whatcha gonna do?
It reminds me of replaying conversations in your brain, maybe regretting things you said, maybe punishing yourself for things you did. But then it emerges from that repetitive pattern into new lyrics:
All of the dreams that get harder
All of the things that I offer you
And all of the sh*t that we harbour
Make all of the kids in the choirs sing woo-hoo
Can't you just see this as a scene in a movie where someone is walking silently through a party in slow motion? Or Lorde curled up in bed thinking back on early moments from the evening, when she still thought it was going to be a good time? And in this case, the party in question seems to be a metaphor for a relationship.
The 20 year old has been clear that Melodrama is not a breakup album, but it is about being alone. And when you're alone, you spend a lot of time thinking about the times when you weren't. Just like how when you're at a party by yourself, you spend a lot of time looking at the people who came with somebody. Watching them dance and have fun, and wondering why it doesn't feel that way to you. Why it isn't easy.
Maybe all this is the party
Maybe the tears and the highs we breathe
Maybe all this is the party
Maybe we just do it violently
But you're not what you thought you were
And those same metaphors can be applied to relationships. The singer wondering whether "all this is the party" sounds like wondering if this is how all relationships are supposed to be. It's a feeling I'm sure we can all relate to, of not having enough context on your relationship versus the rest of the world. And all the processing that that entails. I can hear her wondering in this song if everyone feels like this or if there's something better. Is life, and relationships, and this party just harder for her than it is for other people? Or is everyone feeling it, and dancing just to hide their quiet desperation?
At least, that's what this song means to me. I feel it in the pit of my stomach, almost exactly where the sourness of a hangover takes hold the next day. I feel like Lorde has completely nailed the lyrics for the "Liability" reprise, as well as the concept album in general. As uncomfortable as it is to listen to, I will never regret showing up to this particular house party.