Lorde's 'Melodrama' Is Actually A Concept Album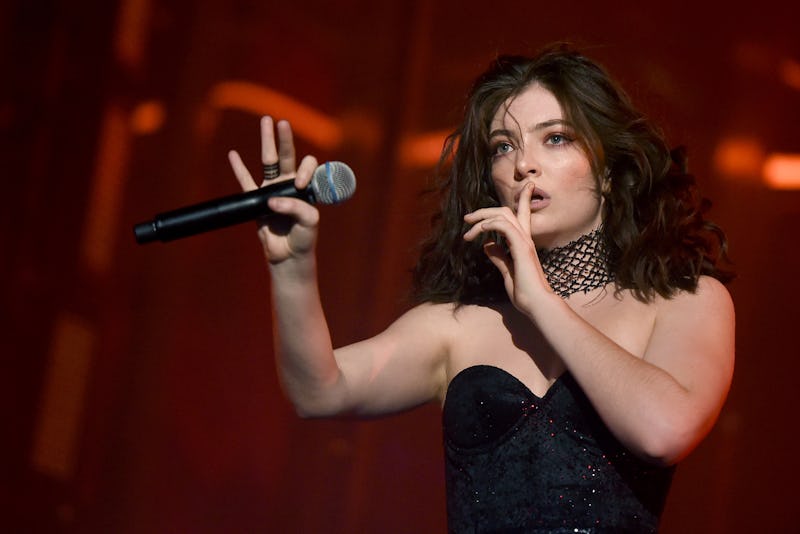 Kevin Winter/Getty Images Entertainment/Getty Images
I'm sure we're all excited just to get the music in our hands, so I wonder if you're aware that Lorde's Melodrama is a concept album. The 20-year old released her follow-up to Pure Heroine on Friday after a four-year hiatus, so you'd be forgiven for jumping right into listening to it. But if you want to have the full, Lorde-endorsed experience, it might help you to know that the New Zealander crafted her album to represent the events of a single house party. (And yes, before you ask, this is definitive proof that she's cooler and more creative than every single one of us. Long may she reign.)
Earlier in the year, the singer-songwriter spoke to The New York Times about her sophomore album. She explained how she'd use the concept to give herself a whole spectrum of emotions to draw on:
With a party, there's that moment where a great song comes on and you're ecstatic, and then there's that moment later on where you're alone in the bathroom, looking in the mirror, you don't think you look good, and you start feeling horrible.
It's a recognizable feeling for many of us, but don't expect to see these scenarios laid out in Melodrama in black-and-white. Instead, it's more about the mood of a song, and making sure Lorde was — in her words from that same NYT interview — "touching all the bases I wanted to touch." Each track can and does stand alone, of course, which you've already noticed if you've listened to "Liability" on repeat while crying into a mirror. (No? Just me?)
But listening to the album all the way through with this house party concept in mind adds another layer to the experience. It lets you get a little further into Lorde's head and lets her get a little further into yours.
You enter the party with "Green Light," that perfect song that gets your heart pumping and makes you optimistic about your night. Maybe you lock eyes with someone from your past on "Sober," and you two are flirting hard by "Homemade Dynamite." But there's still plenty of party left, and by "Liability" things have gone desperately, terribly wrong. This is the alone-in-the-bathroom-with-makeup-streaking-down-your-face track, when you're wondering why you even came out tonight. And things seem dire, but, hey, it's still early.
By "Supercut," Lorde is feeling nostalgic, looking back on an experience she's still deeply affected by. And by the time we get to Track 10 and the "Liability (Reprise)," we're experiencing the beginnings of a hangover. But don't worry, she isn't leaving us there. "Perfect Places" is the reminder that this is "just another graceless night." And maybe you'll have thousands more of them, but tomorrow is always a new day and a new opportunity. It's a walk home at dawn with your high heels in your hands, watching the sun come up and letting go of all your regrets from the night before.
Some artists would go through a split with a longtime partner and just write a breakup album about it. But our girl isn't most artists, and she wants to be clear that Melodrama is not a breakup album. Instead, she says "it's a record about being alone. The good parts and the bad parts." A house party is the perfect atmosphere to draw out those emotions, because you can feel the highest highs and the lowest lows in a single night. And now, thanks to Lorde, we can also feel them in a single album.