Lorne Michaels' Emmys Speech About 'SNL's Win Is Going To Bum You Out Big Time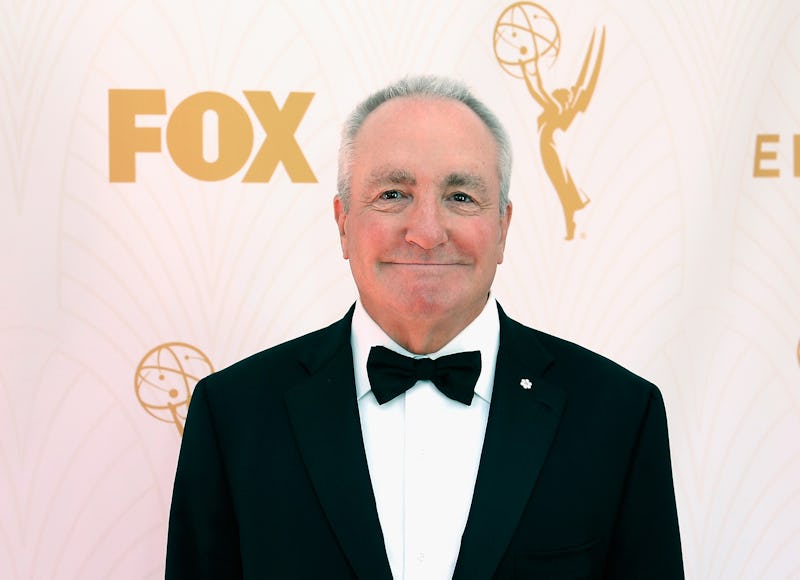 Kevork Djansezian/Getty Images Entertainment/Getty Images
In news that will probably surprise no one, Saturday Night Live won Outstanding Variety Sketch Series at the 2017 Emmy Awards. But something that may take you aback is Lorne Michaels' Emmys speech about SNL. The creator of the series, which has received more nominations than any other program, used his moment at the mic to spur a somber speech that may bum you out a bit.
Surrounded by the show's talented team, Michaels told the crowd,
"I remember the first time we won this award, it was after our first season in 1976. And I remember thinking as I was standing there, alone, that this was it. This was the high point. There would never be another season as crazy, as unpredictable, as frightening, as exhausting, or as exhilarating."
He quickly followed that up with, "Turns out, I was wrong." And thank goodness for that — the most recent SNL season was top-notch, though it was in response to a volatile political climate, so that's not necessarily the best circumstances. But the cast, ranging from Kate McKinnon to Alec Baldwin, brought their A-game week after week. (In fact, both actors rightfully took home Emmys for their portrayals of Hillary Clinton and Donald Trump, respectively, not too long after this dark, yet brief speech from their boss.)
As for why the speech is such a bummer, first of all, it shows just how low of hopes Michaels had in the earlier years, you know before Donald Trump became President and gave the series so, so, so much material. (Almost too much material, some might say.) On top of that, he didn't exactly crack any jokes, which is a surprise given he was literally accepting the award for a comedy series (while that is kind of Michaels' style, it was still pretty darn jarring). Oh, and he didn't thank a single person on the team. That's the real zinger, considering just how many people bust their butts to create that weekly live show.
And fans on Twitter felt a tad bit uncomfortable with all of the above too. Read on for the best reactions to an otherwise bummer moment. They're sure to restore your joy — even if temporarily.
Prepare To Feel Old
Is this not the undertone of his brief speech?
Inexplicable Stress
Why? It's hard to put a finger on it.
Where Are All The Thank Yous?
This tweet is a little harsh, but also, why the lack of shout outs? Not a single cast member was given recognition.
Seriously, They're Amazing
Just to reiterate the previous point. *cough, cough, Kate McKinnon*
It's A Little Tough To Imagine
Again, just reread his speech and you'll also have a tough time picturing it.
Ugh, Again??
Surely, he must appreciate the accolades. But his speech didn't necessarily show that.
Try Not To LOL
If you want to really laugh, this tweet has your back.
This Person Makes A Valid Point
OK, OK, this isn't an actual quote from the speech, but...
A Point Worth Repeating
Where is the love?
Perhaps This Explains It
Ha. Ha. Ha.
However you choose to explain it, Michaels' speech left something to be desired. Sure, it highlights just how far Saturday Night Live has come in the past 40 years, but it also reminds you what a disruptive political climate we've got going on right now. Plus, for a show focused around laughs, he didn't spur a single one.
Regardless, you'll probably see Michaels and the SNL team up on that stage next year. Because considering the current state of the world, they've got more than enough material to inspire arguably their best season yet. Just wait and see.