Louis C.K. Courts Controversy With His New Netflix Special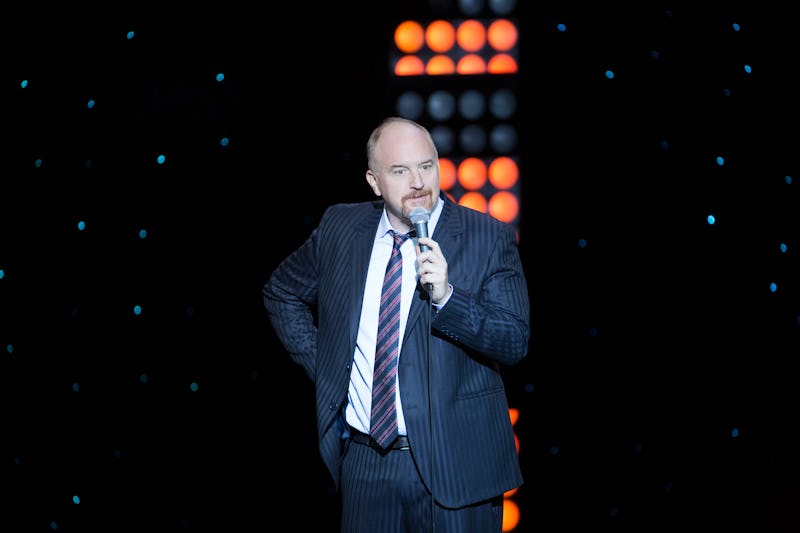 Cara Howe/Netflix
It may be an abrupt introduction, but, "So, you know, I think abortion... " is exactly where Louis C.K.'s 2017 Netflix comedy special begins. As soon as the comedian kicks off the set, fans already know they are in for edgier content than usual. Even though Louis C.K. hasn't shied away from controversial topics in the past, he may cross the line for some viewers here — perhaps just minutes in, when he describes pro-choice and pro-life activists in a pretty blunt way. By sticking to his signature, observational style, the comedian is able to talk about issues like reproductive rights without veering into mansplain territory. And if you sought out the famously subversive comic's performance in the first place, you'll likely stick around for the whole show.
While his comedy stems from poking holes in human nature, Louis C.K.'s content is more provocative here than in previous specials. True to his matter-of-fact view of humanity, he explains his belief that people get so passionate about abortion because their views are absolute: they either truly believe babies are being murdered or they truly believe that terminating a pregnancy is a fundamental right. Using that topic as a jumping off point, he addresses the insignificance of life, hitting on both suicide and the human desire to survive no matter how bad the situation. From there, Louis C.K. addresses more hot-button issues, such as religion, education, marriage, parenting, and sexual orientation.
Louis C.K. has made his mark as a comedian because of his wise delivery and thought-provoking content. He examines widely agreed upon ideologies and accepted aspects of everyday life and asks important questions about them — but always with humor. His logical views and awe of the mundane resonate with audiences. The comedian often expresses these thoughts with stories from his own life, a style that led to his semi-autobiographical FX series Louie. This new Netflix special may start with a shock, but all the sensitive material is delivered in his signature way and sheds light on the human condition.
The best bits from Louis C.K. 2017 don't come from shock and awe, but from the comedian's storytelling and relatability. For example, he delivers jokes about seeing things in new ways because he is a parent, such as the Greek myth of Achilles. Achilles' goddess mother goes through the trouble of dipping him in a magic river, and he can't protect his own ankle? Louis C.K. laments that a parent's job is never done and points out that some blame needs to be put on the grown-ass man with the weak ankle who opted for sandals over boots.
The special only gets funnier as it goes on. 2017 starts out as a nail-biter, which may cause some female viewers to hold their breath and think, "Really, this dude is talking about reproductive rights?" But instead of mansplaining the topic, he simply presents his observations of the ongoing debate. Still, some fans may feel ill at ease with some of the subject matter. But Louis C.K. is just doing what he always does: putting society under the microscope. Despite such a stark introduction, the special manages to deliver the comedian's signature style, laughs, and heart.