'Love Island's Lie Detector Challenge Sent Twitter Into Total Meltdown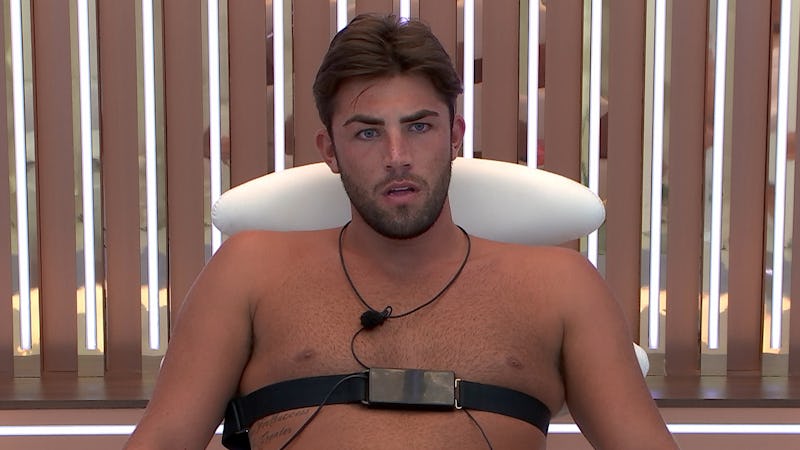 ITV/Love Island
It is written in Love Island legend that all that is dramatic must also be documented by high-quality meme content. Things were starting to feel a little dry over in that Majorcan villa and I don't mean weather-wise. Viewers were crying out for challenges to stir things up and instead the producers were giving us spacehopper horse races. But that was until Monday night when the lie detector test returned with a vengeance and so did a ton of excellent Love Island memes. Bonds were tested, trust was broken, and lies were told. Gifs were also used.
Ahead of the show, viewers had been expressing their frustration that some of the programme's best loved challenges hadn't happened yet, Cosmopolitan reports. The lie detector is known for being one of the most controversial challenges in the series, partly because it can be relied upon to kick up a fuss among the contestants, but also because nobody's that sure how trustworthy lie detector tests actually are.
Nevertheless, you could be certain the nation would be tuning in either way. Ahead of the episode, anticipation was building, and only one gif could really sum up everyone's excitement. Yes you, guessed it, Wes' iconic Beach Hut moment made its 1157th return to Twitter, and really it couldn't have been more apt.
But it wasn't all excitement, with the fate of the couples resting on the results, plenty of people were worried what it could mean for one of the most popular and strongest couples in the house, Jack and Dani.
Some were unconvinced of how reliable the test would be if it wasn't overseen by the UK's foremost lie detector tester... Now, there's a villa cameo I'd love to see.
First up was Josh who passed Kaz's questions with flying colours. He was closely followed by Wes who fared pretty well with Megan's quiz. But not all of the viewers were as convinced by his responses as the lie detector appeared to be.
Alex's responses left Alexandra feeling like he might not be as keen on her as she'd hoped, and left everyone else completely baffled. But not just by his answers, also about the number of swimming trunks he's brought with him to the villa...
Just to make things extra awkward, new Jack's questions about new Laura, were delivered by old Laura. Don't worry, I'm also struggling to keep up with the names. There were yet more knocks in store for old Laura's confidence, but there was also finally some closure on this year's biggest scandal, Jack and Georgia's kiss. Jack was vindicated, and the rest of the islanders got to see that he'd been telling the truth all along. But that bit of good news was quickly eclipsed by Jack and old Laura's bickering. Seriously, the shade was so strong.
Then came the moment everyone had been worrying about — Jack and Dani's test. At first there were high hopes, he hadn't been tempted by anyone else in the villa, and could see himself starting a family with her. Happy days! But then he failed some crucial questions, including whether he could see himself being tempted in the outside world. Dani was visibly unimpressed and later in the show the pair had a blazing row in front of the fire, pun very much intended, which led to Dani storming off and everyone at home feeling dejected.
But despite the worry over the future of this year's golden couple, there was still time to wonder what Danny Dyer's reaction would be.
Well I don't know about you, but I'm certainly going to be lying awake wondering whether Alex has brought more than two pairs of shorts into the villa, sorry I meant if Dani and Jack are going to be ok. Seriously though producers, please don't take the only pure thing left away from us. Promise they'll come back from this? I guess there's only one way to find out. See you on Tuesday night at 9 p.m. for the next instalment!