Dani Dyer's Tattoos Actually Have a Super Adorable Meaning Behind Them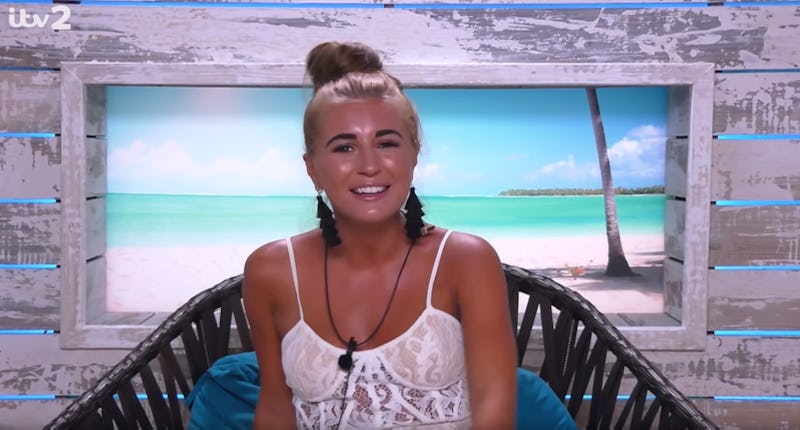 ITV2
There's no denying that Dani Dyer and Jack Fincham are the power couple of Love Island 2018. After Jack tentatively asked Dani to be his girlfriend on Sunday night, the villa rightfully erupted in cheers and screams along with audiences at home. The 21-year-old is certainly a chip of the old block, charming the villa — and the public — with her lovable, no-nonsense attitude coupled with some infectious Essex magic. She also has something else in common with her famous Dad — body art. If you hadn't noticed already, Love Island's Dani Dyer's tattoos have been on show for three weeks now, and they've got some adorable meanings.
From what I've seen on the show, Dani has at least three tattoos. One on her right wrist, one on her left, and another on the right side of her rib cage which perfectly complements Jack's tat. They are totally meant to be, aren't they? Love Island is turning out to be kismet for these two.
Enough of the feels, I know what you want to know. What do they mean? Her art is small, but the two on her wrists are pretty much always on show and in shot — a delicate infinity symbol on her left, and her star sign, Leo on her right. Starting with the infinity symbol, it is a common tattoo due to its simple yet deeply meaningful design.
Used in mathematics as a symbol representing infinity, the symbol can be seen as a "symbol of never-ending or limitless possibility" and "some cultures also believe it to represent rebirth of reincarnation," according to website Tattooseo. It is often used to represent an ever-lasting, infinite love for a soul mate, friend, or family.
It's obvious Dani is extremely close to her family, especially her dad. After Jack asked her to be his girlfriend, Dani reacted adorably in the Beach Hut: "I hope my dad's happy. Me and my dad, we're still going to go for sushi and that because Jack doesn't like that. My dad's got first place in my heart, and Jack can have the second."
And then Danny just had to go and tweet this, didn't he?
It's obvious how close Dani is with her parents and sisters, which gives a glimpse into the true meaning of that infinity tattoo — her everlasting love for her family. The same goes for the small outline of a heart on her ribcage.
It's a lot, lot smaller than Jack's, but the delicate design could bear the same personal meaning as the infinity symbol. And the heart is probably one of the most well-known signs of love, which Dani is obviously full of. Her tattoos emphasize what makes Dani so likeable — her caring personality and the obvious importance she holds for those close to her.
Her star sign tattoo reveals that Dan is a Leo, and all this love and confidence Dani has shown in the villa so far coincides with the personality of a Leo, according to website Astrology-Zodiac-Signs. Described as "dramatic, creative, self-confident, dominant and extremely difficult to resist," it's clear that Dani fits the expectations of a Leo.
And luckily for Jack, Leo's are apparently known as "passionate and sincere" lovers, and "when in love, they are fun, loyal, respectful and very generous towards their loved one." Jack will certainly be in Dani's good books by now, after being considerate of her feelings before asking her the big question. He also made her breakfast, and their shared love for Willy Wonka & The Chocolate Factory — and distaste for Tim Burton's remake — has given them further material to bond on. Plus their completion of the tent building task had Twitter comparing them to an old married couple.
Ugh, they are like actual perfection. Let's just hope those rumours, reported in the Radio Times, of an ex-girlfriend of Jack's coming into the villa aren't true, because I for one will not be pleased. And I doubt Dani will be, either.
Fingers crossed that's not why Caroline Flack got whisked away from Love Island: After Sun on Sunday. Either way, we'll be staying tuned.