'Love Island's Eyal & Taylor Swift Have A Surprise Connection & Welcome To 2018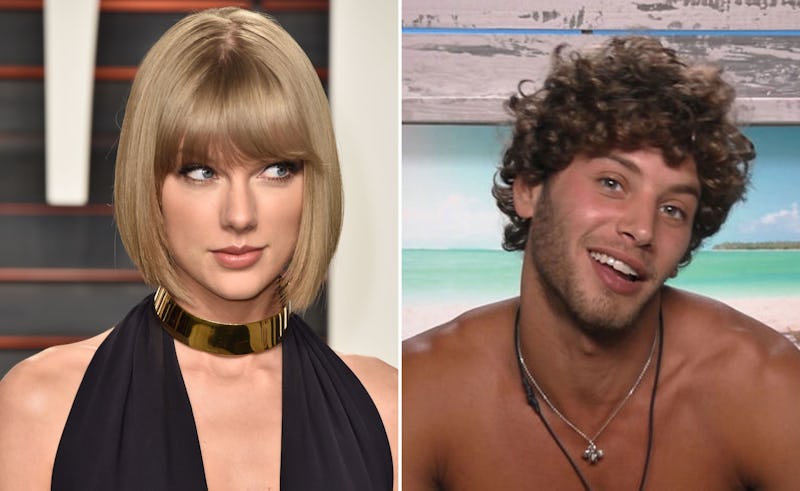 Pascal Le Segretain/Getty Images Entertainment/Getty Images /Love Island/ITV
Taylor Swift and Eyal Booker are not two names you might have thought to link together. One is a global pop superstar with more number ones than you could even begin to imagine, and the other is a foppish Lothario on the most addictive TV show around. But what do Taylor Swift and Love Island's Eyal have in common? The answer is simple but definitely not what you'll expect: it's the snake emoji.
"The what?" I hear you cry. Yes, the snake emoji. In this particular instance, it is people using the snake emoji to troll people on social media, to display that they are sneaky, conniving, or maybe even evil.
Using the old adage "dust before the broom," let's begin with Eyal's connection to the snake emoji. From the outset of the show, he has proved to have many of the traits stereotypically associated with a snake. Sliminess, sneakiness, etc. You know, being the kind of "nice guy" who refers to a woman as not having enough depth. Ugh, yawn. But the real cray moment of his true snakiness came on Wednesday night, and the Internet was horrified.
It all kicked off following the arrival of three new islanders. Well, mostly just Megan Barton-Hanson. Forget the other two. The villa's unlucky-in-love resident doctor Alex George finally had a bit of a connection when the pair met and afterwards they both said separately on camera that they have the hots for each other. How cute. Cue to Eyal spotting them chatting and going over to do the proverbial "can I butt in" bit, leaving Alex left out in the cold with his latest interest stolen from right under his nose.
Making matters worse, following his private one-to-one conversation with Megan, Eyal followed her across the garden as she walked back over towards Alex, and randomly kissed her. It was completely out of nowhere and awkwardly, just yards away from where Alex was standing. I mean... really? Was that necessary? As would be expected, Twitter was awash with people rightly saying what a d—bag move it was:
An unofficial fan page was also quick to get on the snake vibes too, associating him with other love rat (or should I say snake) Adam:
So, what has Swift done to warrant being referred to as a snake? To be trolled constantly by the general public as well as people in the public eye? According to Billboard, this all goes back to a Calvin Harris song. Chart topper This Is What You Came For featured Rihanna and garnered lots of critical acclaim and support from fans. After Swift and Harris split, Swift's people went public with the fact that she had written part of the tune, under a pseudonym while the former couple were a thing. Harris claimed she had initially planned to keep her involvement a secret and was pretty ticked off when she revealed her involvement. This is when the snakes began to appear all over on her social media feed. Harris fans lashed out at her, using the emoji to show they thought she was sneaky.
Swift was then further annihilated on social media again after she dissed that Kanye West song. You know Famous? The one with the music video that shows Swift in bed with West, along with a bunch of other people? Well, she wasn't too happy about it. At least, so she said. But West's wife Kim Kardashian claimed that the singer was well aware of the song, its lyrics, and so forth, way before its release. In fact, the reality TV queen even went as far as to allege that Swift had approved her hubby's material. The very public feud then of course reignited the whole darn snake thing again.
The Wests then released a video where they claim Swift approves the lyrics. What the video didn't show however (possibly because it never happened,) was the singer agreeing to being called the B-word in the song. Nor to a naked wax work of her being shown in the video. Not that that detail stopped Swift's Twitter feed from being swamped in snakes from angry West fans.
Opening up about her Twitter feed being spammed by the emoji, Twitter told fans during one of her concerts at the University of Phoenix Stadium it got her feeling pretty down, Time magazine reports she said: "I went through some really low times for a while because of it. I went through some times when I didn't know if I was going to get to do this anymore." But then, she had an epiphany. What do you do when you're down? You twirl away the haters.
Fast-forward to 2018 and Swift has reclaimed the emoji and is totally owning it. In fact, she's turned that snake debacle into the theme for her new album Reputation and tour, with the VIP area at her concerts being called The Snake Pit.
Oh and she's also got bloomin' huge fake snakes all over the shop:
Will Eyal following in Swift's footsteps and be reborn as snake positive? Doubtful. But the question remains: is this common link a fair or accurate link?
To be honest, the important issue here is that the semiotics of the snake emoji are maybe a little unfair on snakes. I mean what did they do to deserve being associated with all these traits? I hope the serpent population ignores the haters a la their queen, Ms Swift.