Georgia Got Kicked Out Of The 'Love Island' Group Chat But It's Not What You Think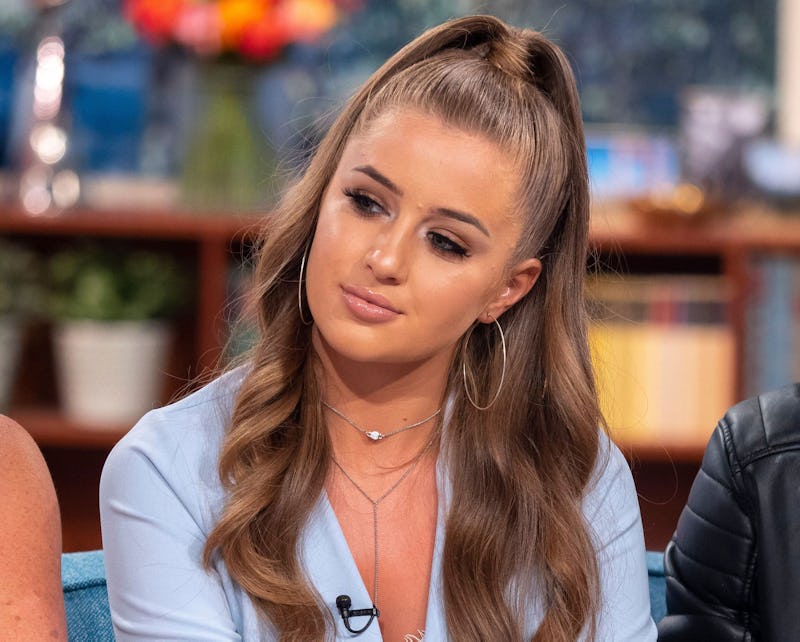 Ken McKay/ITV/Shutterstock
Since leaving the Love Island villa, there have been a few rumours circulating about Georgia Steel. One of them claims that Georgia quit the Love Island Whatsapp group. But why would she do that? Was there some kind of falling out? Well, she cleared things up on Love Island: The Reunion and to be honest, I don't know if this makes things more or less dramatic now.
Something seemed a little off when Samira Mighty and Rosie Williams both revealed to Digital Spy that Georgia had left the cast's WhatsApp group last week. At the time, Rosie said, "Yeah, she's left the group, I don't know why." It's a bit of a passive aggressive move to disappear without warning from a group situation, and while Georgia's had her disagreements with cast members like Megan Barton Hanson and Laura Anderson in the past, I personally think she would've said something before vanishing into thin air. So, what happened?
Well, it turns out that she didn't quit the group; she was deleted by her fellow Islander, Adam Collard. Explaining what happened to presenter Caroline Flack on Love Island: The Reunion, Georgia said: "So, there were two Georgias in the WhatsApp group weren't there? Then Adam removed us didn't he!"
She continued sarcastically, "Then obviously it was me that left the WhatsApp group because it would've been, wouldn't it? So I don't leave Whatsapp groups do I? I get removed!"
Yikes. That's awkward. But hold on a second, two Georgias? Who was the other? Adam admitted it was all a big misunderstand and he was to blame. He said: "I added a fake Georgia. Someone got into the group chat."
However, Georgia isn't the only one to have had an accidental Love Island WhatsApp mishap, as her man Sam Bird has had some troubles of his own. His is a much less interesting story though, and basically boils down to the fact that he supposedly pushed the wrong button.
While speaking to The Mirror, Islander Frankie Foster said: "I think it was an accident. Sam joined back in and said 'I left the wrong group'. Sam and Gee both left and I think Sam just left the wrong group. There's so much going on in that group you lose track."
Fortunately, it seems like all is well now as Frankie continued: "I think they're both back in now. We've obviously all got loads going on were doing similar stuff. People will chuck a message in, [saying] 'who's doing this tonight?'. The group chat is still busy."
Georgia and Sam paired up on the show and, barring an onscreen controversial lip lock between Georgia and fellow cast mate Jack Fowler, they seem to be doing pretty well. They chose to leave the show together and have since become an official couple after Sam asked her to be his girlfriend on Good Morning Britain, with Georgia later revealing to The Sun that they're now "living with [her] friend in South London."
Of course, it's not surprising that some people leapt to the conclusion that Georgia had left the WhatsApp group for more controversial reasons, as on the show it appeared that she didn't have the best relationship with some of the other girls in the group. When it came time to ask Megan questions on Love Island: The Reunion, Caroline brought up her relationship with loyal Georgia and the former glamour model was brutally honest.
Caroline began, "There's been some stuff in the press about you not liking Georgia. Can you clear that up for us?"
As the crowd tittered, Georgia shouted over to her from her seat, "Why is that, boo? Why is that, boo?"
"It's not that I didn't like her," Megan finally responded, "I just didn't get it."
She continued, "I'm very introverted and Georgia's very extroverted, and everything's like, 'Oh my God! Y'alright? How you doing?' And everything's massive. I've never been around that kind of person before."
As for how Georgia took that? All with a massive helping of the Islander's trademark sarcasm.
"That's okay, boo. No need to worry, darling," she said, helping herself to a very pointed swig from her champagne glass afterwards.
Caroline couldn't keep it together and giggled, "You two are so different."
Yikes. Talk about awkward. It's just as well it was Adam that accidentally removed Georgia, and not Megan.