Twitter Is Obsessed With Rosie From 'Love Island's Piercing For All The Wrong Reasons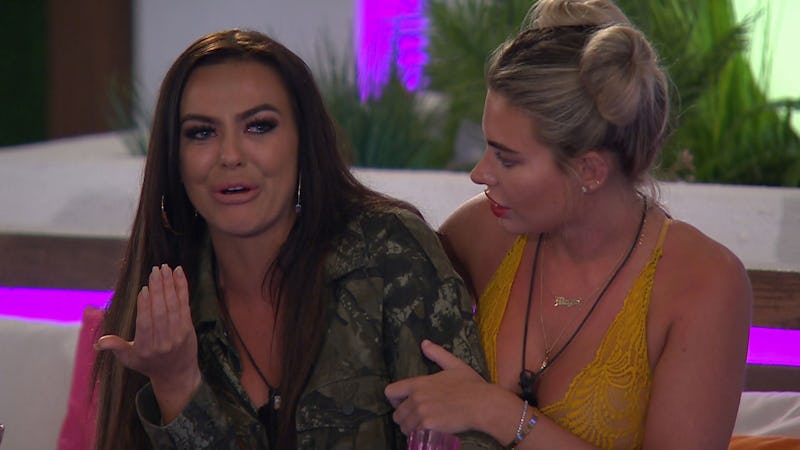 Love Island/ITV
This might sound silly to a lot of people (including myself), but Rosie Williams from Love Island's body piercing seems to be a heavy topic on social media right now. Viewers, or nasty trolls as I'd like to call them, have been ripping into the Welsh contestant for her back piercing. But seriously, why does everybody care so much?
The 26-year-old, who has an impressive career as a solicitor outside of the villa, showed off the three flat diamante piercings down her back on Sunday night's episode as she wore a backless white dress. Shortly after, she was quick to become a trending topic on Twitter, with many viewers labelling it "rank" and "tacky." Some even said they had mistaken it for a spot, while others questioned the point of it. But here's a wild thought, maybe she just likes back piercings and wanted to get one for herself? There's this magic thing in life called freedom, where some of us actually get to do whatever we please, and luckily, Rosie can do just that. She can get a piercing wherever she likes because quite frankly, it's her body and nobody else's.
For those who are genuinely confused or intrigued as to how a back piercing actually works, however, here's what you need to know. According to fashion magazine Grazia, dermal piercings are quite complicated as they are known as "single-pint surface piercings" which make them harder to change, clean, and take care of. They are "embedded in and sit inside the dermis layer with an anchor keeping it in place." I know, it all sounds very painful. And actually getting it done doesn't appear to be any easier.
As stated by the publication: "A qualified technician will sterilise the area and then use either a dermal punch to remove a small tube of flesh, or a needle to make an L-shaped pouch... Using dermal forceps, an anchor with either a footed or round base is inserted into the area." Safe to say it isn't one for the fainthearted then.
Rosie isn't the only celebrity (I guess I can call her that now?) to have a dermal piercing. Little Mix star Perrie Edwards has also had one, while Jodie Marsh has sported one on her neck, and Blac Chyna is known for her cheek piercings too, as reported by The Sun.
Rosie entered the villa as a late contestant alongside 20-year-old Georgia Steel, who together with Ellie Brown has also recently been facing some backlash for her comments about "mixed race" guys being their "type." She is currently coupled up with this year's villa bad boy, Adam Collard. Though things might change soon as the 22-year-old Geordie has already set his sights on new girl, Zara McDermott, and let's face it, he's not one to be afraid of jumping ships.
He dumped ex-islander Kendall Rae-Knight as soon as Rosie walked into the villa, and now it looks like he'll be doing the same to Rosie in order to couple up with 21-year-old Zara. On Monday night's episode he flat out said: "I would be open to getting to know Zara. Zara is very attractive. If I didn't give Zara a chance, I could miss out on potentially something that's even better, and I don't think that's really fair on me or Zara if I just completely shut the door in her face."
That's a lot of thoughts about Zara and none about Rosie, there Adam. It's happening already. And judging by the spoilers for Tuesday night's episode, things are only about to go from bad to worse for Rosie when she sees what happens on Zara's date with Adam. Let's just hope karma gets Adam sooner than later, aye.
Love Island is on ITV2, Sunday to Friday at 9 p.m.