'RHONY's Luann Gave A Positive Update About The Lawsuit Involving Her Kids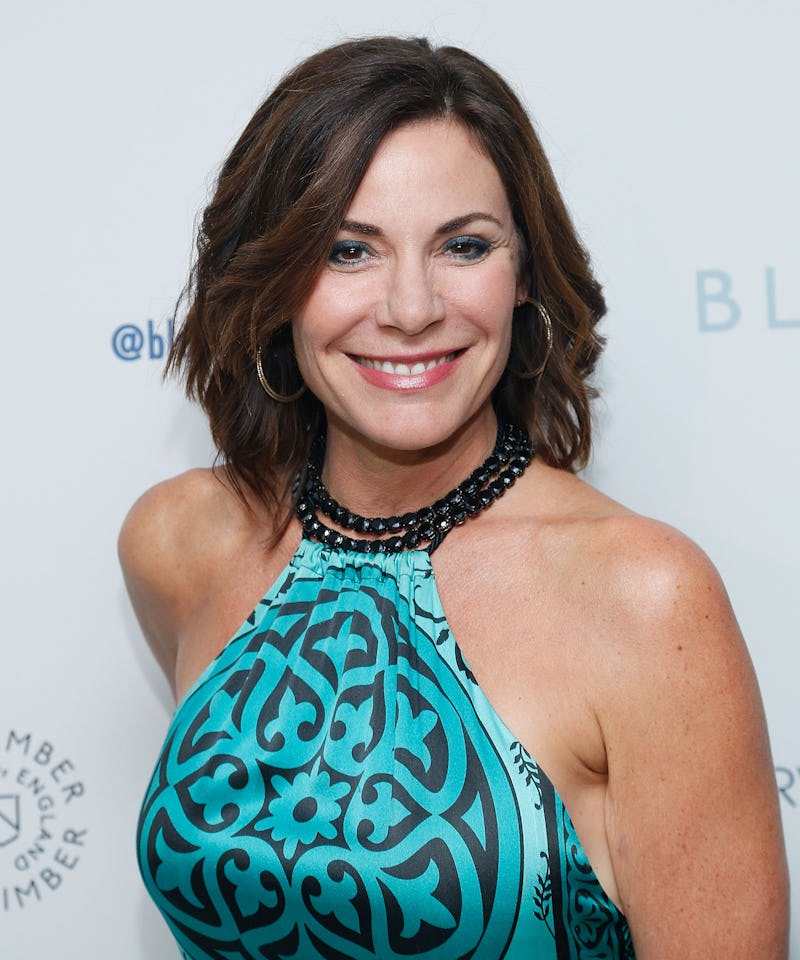 Lars Niki/Getty Images Entertainment/Getty Images
There's no denying that the Countess has had a hard time lately, but the Real Housewives of New York City star finally has some good news. Luann de Lesseps is on "great" terms with her kids, despite their lawsuit. The Housewife gave the positive update during Wednesday's Watch What Happens Live With Andy Cohen and it sure sounds like Luann and Victoria and Noel de Lesseps are getting along well.
The RHONY star told Andy Cohen,
"Everything is great with the kids. You know, it was a big hiccup about me wanting to get a house upstate and not being in the Hamptons. So, I decided to keep the Hamptons home and I'm getting a house upstate in any case. So, it all worked. It all worked out, and the kids are great."
She added, "You know, we had Labor Day together, it was fantastic."
On Wednesday, the Bravolebrity also told E! News that everything happening with Victoria and Noel was "resolved." According to the outlet, Luann reiterated she was keeping her Hamptons house and buying another home upstate.
On Sept. 6, Luann gave another update to People about the current relationship she holds with ex-husband, Count Alexandre de Lesseps. She said he hasn't dropped the lawsuit against her yet and added, "The story continues between us, but not the children. That's all that matters to me. We'll work things out."
On July 12, The Blast reported Luann was being sued by her ex-husband and their two children. Per court documents obtained by the outlet, Alexandre claimed their previously owned Bridgehampton, New York home was supposed to be put into a trust for Victoria and Noel after the couple's divorce, but he alleged Luann sold it for $8 million and then used the money to buy a home nearby for $3.1 million.
According to The Blast, the documents also stated Victoria and Noel would be given a shared ownership interest if Luann were to ever sell the Bridgehampton house and bought a new one, which reportedly never happened. Alexandre also alleged in the documents that his ex-wife was going to sell her new home and then purchase a home in upstate New York. (Bustle previously reached out to de Lesseps' agent for comment about the lawsuit, but didn't receive an immediate response.)
While chatting with Today's Megyn Kelly in August, the reality star discussed the home situation and said,
"I wanted to change my life. I wanted to move upstate New York and I found a beautiful home. I have this beautiful house in the Hamptons, as a lot of people know, and I wanted to sell that to get this property up there and the children weren't happy about that because it's their home and I understand that."
Luann explained further she was ready for a "fresh start" and "needed more privacy" these days. "But the kids were not happy with it and the ex-husband came to visit and he decided to block me and sue me," she said. "And I'm so nice, I let him stay at my house because we have a great relationship. And we still do. I mean, I understand why he did it because I was really going big up there, upstate, with a really big property. Since then, I've decided to take something smaller and keep my home for the children because I love them."
Soon after the lawsuit made headlines, Luann announced she was returning to rehab for a second time and that she also wouldn't film the RHONY Season 10 reunion. In her interview with Kelly, Luann said the lawsuit contributed to her relapse.
"I felt betrayed, I felt so hurt by that because I really wanted to move on and I really wanted to flip this house and get the other one. … I had my heart set on that house. … I was devastated, and so I lost it." She admitted that night she "fell off the wagon." During Wednesday's WWHL, Luann revealed she was 51 days sober.
Even though it appears Luann and Alexandre's situation remains rocky, at least the Housewife is moving in a positive direction with her children.