Luann Checked Back Into Rehab & Her 'RHONY' Costar Bethenny Spoke Out On Her Behalf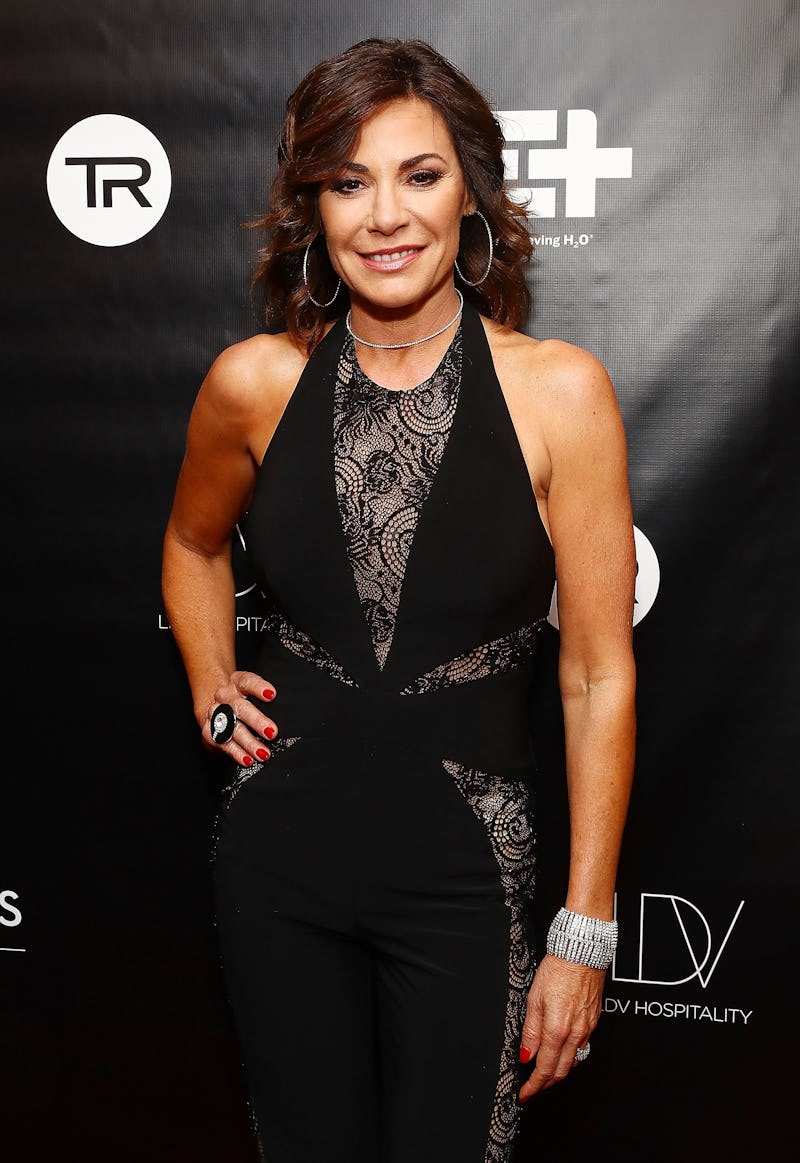 Astrid Stawiarz/Getty Images Entertainment/Getty Images
It hasn't been an easy year for the Countess. On Monday, Bethenny Frankel confirmed to People that Luann de Lesseps checked herself back into rehab and will also not attend the Real Housewives of New York City Season 10 reunion. According to People, de Lesseps only gave Frankel permission "to speak on her behalf." (Bustle has reached out to de Lesseps' agent for further comment, but did not receive a response at the time of publication.)
In a statement, Frankel told People,
"This weekend, Luann was surrounded by her girlfriends and decided — with their support — that in light of recent circumstances, it is the healthiest choice for her not to attend Tuesday's reunion taping so that she can continue in her healing process. Luann is now surrounded by a core group of people who truly have her best interests at heart and who are working to make sure she gets the help she needs."
Frankel continued, "Bravo has been very supportive of Luann during this time. It's a brave and honest decision by her, and everyone is rallying around her and wants the best for her." According to Frankel, de Lesseps decided to reenter a treatment facility for the sake of her future. "Luann loves doing the cabaret," Frankel said. "She's taking the necessary steps to get better so that the show can go on."
Bravo also released a statement to People, which read: "Bravo supports Luann's decision to focus on her health. She is part of the Bravo family and we continue to stand by her as she copes with this challenging situation. At this time, we hope everyone will respect her privacy."
Frankel also added, "Recent additional family stress was a catalyst to her taking a break." It's unclear to what Frankel is referring to, but on July 12, The Blast reported that de Lesseps is being sued by her first ex-husband, Alexandre de Lesseps, and their two children, Victoria de Lesseps and Noel de Lesseps.
According to court documents obtained by The Blast, her ex-husband claimed their previously owned Bridgehampton, New York home was supposed to be put into a trust for Victoria and Noel after the couple's divorce, but Alexandre alleged de Lesseps sold it for $8 million and used the money to buy a home nearby for $3.1 million. The home's deed was reportedly handed over to de Lesseps after they split in 2009. (Bustle has reached out to de Lesseps' agent for comment about the lawsuit, but didn't receive an immediate response.)
The Blast reported the documents state that if she sold the Bridgehampton home and bought a new one, her children would be given a shared ownership interest, but that reportedly didn't happen. Per The Blast, Alexandre also claimed de Lesseps said she's going to sell her new home and in turn purchase a luxury home in upstate New York. The case is reportedly ongoing.
In December 2017, after her arrest in Palm Beach, Florida on Dec. 24, de Lesseps checked into rehab for the first time. "I intend to turn this unfortunate incident into a positive life changing event," she partially told People in a statement at the time she entered the treatment facility. "Once again, I sincerely apologize for my actions. I have the greatest respect for police officers and the job they do. My actions alleged in the police report do not reflect my core values and my law abiding character." On Jan. 23, she tweeted she was home from rehab.
On July 2, de Lesseps celebrated six months of sobriety — and with her first ex-husband and her two children. "Greatest reunion ever! Wonderful to spend the weekend with the kids and The Count," she wrote on Instagram. "Also counting my blessings! Celebrating 6 months of sobriety! Happy 4th of July, everyone!"
RHONY fans have also watched de Lesseps navigate her arrest, going to rehab, and dealing with other Housewives drama in the tenth season airing currently on Bravo. It's unclear if her absence will be addressed further at the reunion.