This Reunion Clip Of Luann Talking About Tom Is So Hard To Watch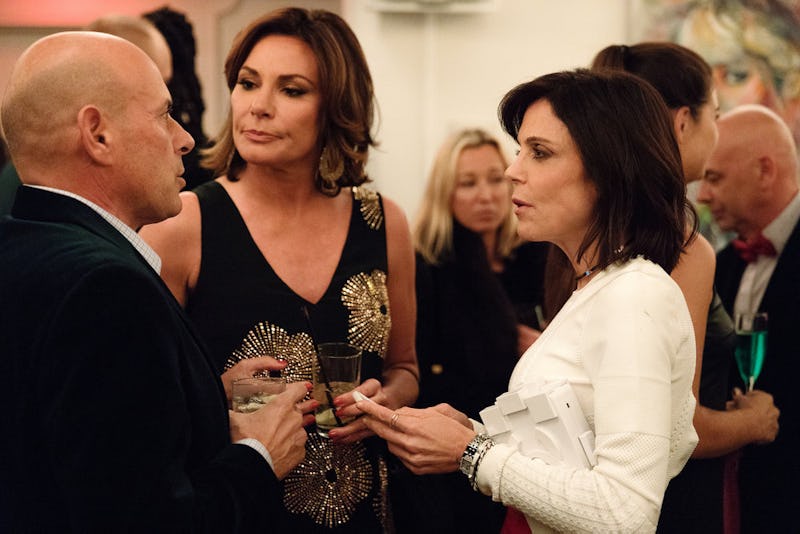 Greg Endries/Bravo
On Wednesday, the Real Housewives of New York City Season 9 finale showcased Luann de Lesseps (she has since changed her name from D'Agostino back to her former surname on social media), saying how happy she was with her husband at the time, Tom D'Agostino, despite everything they endured. It was awkward, to say the least. However, as fans know, their happiness as a couple certainly isn't the case anymore since the Housewife announced her divorce from Tom on Twitter Aug. 3. What makes their breakup even more uncomfortable is watching Luann talking about Tom at the RHONY Season 9 reunion pre-divorce announcement.
Andy Cohen shared a sneak peek of part one of the reunion, which airs Aug. 16, on Watch What Happens Live With Andy Cohen Wednesday. In the teaser (below at the 1:36 mark), Andy asks Luann what she would do if she found out Tom cheated on her. To that, she replies, "I would definitely leave."
Andy then steers the conversation to the one comment Tom made about his marriage to Luann in Season 9, where he compared himself to a "dog with a collar." In response to that awful statement, Luann says, "I'm going to talk to him about how that might come off." That reply didn't sit well with her co-stars, because they want Luann to see it's not about how others perceive it, but how it affects her. She does eventually add, "And how it made me feel."
As fans can probably imagine, her answer infuriates Bethenny Frankel, who comes at Luann pretty hard — and maybe even a bit too harshly. "You have the countess shield up," Frankel says. "If I saw the episode last night that you just saw, I'd be crying in the bathroom." You can tell how upset Luann is, even though she is doing her best to keep it together. She even responds to Bethenny by asking, "Why do you think I stayed at the hotel last night?"
It's hard to watch Luann talk about Tom now that everyone knows they are no longer together. While chatting with Entertainment Tonight, Andy said about Luann and Tom at the reunion, "I think it's all happened in front of the cameras and, if you see the reunion, I think you'll be surprised, because you'll begin to see the first signs of cracks in the relationship at the first part of the reunion."
Even though she won't be discussing the divorce directly at the reunion, since she announced it well after filming, it's clear that viewers will get a glimpse into her marriage coming to an end. It's probably safe to say that all the marriage talk is going to be has difficult to watch as Luann praising Tom in the Season 9 finale.
All that said, it seems that Luann is moving in a positive direction, because she is taking some much-needed time for herself by traveling to Switzerland. "Just what the doctor ordered! #hiking #waterfall #timetomyself #happiness," she captioned a photo of herself next to a gorgeous waterfall. She definitely appears to be in a healthy state of mind, which is wonderful to see.