Lucky Charms' Newest Marshmallow Shape Is The Most Magical Yet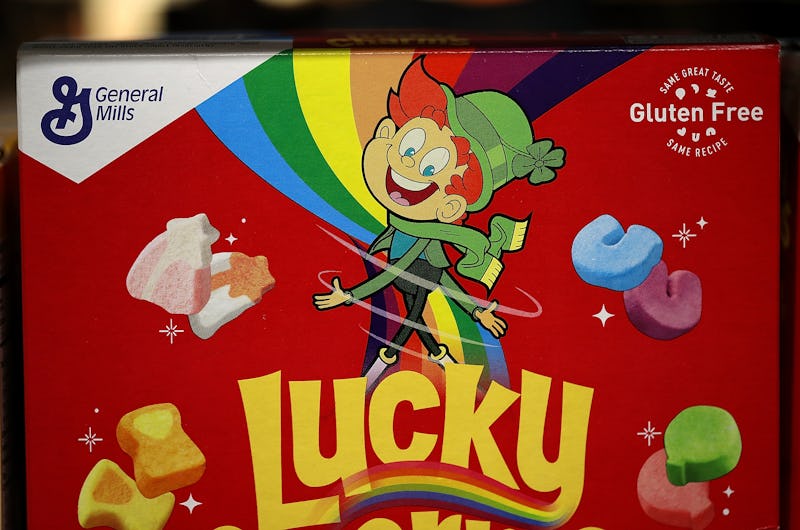 Justin Sullivan/Getty Images News/Getty Images
If you thought the unicorn trend was starting to die out, think again: the magical creature is still popping up everywhere, from beauty products to the food you eat. Just in the last few months we've seen new unicorn blood lip gloss, unicorn cereal, and unicorn lipstick pop up. While some people are over it, others seem intent on keeping the unicorn in the spotlight (where it rightfully belongs!). The latest brand taking advantage of the obsession is General Mills, who just announced that Lucky Charms cereal is making the unicorn their next new permanent marshmallow. And honestly? I can't really complain about it. Those little Lucky Charms unicorn marshmallows are cute — and delicious!
Plus, this is a pretty big deal. It's the first time in 10 years that Lucky Charms has introduced a permanent new marshmallow to their regular line-up. The basics have always been there — you know, the horseshoes, rainbows, leprechaun hats, green clovers, etc. New marshmallows pop-up all the time, whether they're seasonal, for a specific holiday, or just a different theme, but they are always limited and don't stick around for too long. These unicorn marshmallows are different: they'll always be there, in your cereal, making it more special.
The reasoning behind the big news is kind of sweet: According to a press release, the brand looked towards kids for their inspiration and idea. Josh DeWitt, marketing manager of Lucky Charms, said in a statement, "Our goal is to not only create a cereal that families and cereal fans will love and enjoy, but to inspire magical possibilities and help spark imagination and fun no matter what the age. That's why, after 10 years, we decided to introduce a new charm with the help of the keepers of magic themselves — kids. They spoke, and after hearing their love for the magical unicorn, we listened."
The unicorn marshmallow is bright purple and blue. In fact, it's actually very pretty, which is fitting because unicorns are by definition glorious, magnificent creatures. Plus, it's the first-ever marshmallow to be created and inspired by kids. How cute is that?
This new little charm is kicking out an oldie: the hourglass marshmallow is officially out, after being a staple in the line up for more than a decade. You can still expect to see your other favorite lucky charms, though: hearts, stars, horseshoes, clovers, blue moons, rainbows, and red balloons. The unicorn charm is just one more colorful addition.
If you're dying to get your hands on them, you can! The new charms have already started making an appearance in boxes of Original and Chocolate Lucky Charms cereals, and in March, they'll be more widely available in major grocery retailers and stores. Soon, everyone will be able to enjoy the magical power of the unicorn.
And despite the unicorn fatigue many of us have felt after the trend completely took over everything, people are still pretty excited about this latest launch. Twitter users can't wait to see these marshmallows in their cereal bowls:
In an unexpected twist, some people are actually pretty disappointed that the hourglass marshmallow is being retired. Who knew people had such an intense interest in the marshmallows in Lucky Charms cereal?
Whether or not you love the unicorn trend, it's hard to deny how aesthetically pleasing these little marshmallow charms are. It's like we never realized we wanted our cereal to be this magically pretty until it happened. In this case, at least, I'm happy that unicorns are here to stay. And now I'm definitely craving a huge bowl of Lucky Charms... maybe one that only consists of marshmallows.