Luna Cheering For John Legend While He's Singing Wins Cutest Moment Of The Day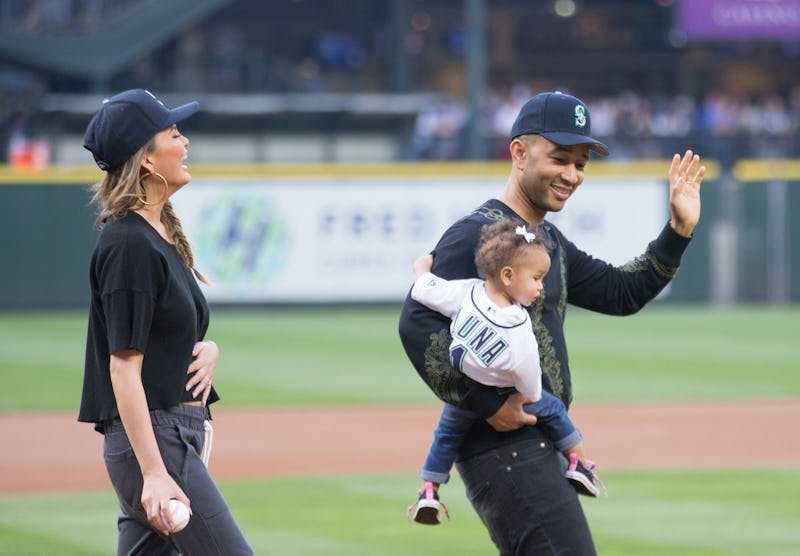 Stephen Brashear/Getty Images Sport/Getty Images
Get ready for your heart to melt from cuteness overload. Baby Luna clapped for John Legend during his Wednesday performance on The Ellen DeGeneres Show. Like everything the almost two-year-old does, Luna couldn't help but show off her adorableness as she sat and watched her dad sing on TV. Thankfully, Legend shared a video on Twitter Wednesday for everyone to enjoy of his daughter clapping and cheering for him.
In the video below, you can see how focused Luna is on Legend singing "A Good Night". Just wait until you see her clapping along for the majority of the time. At one point, she even dances a little bit and has a huge grin on her face. But, the best part is at the very end. When Legend concludes his performance, Luna applauds her dad and yells, "Yay!" — three times. She's obviously a proud daughter.
Legend wrote next to the video, "Hey @TheEllenShow! First of all, Luna loved the show." He then hilariously added, "Still working on her clapping on the 2 and 4 but that will come...."
With a musical genius like Legend, Luna will surely improve upon her clapping and learn how to clap on beat in no time. But, hey, she's only a toddler and who can find fault in the sweet way she claps now? Obviously, Legend is only teasing with his caption, too. How she cheers him on is almost too much to handle.
That's not the only video the Oscar-winner tweeted of Luna Wednesday. Actually, he shared a major Luna milestone with his followers — "Annnnd..... she said her first 'Ellen'", he revealed.
In the video, he says to Luna, who is sitting between himself and Chrissy Teigen on the couch, "Dada's on Ellen. Dada's on Ellen." Then, Teigen asks Luna, "Can you say 'Ellen'?" Next thing you know, Luna says, "Ellen!" Yes, Legend and Teigen are extremely proud of Luna for actually saying it. Teigen gasps and Legend laughs. By the way, does anyone else think his laugh is infectious? There is just something about it, right?
And speaking of saying names, while chatting with Ellen DeGeneres Wednesday, Legend revealed Luna had a huge moment Tuesday. "She said Beyoncé for the first time. She said Beyoncé and I was like, 'That was Luna's first Beyoncé, I feel like I should write it down in her baby book.'" Well, obviously.
The reason she said it was because they were listening to Lemonade in the car and Legend and Teigen started discussing the singer. Next thing they know, Luna is saying "Beyoncé".
DeGeneres asked Legend if Luna had said "Ellen" yet. At that moment, he said she hadn't, but clearly that has all changed. The daytime talk show host also asked him to record it whenever Luna did say it, which he did and shared with the world. DeGeneres will probably be happy to know Luna knows her name, in addition to Queen Bey.
"She's a lot of fun right now," he also told DeGeneres. "This is when she's starting to speak a lot and just picking up language and communicating really well. So, it's fun to just see her becoming a person. It's pretty crazy."
If you follow both Legend and Teigen on social media, then you know how much Luna talks now. For example, on April 6, Legend and Luna danced to his song "A Good Night". The 39-year-old musician posted the video on Instagram, where you can watch Luna in Legend's arms as they dance around together. You can also hear Luna say a few words, including "Dada" and "dancing".
Can you imagine when she starts putting words together and speaking full sentences? Will she be witty like her mom? Whatever the case, Legend and Teigen better share videos of Luna having conversations.