Save The Planet & Get That Glow With Lush's New Eco-Friendly Highlighter Sticks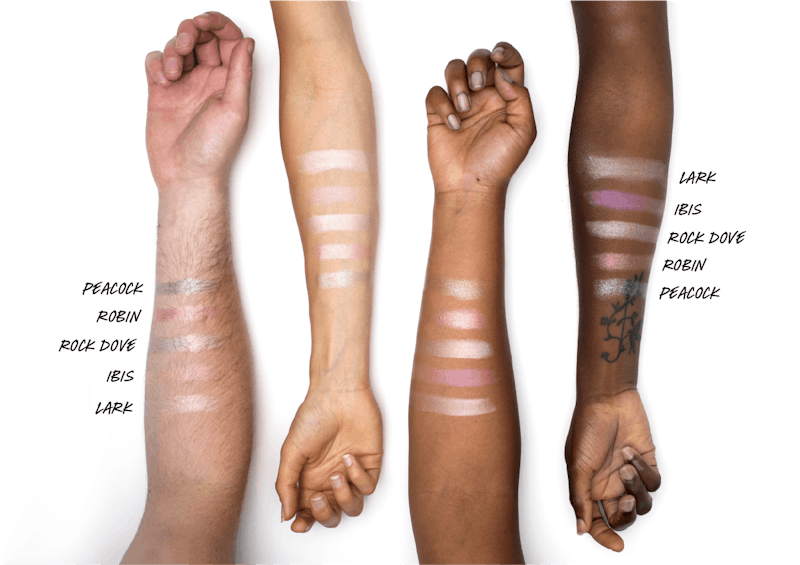 Lush
British stalwart Lush has long been known for its eco-friendly approach to skincare. From bath bombs to moisturisers, the brand's products are 100 percent vegan and cruelty-free. Now, you can get even more excited because Lush's new highlighter Glow Stick range has just dropped, and honestly, wow.
The new collection encompasses five highlighters in shades inspired by the feathers of birds from all around the world. The ingredient list boasts nourishing argan, coconut, and jojoba oil (and 14 percent pigment), meaning that your skin won't suffer from irritation or breakouts after application.
Better yet, the highlighters have been designed to be used anywhere you like including the cheeks, browbone, eyes, and even lips. The five colours are as follows; Rock Dove, which will will give you a lilac shimmer; Ibis, for those looking for a soft pink glow; Lark, which gives a silvery tone; Peacock for a much brighter blue-green shade; and Robin, which is a vibrant pink.
Costing just £11.95 each, you can pick up the entire set if you're really keen. Thanks to its natural formula which has swapped damaging plastic-based glitter for skin-friendly synthetic mica, it'll be one of those purchases that you can truly feel good about — especially when you hear what Lush is planning to do with the proceeds.
The company always looks to support women and children living in other countries with things like work and education. So it seeks to gather all of its raw materials from rural communities in order to help.
The argan oil that is found in each Glow Stick is gathered by a women's co-operative in Morocco, while the organic extra virgin coconut oil comes from Indonesia. Some 10 percent of the profits made from products containing this coconut oil will go straight to an organisation that works to provide dentists and literacy classes for the people living on the Indonesian island of Nias.
The highlighters will be available on the Lush site from Monday (Aug. 20). And according to a Refinery29 reviewer, they are "on par (if not a little better) than any high-end highlighter" out there. Unfortunately, you can only buy them for a month, so be quick or you might just miss out.
Lush recently impressed fans with its 40-shade foundation range. The £16.95 Slap Sticks launched in June and contain the same oils found in the Glow Sticks. Unlike other brands' liquid or cream formulas, Lush's foundation is fully solid, allowing the brand to reduce its need for plastic packaging and help the environment yet again.
The environmentally-friendly brand also sells a range of lipsticks and eyebrow crayons along with other make-up products including mascara, eyeliner, and blusher. It hasn't scrimped on skincare either, creating a primer and skin tint that comes in a fully recyclable glass jar.
You won't find any of this in stores as every product in the make-up range is only available online for a limited amount of time. As for the highlighters, it's time to start your countdown. Monday, I'm ready for you.