MacCaulay Culkin's 'Dollface' Cameo Is Reason Enough To Watch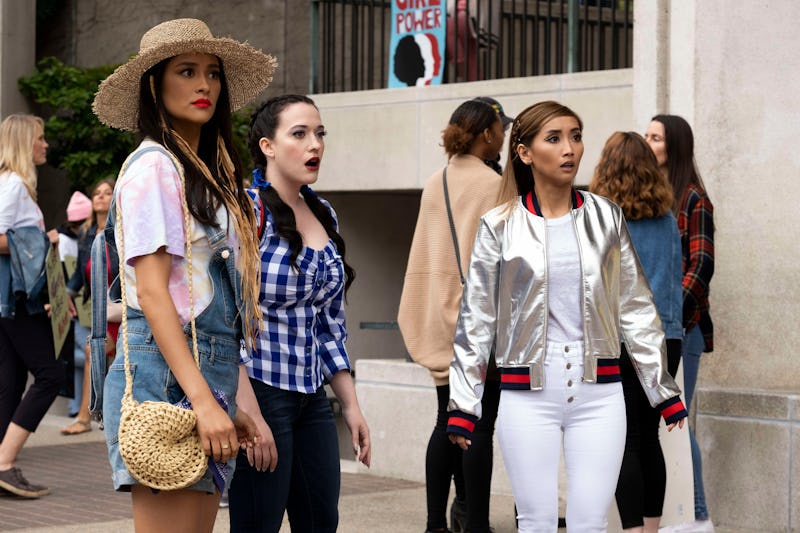 Erin Simkin Persons/Hulu
Spoilers ahead for Dollface. Kat Dennings, Brenda Song, Shay Mitchell, and Esther Povitsky make up the core cast of Dollface as these four women realize how important friends are. But along the way, Jules, Madison, Stella, and Izzy interact with some pretty memorable guest stars on Dollface who make their adventures all the more outrageous. While perhaps the buzziest cameo comes from Margot Robbie, one of the very famous producers of the show, celebs like Macaulay Culkin, Joey Lawrence, and even Camilla Bella all show up on Dollface.
Even without the guest stars, the cast has some great connections to movies and other TV shows. Dennings dominated the '00s as a young actor, Mitchell was in Pretty Little Liars, Song was a Disney Channel star, and Povitsky and Vella Lovell (Alison S.) were both in Crazy Ex-Girlfriend. Joining in on the fun is Malin Åkerman channeling Gwyneth Paltrow as she runs a Goop-like company and Goran Visnjic, who plays a doctor like he had done so on E.R. back in the day. Another famous TV doctor — Matthew Gray Gubler from Criminal Minds — also pops up as a veterinarian who takes a liking to Jules.
While many of the other guest star appearances may feel odd or downright random, they are delightful nonetheless — especially for people who are around the same age as Jules and friends. Plus, these Dollface cameos give the pals (and viewers) plenty to talk about as their friendship bonds deepen.