Madonna Will Attend The Women's March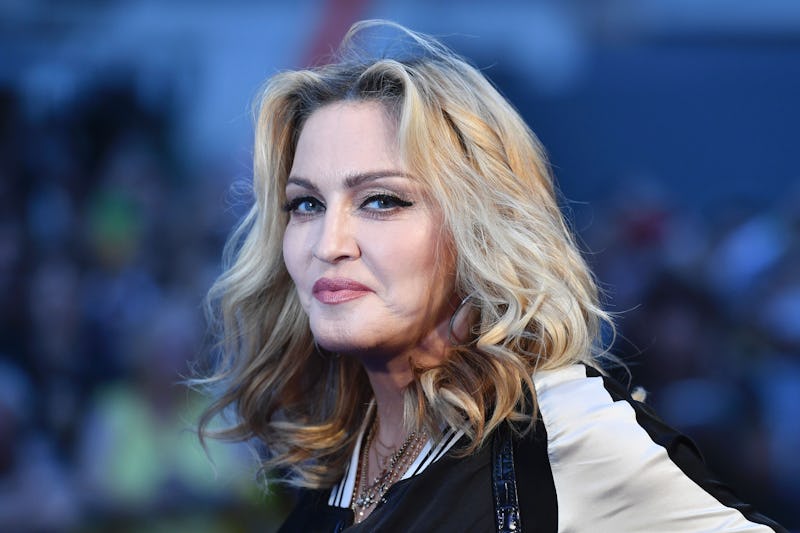 BEN STANSALL/AFP/Getty Images
The first uncertain days of Donald Trump's presidency have the potential to be triggering to wide swaths of the population, so I'm here with a reminder of a beacon of light that is shining through. Madonna will attend the Women's March On Washington, and her words on the event and how to move forward post-inauguration should serve as an inspiration to us all. The singer has always been a vocal feminist and spoken truth to power, and her recent conversation with artist Marilyn Minter was no exception.
The two spoke at New York's Brooklyn Museum, unpacking the election and delving into the fear that so many are feeling right now. While Madonna acknowledged that things are looking bleak, she refused to be submerged by pessimism, telling Minter, "We can only go up from here, so what are we going to do? We have two choices, destruction and creation. I chose creation."
I love this, because Madonna isn't dismissing the very real ways that people are feeling; she leaves room for all that, while also rejecting hopelessness in herself and encouraging others to do the same. Instead of wringing her hands over the steps that brought us to this point, Madonna is choosing to look at Donald Trump's election as a positive thing. And, hey, might as well, right? He's the President either way as of Friday, so you might as well find an outlet for your feelings about it that get you out into the streets instead of quietly worrying at home.
She continued,
I do believe that Trump was elected for a reason, to show us how lazy and un-unified and lackadaisical and taking for granted we've become of our freedom and the rights that we have as Americans. They always say it's darkest before the dawn and I feel this had to happen to bring people together, so let's get this party started.
And she's right, this can be a party. A lot of the time, it's going to be hard, thankless, relentless work, so the earlier we can find a way to enjoy it and appreciate the ways it brings us together, the better off we'll be. It's about adjusting your perspective and embracing the unknown — not with fear or anger, but with optimism.
Each of us is stronger and more influential than we know, and those qualities only amplify when we join forces. I will be eternally grateful to Madonna for that reminder and for lighting a fire under my powerful, capable, inclusive butt.