Madonna's Response To The Aretha Franklin Tribute Backlash Won't Make You Any Less Angry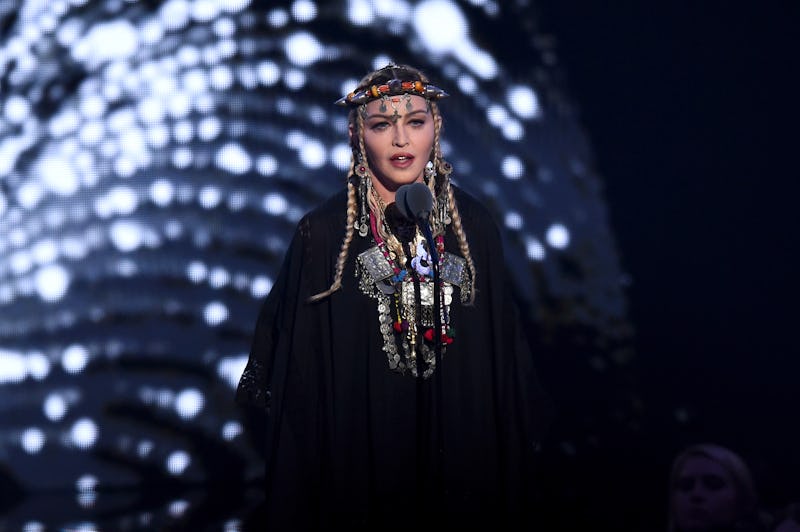 Theo Wargo/Getty Images Entertainment/Getty Images
Everyone expected that the 2018 MTV Video Music Awards would include some sort of tribute to the legendary Aretha Franklin, who died on Aug. 16 at the age of 76 after losing her battle to pancreatic cancer. However, no one was prepared for the puzzling remarks made by Madonna, who walked out seemingly ready to pay tribute to Franklin, but made a speech that many felt focused more on herself and her own accomplishments than on the dearly departed singer. After her speech was widely dismissed by fans online, Madonna has now responded to the Aretha Franklin tribute backlash in an attempt to shed some light on the matter.
On Tuesday, the day after the VMAs, the "Material Girl" singer took to Instagram to explain her side of the story in the hopes that it would clear up any confusion that fans still had. "Just to clarify: I was asked to present Video of the Year by MTV! And then they asked me to share any anecdotes I had in my career connected to Aretha Franklin!" Madonna wrote, adding:
"I shared a part of my journey and thanked Aretha for inspiring me along the way. I did not intend to do a tribute to her! That would be impossible in 2 minutes with all the noise and tinsel of an award show. I could never do her justice in this context or environment. Unfortunately, most people have short attention spans, and are so quick to judge. I love Aretha! R.E.S.P.E.C.T."
The tribute in question began as one might expect, featuring a black-and-white clip of Franklin singing "I Say a Little Prayer" for viewers to enjoy and further marvel at the late singer's undeniable talent. However, that's when things started to take an odd turn. Instead of having other singers come out and perform some of Franklin's greatest hits in her honor, Madonna walked onto the stage covered in braids and a tribal-looking headpiece and began telling a somewhat self-serving story of how Franklin helped make her the big star she is today.
"Aretha Louise Franklin changed the course of my life," Madonna stated to the crowd. "I left Detroit when I was 18 [with] 35 dollars in my pocket. My dream as to make it as a professional dancer." She then proceeded to tell a long, in depth story about her journey to fame and stardom, while yes, occasionally making a few praise-worthy comments about Franklin along the way.
Fans were quick to take to Twitter to express their less than happy thoughts about Madonna's take on "honoring" Franklin's memory:
So while Madonna's response about the tribute not really being a tribute is accurate (it was possibly the least tributing tribute in history), it definitely isn't enough to make fans less angry about how it all went down. Perhaps if Madonna had made some sort of apology or admitted that Franklin should've been a more prominent fixture in her speech, then that would be different. But instead, her comments just read more like an excuse to try to remove herself from any blame.
Hopefully other award shows will take notice of this unfortunate blunder and make a point of giving any future Franklin tributes the R-E-S-P-E-C-T she deserve.