Maggie's Last Episode On 'The Walking Dead' Was Overshadowed By Rick Grimes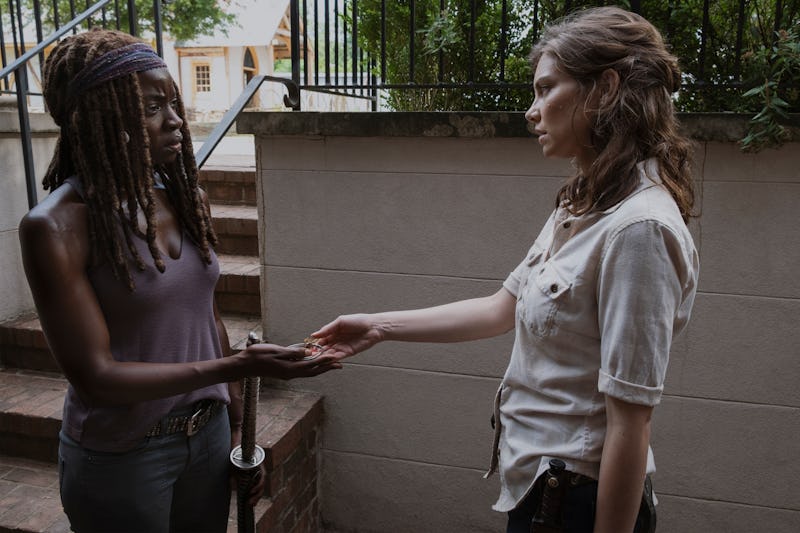 Gene Page/AMC
Rick Grimes' final episode on The Walking Dead was highly publicized ahead of "What Comes After." But you may not have realized that the Nov. 4 episode also served as Maggie's last Walking Dead episode, at least for the foreseeable future. Deadline had reported that Lauren Cohan would only appear in part of Season 9 as she explores other career opportunities. While there was no big farewell to Maggie like there was with Rick, showrunner Angela Kang confirmed to The Hollywood Reporter that "What Comes After" was the last planned episode to feature Maggie. Yet, there's still a a very good chance that The Walking Dead fans will see Maggie Rhee again in the future.
Maggie was present when Rick seemingly died in an explosion at the bridge during "What Comes After." But then an extended preview for the next episodes revealed another jump in years in The Walking Dead universe. And this time, it's pretty major — Judith has grown up to be a bonafide badass following in the footsteps of her father Rick and adoptive mother Michonne and, far more importantly, Carol has grown out her hair. But Maggie and her son Hershel weren't in those previews of the future and Kang confirmed you won't see Maggie again in Season 9. "That's the last of her for this season," Kang told THR.
Maggie didn't get the whole dog and pony (err, horse?) show that Rick got, but she did achieve some closure. After spending more than a year filled with anger and resentment that Negan is still alive, she got an opportunity to confront him. But rather than kill him in an act of justice for murdering her husband Glenn, she realized he was suffering more by being imprisoned. "I came to kill Negan and you're already worse than dead," she tells him before locking him back in his jail cell.
The Nov. 11 episode, "Who You Are Now," should address where Maggie is — but she's certainly not dead. "We've been talking to Lauren and hopefully we'll get to tell more story for her," Kang said to THR. "We definitely have some things up our sleeve that we'd love to do. A lot of that is just a scheduling conversation, so hopefully that will all work out, because I think mutually we would like to continue with Maggie's story, for sure."
Bustle spoke with Cohan back in August and she was also optimistic about her future on The Walking Dead. "My relationship with the show is in a beautiful place creatively," she said, "and we really do have a completely open playing field to explore with Maggie, which is so rare and really cool."
Cohan explained that she had renegotiated her contract to allow for more flexibility "because eight years is a long time to be in the apocalypse and to be playing one character." She's currently filming a new ABC series, Whiskey Cavalier, in which she stars opposite Scott Foley. Yet, she emphasized, "The potential for story with Maggie is very wide from our writers. And there's potentially room to still do both [Whiskey Cavalier and The Walking Dead] and we're definitely leaving on an up note with Maggie — and an open note."
When Deadline first reported that Cohan would only be doing a partial Walking Dead season, it noted that she had signed on for six episodes. "What Comes After" was the fifth episode of the season, so fans might see Maggie in some sort of flashback or in some other way. After all, it's not out of the question that Kang could be misleading viewers. For example, Andrew Lincoln isn't as finished with The Walking Dead world as AMC initially implied since he'll be starring in a series of movies about Rick.
So maybe Maggie will show up just once more in Season 9. But even if that doesn't happen, Maggie and little Hershel better be off with Georgie building more communities. Because although it may not be portrayed onscreen, the zombie apocalypse will always be in dire need of Maggie's leadership and goodness.