Maisie Williams Revealed The One 'GoT' Prop She's Taking Home & Arya Would Be So Proud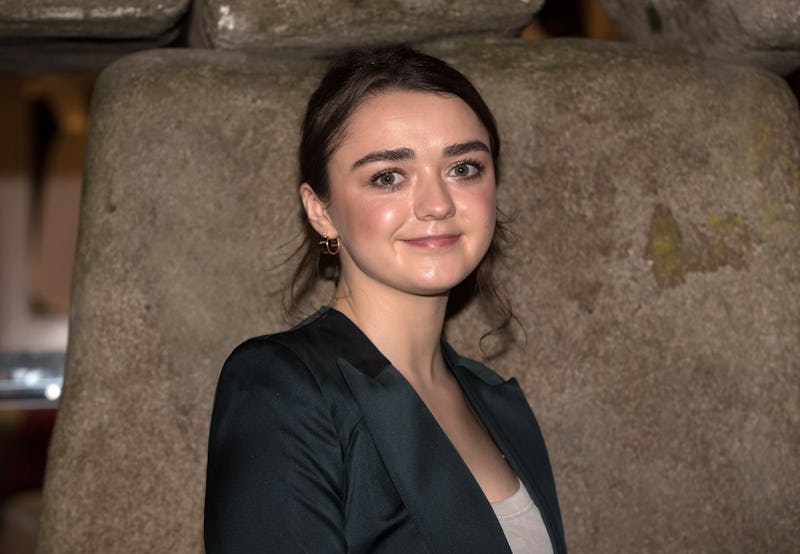 Matt Cardy/Getty Images Entertainment/Getty Images
Game of Thrones Season 8 won't officially air until 2019, but that doesn't mean there's no news for fans. Fansite Winter is Coming reported that filming has wrapped on the show and HBO is breaking down its sets. In fact, Game of Thrones sent Maisie Williams an Arya Stark prop from her costume, so it's definitely over. Williams revealed on BBC1 radio show Breakfast With Nick Grimshaw that she's receiving a nostalgic gift in the mail — one that means just as much to Williams' character as it will to fans of the series.
Williams told the radio host that a costumer is sending her Arya's iconic jacket from Season 7 of Game of Thrones. As in, the brown "doublet jacket" that made her look just like her hero: Her late father, Ned Stark. This particular item of clothing represented Arya's official transformation from ferocious kid to fearsome, unpredictable, bloodthirsty killer. (Yeah, she rules.) Really, though, for a character that has gone through so many changes — so much turmoil — rocking a distinct jacket that echoes that of her noble father was a visual representation of Arya's evolution. It completes her look, her energy. It allows her to embrace the rebellious path she'd always longed for; with it, Arya is whole.
Arya's doublet jacket contrasted with elder sister Sansa's regal, feminine looks. They're both cold and hardened by their travails, but have embraced their individual personalities through the muted fashions of the North. Sansa abandoned her delicate, little-girl dresses once she escaped King's Landing, and Arya no longer has to pretend to be a peasant or a boy or anything less than who she is: Arya Stark of Winterfell. (And a Faceless Man of Braavos, and an executioner for the North, and so much more.) Still, it seems as if Williams is taking a "Don't cry because it's over; smile because it happened!" approach to it all. As she told BBC:
"I can imagine [the jacket] being something that I'm like, 'Oh, I was on this show once upon a time and this was the jacket I wore.' And my grandkids being like, 'Please stop.'"
Even so, she swore the costumer made the decision to send her this unique item on their own. "In terms of actually taking something," the actor joked to Grimshaw, "I didn't take anything. Other than a lot of dirt in my hair and under my fingernails." Now that definitely sounds like Arya.
Williams also opened up about the intense last day of filming. "I cried a lot," she said, "Get the Kleenex out!" She went on describing the final day on set:
"I bawled and I tried to do a speech…I got back to my trailer and I was like, 'I can't even remember what I just said.' I probably just whittled on for, like, half-an-hour…"
Williams went on, "I grew up with these people. It really is like cutting an arm off." Just when fans thought Game of Thrones couldn't get any more painful, right? Maybe Williams will start wearing the jacket around for fun. That would be incredible. Also, did Sophie Turner get to keep any of Sansa's gorgeous coats? Will Kit Harington keep a sword? Please, costumers, let the world know. And feel free to distribute any remaining props among the Game of Thrones superfans. Just saying.