Maisie Williams' Outfit At Kit Harington & Rose Leslie's Wedding Broke SO Many Fashion Rules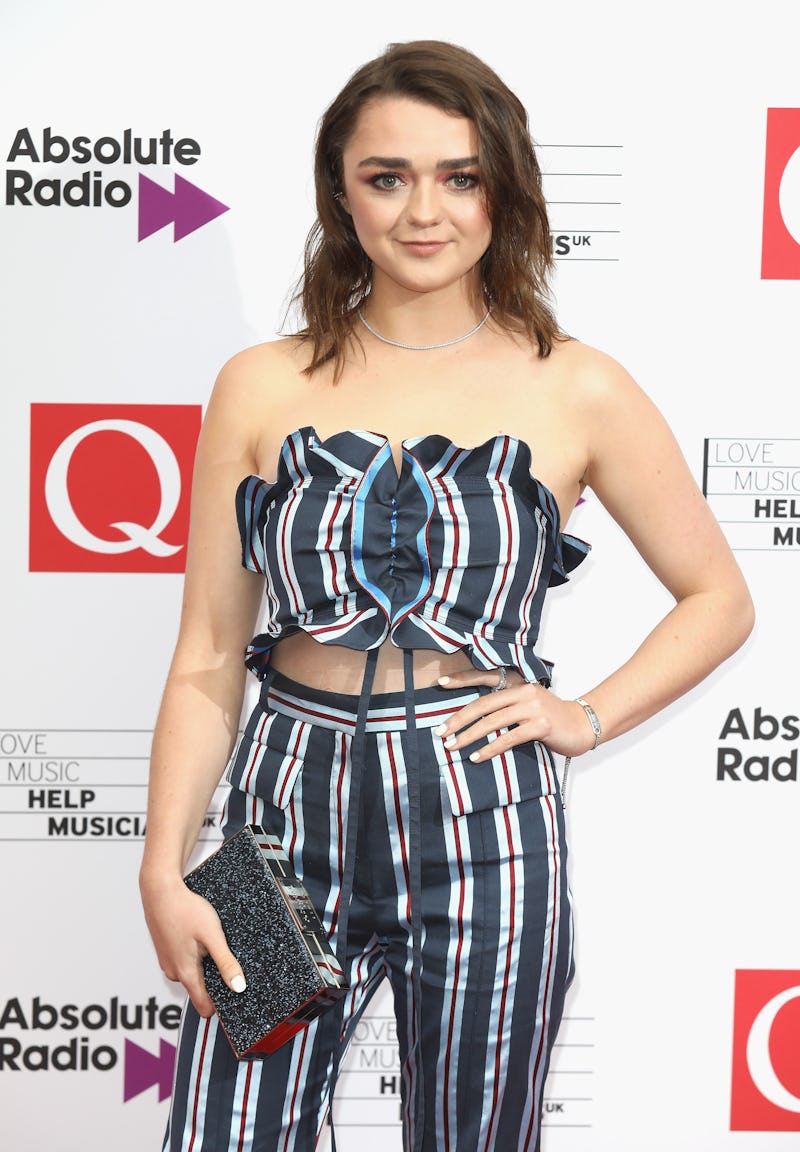 Tim P. Whitby/Getty Images Entertainment/Getty Images
Game of Thrones fans are likely still in utter shock that costars Kit Harrington and Rose Leslie tied the knot IRL. The nuptials took place in Aberdeenshire in Scotland, with nearly every GoT cast member in attendance. That included Maisie Williams, whose wedding outfit that broke fashion rules felt so wrong, but looked incredibly right.
When the ceremony that made Jon Snow and Ygritte official took place, the beautiful couple kept things super traditional. They said "I do" in a small church, dressed in a stunning white, lacy, long-sleeved gown for Leslie and a black tux with formal striped pants for Harington. For the average wedding, this is the attire that you'd expect. But Arya Stark AKA Maisie Williams had other not so average plans in mind for her wedding day garb.
Williams made an appearance alongside her onscreen sibling, Sophie Turner, dressed in some super unlikely fashions for the occasion. The pair were BFF goals in coordinating outfits that got the Twitterverse chatting up a storm. Although she chose a silhouette fitting for the summer nuptials, Williams' color of choice for her outfit wasn't exactly the norm. But her unorthodox getup was chic as hell, anyway.
If you guessed that black was the daring color choice Williams made for her wedding attire, you'd be right. Typically associated with mourning, black is the hue that wedding fashion police will have you believe just shouldn't be worn for such a joyous occasion like the celebration of marriage.
Williams, however, would say otherwise. The GoT star shook wedding day norms to the core when she strutted her stuff in a black one-piece that featured red and white stripped detailing. She color-blocked the fashion-forward getup with bright red heels that made quite the statement. Tying her #OOTD together nicely, she toted a black-and-white striped clutch adorned with an adorable crab. Adding an air of sophistication to the 'fit, Williams covered her face with round, black glasses.
For an outfit that totally went against unwritten wedding fashion rules, it was goals AF. You can see the ensemble in all of its rule-breaking glory, here.
It wouldn't be far-fetched to think that Williams planned her wedding day ensemble with her GoT sibling, Sophie Turner. The duo went for opposing, but matching red and black outfits.
While Williams' dominating color was black with red accents, Turner was red hot in a bold blazer dress with black touches. She opted for a mini dress and thigh-high boots combo that was far from the attire typically seen amongst wedding guests. Obviously, the average whites, pastels, flowy materials and floral prints highly favored by wedding goers weren't statement-making enough for these costars, so they had to do the unthinkable.
Black may not have been the typical color choice, but Williams' look was still a fan-favorite from the big day. She even won fellow actress Anna Kendrick's approval for the fashionable 'fit.
It was the simple fact that the actress did her own thing and proudly wore a non-traditional wedding color that got her so much favorable attention.
There was no denying that the Stark sisters looked runway wedding.
Alongside the fabulous Turner, Williams showed just how much she cares about what society believes to be proper attire for a wedding. At the end of the day, fashion is all about rocking what makes you feel confident and that black jumper draping Williams likely made her feel like a badass. Haters are going to hate, but that's not going to change the fact that she nearly took the spotlight off of Harington and Leslie, thanks to her dazzling fashion sense.