Sophie Turner's Outfit At Kit Harington & Rose Leslie's Wedding Was SUPER Unconventional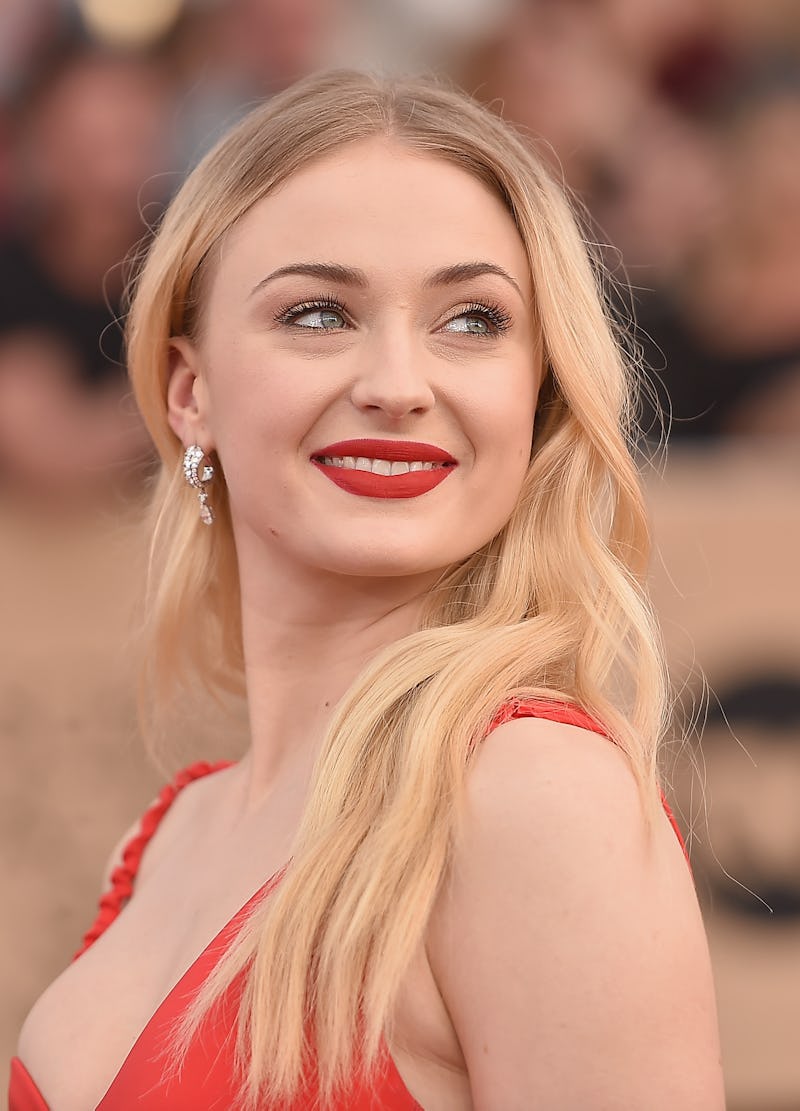 Alberto E. Rodriguez/Getty Images Entertainment/Getty Images
The super huge, can't believe this actually happened moment that Game of Thrones fans had long been waiting for finally became a reality. Kit Harington and Rose Leslie got married, so Jon Snow and Ygritte are forever a thing. Even with all eyes on the lovely couple, you couldn't dare miss Sophie Turner's Outfit for the ceremony, a head-turner that was nothing like the garb typically worn for witnessing nuptials.
When GoT cast members gather under one roof for a wedding, it's going to cause a frenzy. Maisie Williams, Emilia Clarke, Peter Dinklage and nearly every cast member made the trip to Scotland to see the Wildling and the Crow tie the knot. The newlyweds beautifully dressed the part, Leslie in a romantic lace-covered, long-sleeved gown and Harington in a formal black jacket, champagne vest, and striped pants.
Sophie Turner, on the other hand, was anything but traditional on the big day. The actress starring as Sansa Stark on the show showed up looking totally badass. As if to send fashion lovers and Game of Thrones fans completely over the edge, she even coordinated her outfit with her onscreen sister, making for an unexpected fashion moment that goes against everything you thought you knew about wedding attendance attire.
When you're the stunning Sophie Turner, the styles and prints usually spotted amongst the crowd at a traditional wedding just won't do. You wouldn't dare be caught in floral prints, maxi-length skirts and dresses, or pastel hues.
Instead, you drop jaws in a bold, red tuxedo jacket covering a black mini dress and totally crush the look with thigh-high, black boots. Then, you take the red-black-and white motif even further by adoring your crown with red sunnies and throwing on a mini checkered crossbody to bring the look full circle. Because when you're a fashionable girl boss, you do what boss babes do.
You can see the full look here.
As if the outfit that hugged every part of her body, from her waist to her calves, didn't make a big enough statement, Turner twinned with her GoT sibling, Maisie Williams. Williams AKA Arya Stark broke the unspoken rule to never wear a mourning hue like black to a wedding with a midnight jumpsuit, accented with bright, red heels and a striped clutch featuring a crab. Clearly, these sisters were on a mission to turn wedding ceremony norms completely upside down, and they did it fabulously.
Even though Williams looked just as trendsetting in unconventional wedding attire, it was Turner's style choices that really got the internet riled.
Let it be known that red is now the new "it girl" wedding hue.
Girlfriend had fans so ready to imitate her look. After all, her jacket and boots combo was perfect for settings outside of a wedding, too.
Turner deserved her props for going against the grain. Even if her outfit didn't fall in line with the norm, she practically stole the limelight from the bride and groom (although that likely wasn't her intention).
It might not have been everyone's cup of tea, but Turner's blazer-mini dress pairing proved that you don't have to abide by unspoken fashion rules.