Here's A First Look At Malala Yousafzai's First Picture Book 'Malala's Magic Pencil'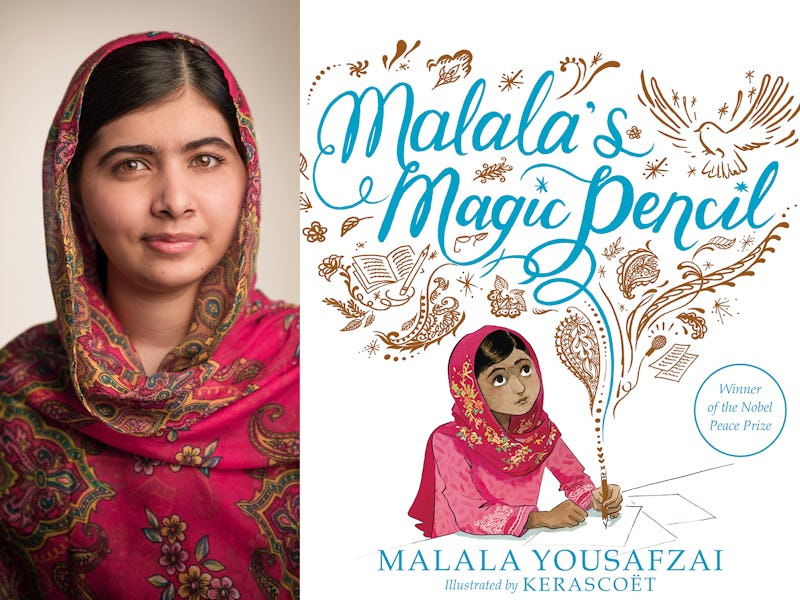 Mark Tucker
Have you heard the amazing news? Nobel Peace Prize-winner Malala Yousafzai will publish her first picture book, Malala's Magic Pencil, on Oct. 17. Now, Bustle has an exclusive first-look at what's inside Malala's Magic Pencil, along with a quote from the inspiring young author herself.
Malala Yousafzai rose to international fame as a preteen, when she blogged her life as a schoolgirl under Taliban rule for the BBC. Three years later, after a fatwa was issued targeting the 15-year-old student, an assassin boarded her school bus and shot her in the head. Yousafzai was airlifted to the U.K., where she and her family have lived since the attack, and where she now attends college at Oxford University. Her first book, I Am Malala, hit store shelves on the 1-year anniversary of the attempted assassination.
Today, Malala Yousafzai continues to campaign for the educational rights of women and girls. She is currently on her Girl Power Trip, a global trek to expose the state of young women's education around the world, which just finished up its Latin American leg.
Illustrated by husband-and-wife duo Kerascoët, Malala's Magic Pencil tells the story of Yousafzai's childhood dream to own a magic pencil to make her life a little bit easier: to help her get an extra hour of sleep, or to make her loved ones happy. However, as she grew older, Yousafzai realized that there were many terrible things in the world that she could make right with the help of a magic pencil. In this book, she finds her voice — and realizes she can use it to make a difference.
Check out some of Kerascoët's beautiful illustrations for Malala Yousafzai's first picture book below, and keep reading to find out what the author has to say about the book's artwork.
Malala's Magic Pencil by Malala Yousafzai, $13.56, Amazon
Gorgeous, right? Here's what Yousafzai thinks of the artists' work:
The way Kerascoët painted this image, it beautifully reflects how when you raise your voice, your message can spread. This page clearly shows how my voice reached so many people.
Malala's Magic Pencil arrives at a bookstore near you on Oct. 17. To pre-order your copy, visit Hachette's official site.