Malia Obama's Impressive Résumé Just Keeps Growing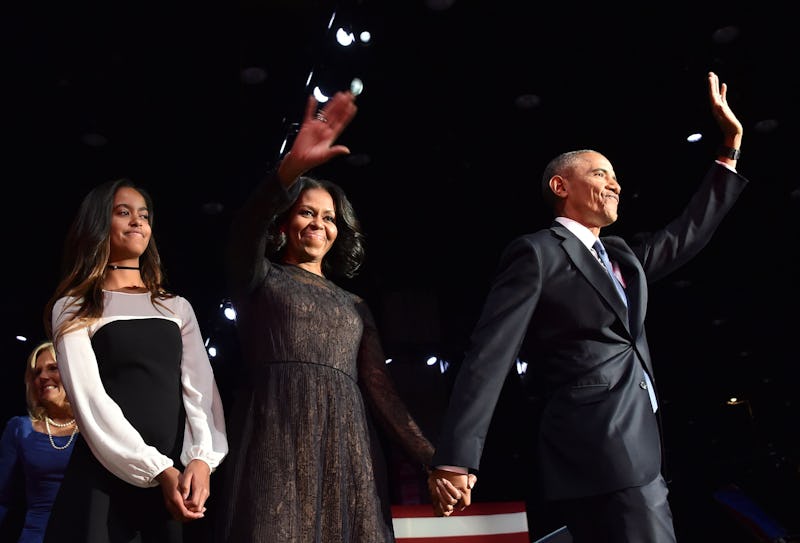 NICHOLAS KAMM/AFP/Getty Images
Obama's eldest daughter hasn't even started college yet and she's already lining up prestigious internships one after the other. Despite being just 18 years old, an unnamed source claimed to The Hollywood Reporter that Malia Obama will reportedly be interning for Harvey Weinstein from February onward. If true, it's so not a big deal, OK? Film producer Weinstein is just the co-founder of extremely epic entertainment company Miramax, which was behind a few tiny indie films you've probably never heard of like Pulp Fiction, Clerks, and The Crying Game. Oh, and I guess he also won this one award, an Oscar, for Best Picture for Shakespeare in Love. Also, he's co-chairman of production company The Weinstein Company, which is behind high-grossing films like The King's Speech, Silver Linings Playbook, and Django Unchained. But who's counting?
But, to do the uniquely competent teen justice, if it is the case that she'll be gaining work experience alongside Weinstein, she totally earned this internship. This hasn't come out of nowhere — Obama has been accumulating work experience in the entertainment industry for some time now. And if true, this may not be her only internship prior to studying: She's currently on her gap year and will be starting at Harvard in the fall. This also works well in terms of Harvard's approach to things, with The Hollywood Reporter claiming the school encourages its students to defer a year "to travel, pursue a special project or activity, work, or spend time in another meaningful way."
Obama's alleged choice of internship isn't surprising. She's shown an interest in entertainment for a while now, with Michelle Obama stating her daughter wants to be a filmmaker, according to the Associated Press. Perhaps this ambition was sparked by working with another young female filmmaker — she spent the summer of 2015 interning on Girls, made by Lena Dunham, who first shot to fame following the debut of her film Tiny Furniture. And this wasn't Obama's first time working on set. Prior to that, she spent the summer 2014 interning as a production assistant on Extant, which has since been canceled, but was a CBS sci-fi drama starring the likes of Halle Berry.
If you're wondering if a production assistant is a glamorous role, probably not. According to study.com, it involves:
... providing assistance to crews of various departments. Their tasks might include helping out with the construction of sets, keeping wardrobes in order, and performing general office duties. They can also be tasked with bringing actors to the set from their trailers, driving off-site to collect or ship packages, and handing out scripts.
Taking on such tasks shows how dedicated she is to gaining experience in the field.
If you've ever come across the video above, you'll know that even at age 10, Obama seemed wonderfully relaxed in front of the camera. So, who knows? Even if production doesn't turn out to be her thing (which is fine — she's got a while to figure it out), maybe our aspiring filmmaker will become the next great talent to watch in front of the camera. But until then, keep your eyes closely on Obama's résumé. Whatever she gets up to next, it's sure to be impressive.