Mandy Moore Shared A Beautiful Tribute To Her Cat That Passed Away Before Her Wedding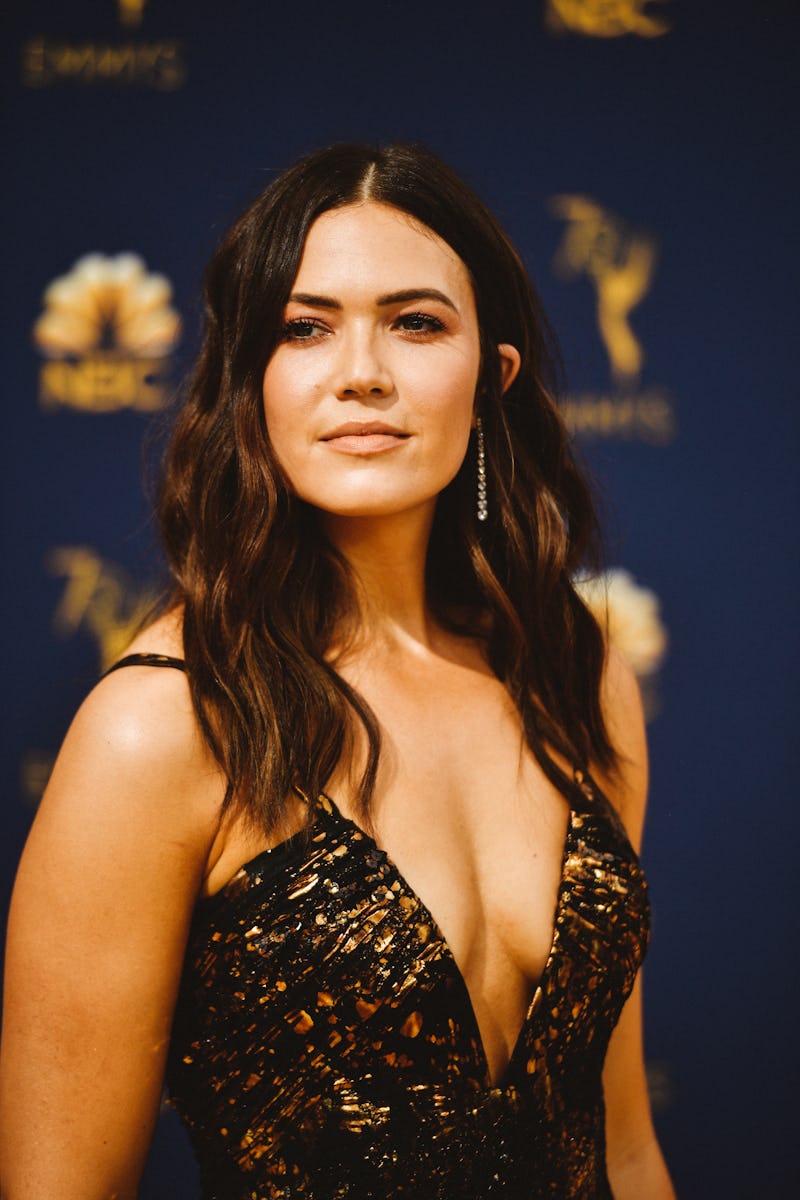 Matt Winkelmeyer/Getty Images Entertainment/Getty Images
Mandy Moore and Taylor Goldsmith officially wed on Sunday, Nov. 18, and it seems to have been a joyous celebration, by all accounts. But there's one member of the family who sadly wasn't there for their big day. Mandy Moore's cat died the day before her wedding, People reported. And the This Is Us star shared a heartfelt Instagram post about what her cat, Madeline, meant to her during their time together.
As Moore explained in her Instagram post, Madeline had an "enlarged heart" and suffered from heart failure. The actor and singer wrote of her cat,
"This weekend was a roller coaster of emotions in every way. Sometimes life doesn't consider that you have big plans underway. Sometimes the earth just falls right out beneath you. We lost our sweet Madeline very suddenly on Saturday evening and my heart is so utterly broken."
Moore went on to share that Madeline taught her a few lessons, too, noting that her sweet girl never got upset when she needed pills or allergy shots. She wrote,
"She never held it against us... like she knew we were trying to help her feel better. Animals really are the ultimate teachers. Thank you for the lessons in patience, responsibility and unconditional love, Madeline."
Moore's post includes a video and several photos of Madeline over the years. She clearly meant a lot to the This Is Us star, and it looks like the memory of her wedding weekend will always include a bittersweet feeling because of her beloved pet's passing. Moore also said that she was able to hold Madeline when she "took her last breaths," so there's no doubt that her beautiful friend felt surrounded by love.
According to People and E! News, Moore and Taylor Goldsmith got married on Sunday in a private ceremony in Los Angeles. E! reports that only about 50 guests were at Moore and Goldsmith's wedding, though several of her This Is Us costars were in attendance. Milo Ventimiglia, Chrissy Metz, and Sterling K. Brown were all at the wedding, according to E!, as were Wilmer Valderrama and Minka Kelly.
Moore dated Goldsmith, a member of the band Dawes, for more than two years before they got engaged in September 2017, E! noted. She marked their two-year anniversary in July 2017 with a sweet photo of the two of them together. And based on how happy she and Goldsmith look in the wedding photo Moore posted on Monday, it looks like their love has only grown stronger since then.
Moore and Goldsmith's wedding looked absolutely gorgeous, and it's sure to be a day that will always hold a special place in their hearts. While the weekend included a heartbreaking loss, it also marked a new beginning for the actor. Based on what Moore said in her post, as well as what she's posted on Instagram in the past, she'll never forget the bond she and Madeline had.
Back in April 2017, Moore shared a photo of Madeline with her other pets. "Every day is #nationalpetday in my world. Life is exponentially better thanks to these guys," Moore wrote at the time. There's clearly a special place in her heart for all of her animals, and Madeline's memory will never be forgotten.