Margaret Atwood Recommends Her Fave Graphic Novels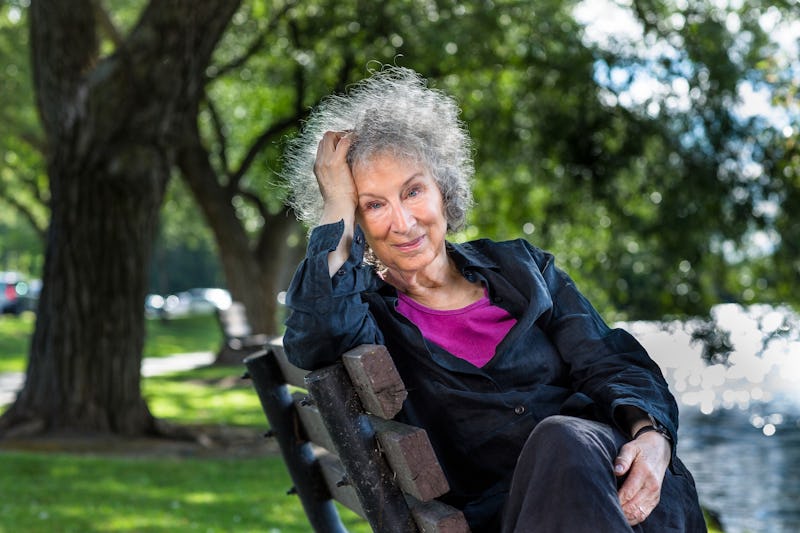 Liam Sharpe
With the second volume of her first graphic novel series due out next week, Angel Catbird author Margaret Atwood spoke with Bustle to talk about what's next for her offbeat superhero, and she dropped an update about The Handmaid's Tale graphic novel! I've got Atwood's recommendations for graphic novel fans below, plus a sneak peek inside Angel Catbird, Vol. 2: To Castle Catula, out Feb. 14 from Dark Horse Comics.
Angel Catbird centers on Strig Feleedus, a scientist, whose name is a play on the Linnaean names for owls and cats. After his boss, Dr. Muroid, entrusts him with a super-splicer serum, Strig is run down by none other than Muroid himself, in an accident that kills his pet cat and an unlucky owl. Dr. Muroid is secretly a half-rat, and he wants to use the super-splicer serum to create an army of rat people to take over the world.
Unbeknownst to Muroid, Strig was holding the serum at the time of the accident. It splices cat and owl genes into his own DNA, turning Strig into Angel Catbird: a flying cat-owl-man. He isn't the only part-cat person wandering around the city, though. His part-cat work colleague, Cate Leone, introduces him to a host of other hybrid heroes, including Bubastis, Barnborn, Catullus, Babushkat, Cat O'Ninetales, and the mysterious Count Catula.
Like Angel Catbird, Count Catula isn't just a human-cat hybrid. He has some bat-vampire in the mix as well, and we'll find out just how it got there in Angel Catbird, Vol. 2: To Castle Catula.
The second volume will also introduce a new, part-bird love interest for Strig, who Atwood says will be "torn between shall he have kittens, or shall he have eggs." When Angel Catbird is lured into a trap by Dr. Muroid, however, it will be up to Cate and her new romantic rival to save him.
Readers will get a peek at Cate Leone's backstory as well, including her history with co-worker Ray, an Anishinaabe man who can transform into a raven. Atwood assures me that, while Cate and Ray "have a history," they're "just friends."
Angel Catbird launched to mixed reviews in September 2016. Judging by the first volume's feedback on Goodreads, many readers didn't enjoy Angel Catbird's hearkening back to the pulp-stylings of 1940s comics, which Atwood grew up reading. In many ways, Atwood's graphic novel is of a time when comics weren't meant to be anything more than fun — and often ludicrous — escapism.
Following in that same vein, an audiobook version of Angel Catbird is in the works through a partnership with Audible. The Angel Catbird audiobook will be "like an old style radio play," Atwood says, complete with sound effects and a voice cast.
The choice to cast individual actors to play each character is relatively new in the audiobook world, but it's becoming more and more common — think Neil Gaiman's The Graveyard Book or George Saunders' Lincoln in the Bardo. Star Wars audiobooks are enhanced with series-specific sound effects, and, with 2015's Ms. Marvel, Vol. 1: No Normal, GraphicAudio and Marvel already proved that turning comics into audiobooks is 100 percent doable.
Angel Catbird will almost certainly have an enviable cast of voice actors, but the project is still in the development phase, with no actors attached at this time.
Angel Catbird is a planned trilogy, with a third volume due out this summer, but, in spite of being a lifelong comic book fan, Atwood never really expected to see her own comic in the public light of day.
When she was six or seven years old, Atwood sketched out a flying cat — an image that's included in the extra features of Angel Catbird, Vol. 2: To Castle Catula. "It's something I never thought I would be able to do," she says, "because I can't draw that well. [My drawings] are sort of not the late-Forties, early-Fifties superhero style."
Fortunately, artist Johnnie Christmas has the Golden Age comics style down pat. Colorist Tamra Bonvillain brings Christmas' black-and-white line-art to life, a process shown in the back pages of Angel Catbird, Vol. 1. Atwood says she's not opposed to expanding her flying cat-owl-man's story past the third book, but says the final decision "depends on the staying power of Johnnie Christmas." The real question, Atwood tells me, is this: "How long does he want to go around drawing flying catbirds?"
Even if Angel Catbird ends after its third volume, Atwood isn't done making comics. In addition to the audiobook version, Angel Catbird is also set to be released in an omnibus edition, following publication of Volume 3.
A television adaptation of her 1985 novel, The Handmaid's Tale, is set to hit Hulu on Apr. 26, but that isn't the only upcoming work based on Atwood's most famous story. Atwood tells me that The Handmaid's Tale graphic novel is currently in development. She first announced this "complex project" in an interview with The Daily Mail back in 2014, when she was working on her Tempest adaptation, Hag-Seed. The Handmaid's Tale graphic novel is slated for release in 2018.
Down the road, Atwood tells me that "Oryx and Crake would be a natural" fit for adaptation, but adds that the first installment of her MaddAddam trilogy might never materialize as a graphic novel. "You never know where it will all lead," she says. "It's so hard to predict the future."
Even if we don't get all of the Margaret Atwood graphic novels we want, The Blind Assassin author has plenty of recommendations for anyone looking to read a fantastic comic book series.
When I ask about series she'd like to see brought back with new episodes, Juan Díaz Canales and Juanjo Guarnido's Blacksad is the first to come to mind. A noir comic set in 1950s America, Blacksad follows the hardboiled private detective, who happens to be a large, anthropomorphic cat. Unfortunately, due to the comic's gritty style, Atwood doesn't think a team-up between the detective and Angel Catbird would work out. The sixth and seventh albums of Blacksad were expected to be released in 2016, but have not yet appeared.
Atwood says she also enjoyed the antics of Plastic Man: Jack Cole's Forties superhero who spoke in a "jivey" style and wore a pair of dark sunglasses. Twenty years before cosmic rays gave Dr. Reed Richards the ability to stretch himself into all sorts of wonderful shapes, a gunshot wound and an industrial chemical turned Patrick O'Brien into a comedic shapeshifter.
For anyone seeking a "very gorgeously drawn" comic book to read, Atwood tells me that you can't go wrong with David Mack's Kabuki. The 1994 series centers on a female assassin with the eponymous codename, working for a shadowy government entity in near-future Japan.
If lady assassins pique your interest, Atwood also recommends Lady Killer, which tells the story of a 1960s housewife who is secretly an assassin in the James Bond vein. There's also Bitch Planet, Kelly Sue DeConnick's feminist skewering of 1970s exploitation films, which owes a lot to The Handmaid's Tale.
Additionally, Atwood speaks highly of Sweet Tooth author Jeff Lemire's Black Hammer, which focuses on five superheroes trapped on a farm, with no memory of getting there and no means of escape.
But enough about those other comics. Check out this sneak peek of Angel Catbird, Vol. 2: To Castle Catula, and share your thoughts with me on Twitter!
Angel Catbird, Vol. 2: To Castle Catula is available Feb. 14 wherever books are sold.