Attention '90s Kids: Mariah Carey Is Going On Tour SO Soon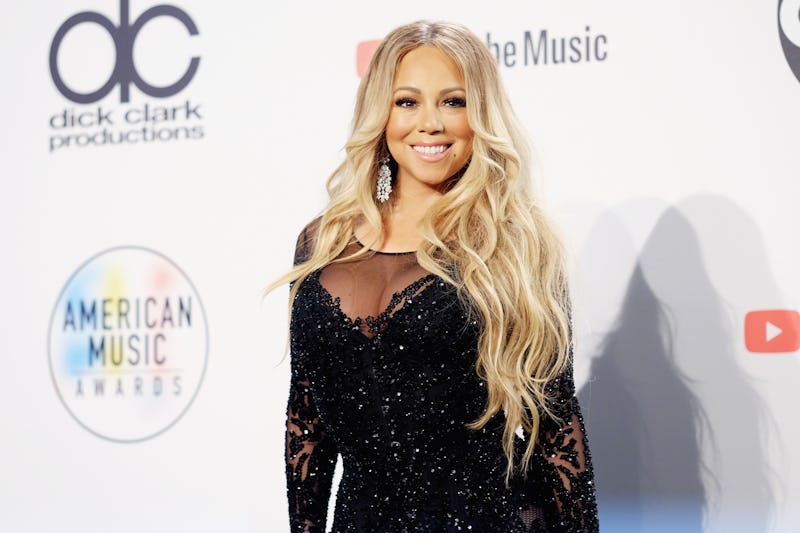 Matthew Simmons/Getty Images Entertainment/Getty Images
Raise a cup of hot tea, Lambs, because Mariah Carey is going on tour. (Don't have any hot tea on hand? Well, it looks like you're going to have to rough it à la the Elusive Chanteuse during Dick Clark's New Year's Rockin' Eve with Ryan Seacrest.) On Monday, Oct. 22, Queen Mimi announced that she will be hitting the road early next year in support of her forthcoming album Caution. The tour will kick off after she finishes the February leg of her Las Vegas residency at Caesars Palace.
Like, right after. Queen Mimi will wrap things up in Vegas on Feb. 21, and on Feb. 27, the Caution World Tour will make its debut in Dallas. You can check out tour dates over at Queen Mimi's website.
"I'm so excited to bring the CAUTION WORLD TOUR to you, starting Feb 2019! I can't wait to perform songs from the new album + some of our favorites," Carey's tweet reads. "HBF Presales begin tomorrow! Public on sale 10/26 @ 10am."
You hear that, '90s kids who've grown up with Carey's music? (And yes, this goes for people from other generations who appreciate the magic of Mimi, too.) Tickets go on sale this week. Yes, it's like that.
Wow. This set list already sounds like a sweet, sweet fantasy. New Carey songs plus "some of our favorites"? When it comes to Queen Mimi's catalog of tunes, "some of our favorites" means "some of the finest pop jams of the past few decades and you should be so lucky to see them performed live." (Anyone who tells you otherwise is probably a Martian!) "Fantasy," "Vision of Love," "Always Be My Baby," "We Belong Together," "Honey," "Emotions," "Heartbreaker," "#Beautiful" — the list of iconic options goes on and on.
What a time to be a Mariah Carey fan. Not only are we thiiiiis close to the holiday season, AKA "All I Want For Christmas Is You" season, but Carey has been dropping new stuff in our laps left and right. Just last week she revealed that her 15th album will be out Nov. 16 and will be called Caution. Oh, and she has already shared not one, not two, but three new songs in anticipation of this new record. Queen Mimi has released "GTFO," "With You," and "The Distance," a trio of fantastic tracks that will get fans even more fired up for Caution (as if fans weren't already extremely fired up for her first album in four years).
Carey seems pretty fired up about this record, too. She told People in August,
"My fans just want to hear me express myself and speak from the heart and sing from the heart. Some of the record is lighthearted and fun, and some [songs] I really went deep in terms of the lyrical content. There's a nice cross-section of things."
Carey also explained to People that her new album is a "labor of love," and that she is in a place in her life where she feels "able to express myself as a writer and a singer."
And before you know it, Lambs, you'll get to hear this labor of love in its entirety. In just a few weeks, Caution will spread its wings and prepare to fly on over to digital and physical album shelves.