This Throwback Photo Of Mariah Carey & Will Smith Will Give You All The '90s Feels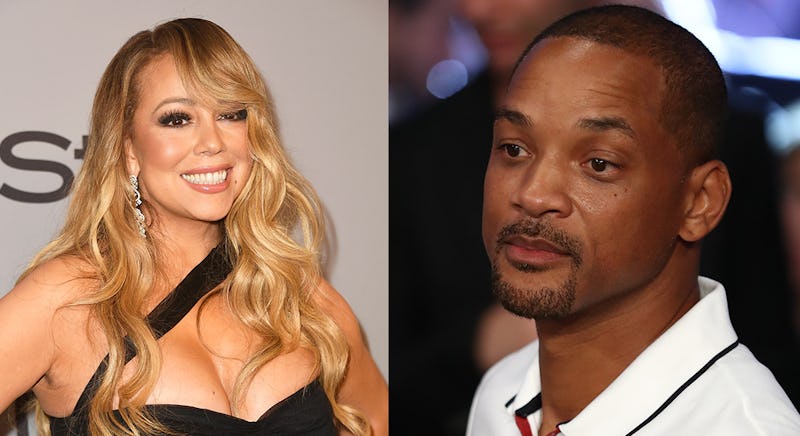 Frazer Harrison/Getty Images Entertainment/Getty Images; Al Bello/Getty Images Sport/Getty Images
Here's a vision that '90s kids will love: Mariah Carey's throwback photo with Will Smith that she posted on Instagram on Wednesday, Sept. 20 has it all. Awkward prom pose: Check. Shades with a tubular neck strap: Check. Big curly hair, tied messily together with a scrunchie: Check.
"When I only owned two dresses — one pink and one black," Carey wrote along with her "#tbt" photo taken at Los Angeles radio station KIIS-FM's "Endless Summer Jam" in 1988. "I met @willsmith on the night of the pink one! LOL"
Members of Carey's "Lambily" pointed out in the comments section that her caption was a nod to her 1991 hit "Make It Happen," which references her pre-fame struggles, down to having "no proper shoes." (Clearly she's since made up for lost time, now boasting a collection of sky-high designer pumps that "goes from ceiling to floor, running the gamut of diva-worthy heels: Christian Louboutin, Giuseppe Zanotti, Manolo Blahnik," according to a 2017 Vogue tour of her NYC triplex's shoe closet.)
Smith was quick to drop his own comment on Carey's photo, writing: "I never even noticed your dress... I was blinded by the Light of your Heart❤ :-)"
It's difficult to imagine a time when both celebs were just on the cusp of shooting to superstardom, but that was certainly the case when this picture was taken. At the time, the Los Angeles Times described a "young rap duo D.J. Jazzy Jeff and the Fresh Prince — AKA Jeff Townes and Will Smith" who, according to the paper, "won over the crowd with such paeans to teen Angst as the hit "Parents Just Don't Understand," and with its current hip-hop tribute to slasher flicks, "Nightmare on My Street"" at the KIIS-FM concert. (Also on the bill of artists who performed for free at the end-of-summer Labor Day festival: Kool & the Gang and Eddie Money.) Smith wouldn't be whistling for a cab on The Fresh Prince of Bel-Air until two years later, when his hit '90s TV show premiered on NBC.
For her part, Carey was an up-and-comer, also two whole years away from releasing her breakout hit "Vision of Love" off of her 1990 self-titled debut album. The memory must've been a happy one, however, as Carey tweeted the same photo once before, in honor of an Aug. 2015 #FBF, writing, "I still can't believe this picture..."
The "One Sweet Day" singer is quickly becoming the reigning queen of the amazing '90s TBT photo. Back in July, Carey posted another must-see throwback pic with Britney Spears from 1999, writing, "We need a new picture, Brit." It seems Carey does know her — unlike Jennifer Lopez.
Then, on Aug. 9, Carey's birthday tribute to Whitney Houston on Instagram took her more than 7 million followers all the way back to the 1998 MTV Video Music Awards with a clip of the pair presenting a moonman together in matching dresses. "Miss you friend," Carey wrote on what would have been Houston's 55th birthday.
Ironically enough, the VMA that Carey and Houston were presenting that year went to none other than Smith, when the clip for his hit "Just the Two of Us" won the award for Best Male Video.
Like Carey, the Men in Black actor is sitting on his own thrown as the prince of nostalgic social media posts. Smith — who's currently gearing up for a Grand Canyon bungee jump in honor of his 50th birthday — gave fans all the feels when he shared a Fresh Prince reunion pic with onscreen cousin Alfonso Ribeiro (AKA Carlton Banks) this summer. "One of my favorite people on this Whole Damn Rock!!" Smith captioned the Sept. 4 shot that has, so far, racked up more than 2.1 million Instagram likes.
In a likely attempt to not play favorites with his Banks relatives, Smith also posted an amazing throwback Instagram pic chillin' out, maxin,' relaxin' all cool with Karyn Parsons (AKA cousin Hilary Banks) back in May. It's possible he just wanted to show off his dope Fresh Prince chain, though. (He called it "the SAUCE" in his photo caption, also joking he "might have to start rockin' it again.")
Thanks to trips down memory lane courtesy of stars like Carey and Smith, the '90s are never too far away.