Mariah Carey's Throwback Photo With Britney Spears Is What '90s Dreams Are Made Of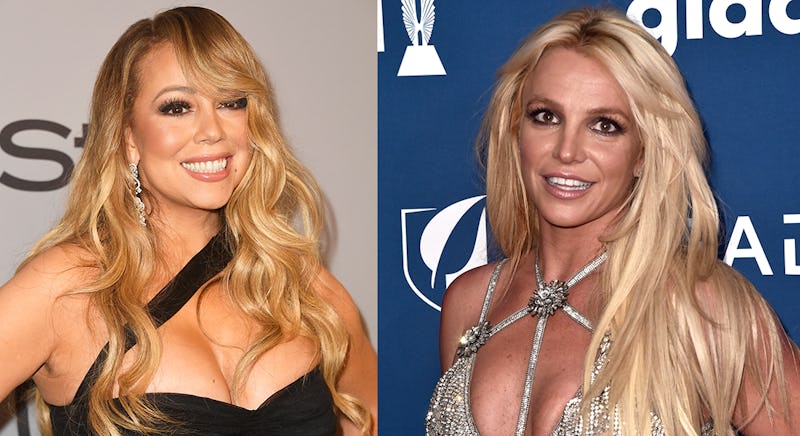 Frazer Harrison/Getty Images Entertainment/Getty Images; Alberto E. Rodriguez/Getty Images Entertainment/Getty Images
Once again, the internet has been shooketh by the sight of two legendary pop stars living their best lives, and fans have Instagram's Throwback Thursday hashtag to thank. While flipping through the archives of her pop-stardom over the years, Mariah Carey shared a photo of herself and Britney Spears, aparently upon their first recorded meeting in 1999, and it's the only #TBT you'll ever need to see.
It's no secret that Mariah and Britney have the upmost respect for one another. After all, Britney is one of the few popstars who Mariah actually remembers meeting. And nothing says "fandom" more than using the sounds of the "Heartbreaker" singer as fuel for her nude painting sessions — per Britney's own accounts, of course. If that doesn't bond Mariah and Britney for life, then the fact that their contributions to the entertainment industry have helped to shape pop culture, leading both of them to host their own Las Vegas residencies — as legends typically do — totally should.
Cementing just how much she adores Britney, Mariah took to her Instagram account Thursday, July 26, to bless her 6.9 million, and counting, followers with an epic throwback of the pair decked out in all-black 90s frocks. And yes, it's definitely everything.
Captioned "#tbt with @britneyspears. We need a new picture, Brit," the "All I Want For Christmas Is You" singer hinted that she's looking forward to hanging with the fellow pop legend sooner than later. And, not that fans aren't eternally grateful for the nostalgia that the throwback photo offered, or anything, but hopefully their next assemblage could result in a duet of some sort.
Mariah's July 26 photo seemingly referenced that the two haven't mingled with one another since this particular '90s snapshot was taken. Or, that they may have bumped into each other while out and about, but never got a chance to get an updated photo with one another. Now, Mariah's infamous bout of forgetfulness (remember when she said "I don't know her" in reference to Jennifer Lopez?) could be to blame, but Britney totally posted her own photo of the pair at a dinner party in the fall of 2017.
Captioned, "You never know who you're going to meet at dinner parties!! Great night! So much fun, thank you Cade!" Fans deduced from the Sept. 20, 2017, posting that the "Gimme More" singer may have been eluding to the fact that this was her first time meeting Mariah, but according to Mariah's July 26 post, is obviously false.
The musical legends clearly aren't aligned on when they've met one another, but when you've spent most of your life in the limelight, sometimes huge moments like these may run together. All in all, fans will be happy with Mariah and Britney having as many first meetings as they need to finally have it etched in their memories — and ours — especially if it results in more internet-shaking photos amazing '90s photos being shared all over the web.