How Mark Hamill Convinced At Least One British Royal That Luke Skywalker Is Royalty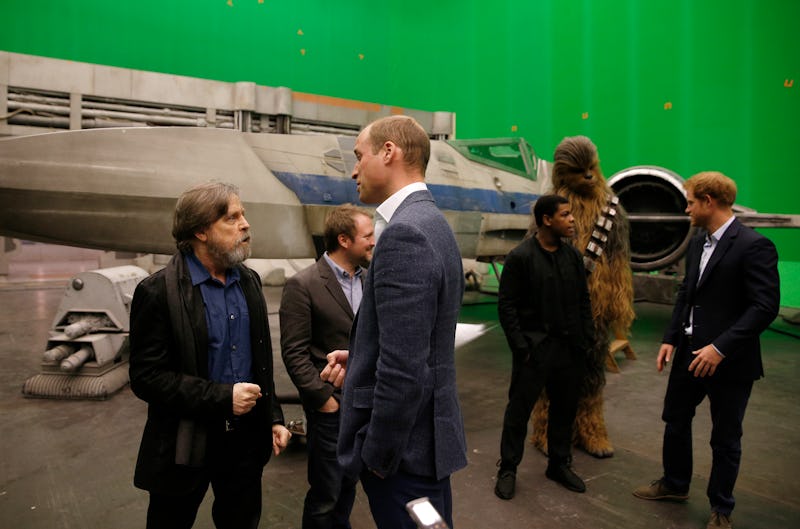 WPA Pool/Getty Images Entertainment/Getty Images
Jedis are like royalty, right? If you ask the man responsible for bringing Luke Skywalker to life, they totally are. When the British Royals visited the set of The Last Jedi, Mark Hamill tried to convince Princes William and Harry that Luke is royalty, and apparently, he made a pretty good argument because in the end, William agreed with him. Who knew?
Hamill told the story during an appearance on The View on Tuesday, and in a clip from Entertainment Weekly (which you can see here), he explained that everyone was lined up to greet the princes according to royal protocol, and when his moment to meet them came, he just had to use it to tell them his theory on why Luke Skywalker is actually just like them.
"When I got my chance to talk to them, I said 'Your highness, I would like to make a case for myself'," Hamill said. "My father was Lord Vader, my mother was Queen Amidala, my sister was Princess Leia — doesn't that make me royalty?"
It's hard not to admit that Hamill actually has a pretty good point here. Not only does Luke come from a line of pretty powerful people, but they also have royal titles where he does not. Seems pretty unfair, no?
After Hamill said his piece, though, the brothers weren't in agreement that he actually counted as royalty. "Unfortunately, it was a split decision," Hamill said. "William said, 'absolutely, I don't see why not.'"
Hamill's totally right — Luke Skywalker is kind of similar to William and Harry. Although Anakin wasn't quite Lord Vader when Luke was born and Padme was elected Queen Amidala. So, OK, maybe Luke wasn't really born into royalty the way that Harry and William were, but he does have those sweet Jedi powers. Maybe we can throw Hamill a bone here?
Prince William and Harry's visit to the Last Jedi set happened in 2016, while the movie was still filming. They totally lived out every Star Wars fan's ultimate dream — they met the cast, engaged in a light saber battle, hugged Chewbacca, and even got to communicate with BB-8, the most adorable droid ever. And now, it seems like their visit included Hamill pleading his case. All in all, an excellent day.
And as if that set visit wasn't enough, Harry and William even played stormtroopers in the movie. At first, it was just a rumor, but then, in an interview with The Hollywood Reporter, John Boyega spilled the beans, and said, "It wasn't intimidating, it was fun. I thought, like, 'Of course, it's Star Wars, they're going to bring the royal family.' It felt fun. They were in stormtrooper costumes."
Of course, that meant they were impossible to spot while watching The Last Jedi, but that's OK. Just knowing that Prince William and Harry were somewhere in that movie is cool enough, even if they didn't make more obvious cameos.
And since they were in the movie, they also attended the Last Jedi premiere last year in London, where they had a brief reunion with the cast (yes, including BB-8 again) on the red carpet, because of course they did. With all of these perks for being royal, it's no wonder Hamill's trying to get in on it. Who wouldn't?
Hopefully, Hamill's story on The View is just the first he'll share of his time spent with the royal family. What are the chances that Harry and Meghan Markle will invite him to their wedding? Now that they know he's royalty, just like they are, it seems like a given that he'd be on their guest list.