Mark Hamill Reacts To Carrie Fisher's Death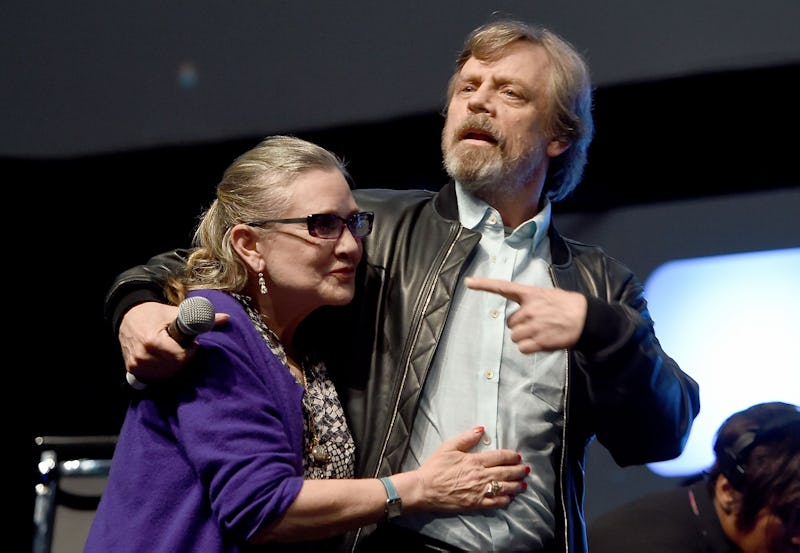 Ben A. Pruchnie/Getty Images
The news that actress and writer Carrie Fisher passed away at age 60 has deeply saddened the Star Wars community, including the actors who starred alongside her in the original franchise. Star Wars star Mark Hamill's response to Carrie Fisher's death was touching and sad, a fitting tribute from the actor who played Luke Skywalker to the actress who portrayed his sister, Princess Leia. "No words #Devastated," Hamill wrote on Twitter, captioning a photo of himself and Fisher as Luke and Leia.
In a statement to Bustle, Hamill says: "It's never easy to lose such a vital, irreplaceable member ofthe family, but this is downright heartbreaking. Carrie was one-of-a-kind whobelonged to us all- whether she liked it or not. She was OUR Princess, damn it,& the actress who played her blurred into one gorgeous, fiercelyindependent & ferociously funny, take-charge woman who took our collectivebreath away. Determined & tough, but with a vulnerability that made youroot for her & want her to succeed & be happy. She played such acrucial role in my professional & personal life, & both would have beenfar emptier without her. I am grateful for the laughter, the wisdom, thekindness & even the bratty, self-indulgent crap my beloved space-twin gaveme through the years. Thanks Carrie. I love you, mh"
Fisher suffered a heart attack on a plane on Dec. 23, leaving her fans and the world at large in a panic, but her immediate family members soon after confirmed that she was in stable condition. However, family spokesperson Simon Halls, speaking on behalf of Fisher's daughter Billie Lourd, announced that Fisher passed away on Dec. 27, 2016. "She was loved by the world and she will be missed profoundly," said Lourd. "Our entire family thanks you for your thoughts and prayers."
After the initial heart attack, Hamill expressed his hope for his movie sister, writing on Twitter "as if 2016 couldn't get any worse...sending all our love to @carrieffisher." He continued to post hopefully about his former costar's health in the ensuing days, touchingly invoking the Force and the holiday season.
Fisher's untimely death has come as a shock to us all, as the actress had not been ailing, but was busy with a career and press tour. She published her memoir, entitled The Princess Diarist, in November. The book included excerpts from the diary Fisher kept while filming Star Wars, and revealed that Fisher and her co-star Harrison Ford had had an affair (Hamill has since admitted that he remained blissfully unaware of the romance going on on set). Throughout her press tour promoting the book and dishing on her co-stars, Fisher was her witty, warm, and brutally honest self.
Both Fisher and Hamill remained close to the Star Wars fandom that initially propelled them to fame in 1977. They both briefly appeared in the Star Wars reboot, The Force Awakens, and they looked like they had a lot of fun together promoting the film. It will surely be a hard few days for Hamill and the entire Star Wars family as they mourn the loss of a great lady.