Mary Tyler Moore's Last Role Is Unforgettable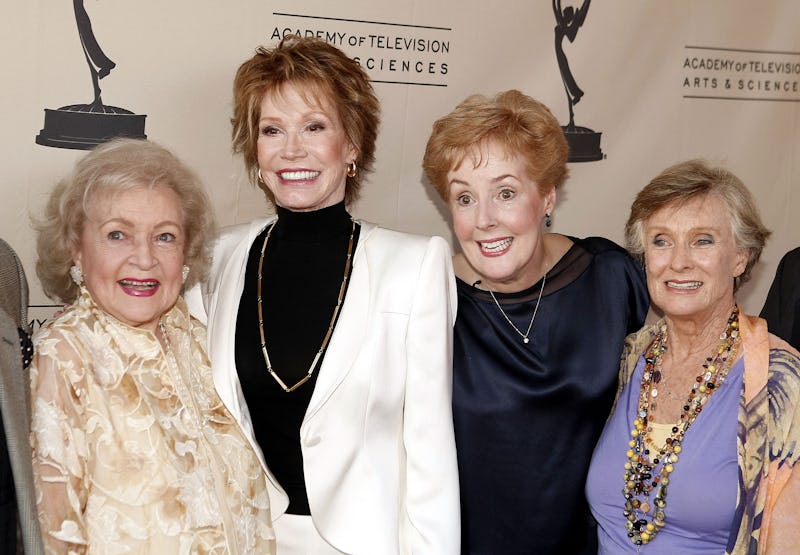 Kevin Winter/Getty Images Entertainment/Getty Images
Mary Tyler Moore really made it big in the '60s and the '70s as an actor, including, most obviously, her roles in The Dick Van Dyke Show and The Mary Tyler Moore Show. As she got older, her acting gigs were few and far between, but that didn't mean she stopped doing what she loved altogether. Now that she has sadly passed at the age of 80, let's talk about Mary Tyler Moore's last role.
After appearing on TV Land's Hot in Cleveland in 2011 as Diane alongside her former Mary Tyler Moore co-star Betty White, Moore returned as Diane in 2013 for an episode titled "Love Is All Around." It focused on Elka (White), Diane (Moore), Mamie (Georgia Engel), Peg (Cloris Leachman), and Angie (Valerie Harper) reuniting as a bowling team.
What made the episode so special is that it was essentially a Mary Tyler Moore Show reunion. All five women starred in the hit series together, so to see them once again in action and showing off their comedic talents was truly a wonderful moment.
When Mary Tyler Moore aired (it ran from 1970 to 1977), Moore obviously played the lead character, Mary Richards. As for her co-stars, Harper famously played Rhoda (she also earned her own spin-off, Rhoda, in 1974), Engel played Georgette, Leachman played Phyllis, and White played Sue Ann. Like Hot in Cleveland, their chemistry was off the charts. As you can see below, after the passing of many years, they didn't lose their touch as hilarious women.
What made their 2013 television reunion even more lovely was that the title of the episode is named after the Mary Tyler Moore theme song, "Love Is All Around." Get this: the very first episode of the comedy was also titled, "Love Is All Around." It all came full circle, didn't it?
Not only is Moore's last role a great way to remember her, but also these five influential women who opened the door for so many other female actors wanting to be comedians.