Matt LeBlanc's 'Friends' Comments About Joey's Intelligence Will Totally Blow Your Mind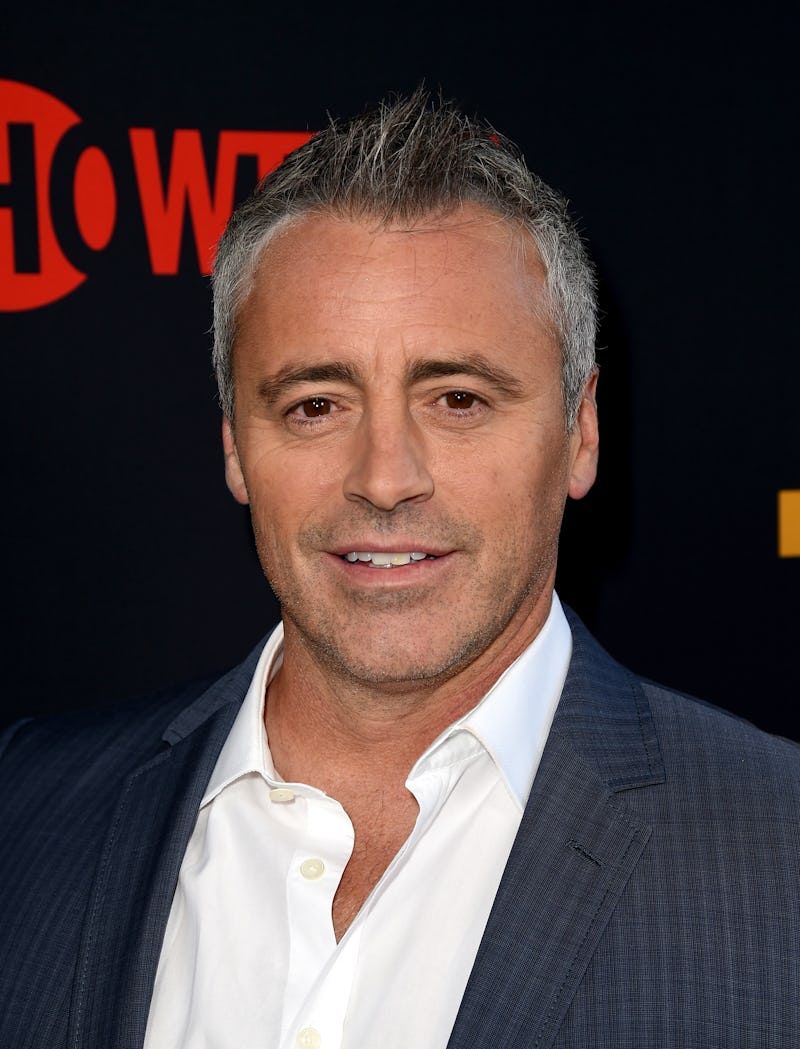 Kevin Winter/Getty Images Entertainment/Getty Images
Sure, it's easy to write off Friends' Joey Tribbiani as dim-witted, but Matt LeBlanc's comments about Joey's intelligence, published by The Hollywood Reporter on Thursday, June 28, will blow your mind.
"For me, he was never 'dumb,'" explained LeBlanc, who played the role on the iconic NBC series from 1994-2004. "For me, he was always just incorrect. He had his own sort of parallel-universe stream of logic."
LeBlanc's not wrong. Take, for example, when Joey defended his use of "moo point" (instead of the correct term, moot point) to costar Jennifer Aniston's Rachel Green during a 2000 episode. "It's like a cow's opinion," he deadpanned. "It just doesn't matter. It's moo." Rachel's reply? "Have I been living with him for too long, or did that all just make sense?" Let's be honest, it kind of did...
The intelligence argument aside, Joey's personality is what undeniably made the character so lovable. "Everybody wanted to be friends with Joey," LeBlanc added in the interview with THR. "Joey was that guy everybody wanted to hang out with. Girls liked him. Guys liked him."
He was so likable, in fact, that even after a decade of slickly uttering Joey's signature "How you doin'?' catchphrase, NBC execs couldn't let go of the character when the series ended in 2004. Enter the Friends spinoff, Joey, which — despite being cancelled in 2006 after just two seasons — LeBlanc still stands behind.
"The pressure was huge," he added to THR. "I can't lift the weight that six people were lifting. Those were big shoes to fill ... I thought it was a good show, I really did. Was it Friends? No, it wasn't — nothing would have been. But I was proud of it."
Although he feels "very, very, very fortunate" to have played the role of Joey which earned him three Emmy nominations during the Friends years, LeBlanc said he's retired the character for good.
While explaining his opposition to a Friends reboot, in the vein of so many other beloved series of the past being resurrected in recent years, LeBlanc joked, "Nobody wants to see Joey at his colonoscopy." He further explained his position to THR:
"That show was about a finite period in your life, after school and before your life really gets started. And if you think about the end of Friends, now their lives are starting — Ross and Rachel go off, Monica and Chandler move to the suburbs with the babies, Phoebe and Mike are married, Joey goes off. It was that time prior to that where they were each other's emotional support system — that's what that show was about. After that? It's a different show. That was what the magic of that show was, how — no pun intended — how they were there for each other."
The series' co-creator David Crane also recently crushed the dreams of fans wanting a Friends reunion series, telling The Wrap: "Never happening. Never. We did it! It's done. That's why you don't want to see more of it, because it's all a happy ending."
With that, it's safe to say a reunion isn't in the cards — at least not onscreen anyway. The notoriously tight-knit cast has made many appearances together over the years, of course. Matthew Perry was the only one missing when Courteney Cox, Lisa Kudrow, and David Schwimmer joined LeBlanc and Aniston for the ultimate Friends photo opp, to honor the TV producer and director James Burrows back in February 2016. Most recently, BFFs Aniston and Cox sang the Friends theme song, "I'll Be There For You" by The Rembrandts, when George Clooney received the 46th Annual Lifetime Achievement Award from the American Film Institute (AFI) on June 7.
Even with the reboot out of the picture, LeBlanc has had plenty of post Friends work keeping him busy anyway. Following Joey's cancellation, he took a five-year break from acting, but returned with a vengeance playing a caricature of himself on five seasons of Showtime's Hollywood-centered comedy, Episodes. The role earned him four Emmy nominations as well as a Best Actor Golden Globe win. Episodes ended last year and he's now starring in CBS' comedic sitcom, Man with a Plan.
LeBlanc has certainly made smart moves in his career, and now that he's spoken out about Joey's smarts, fans will really have something to think about the next time they tune in to a Friends re-run.