Matt Smith Reportedly Just Joined 'Star Wars' & It's A Sci-Fi Dream Come True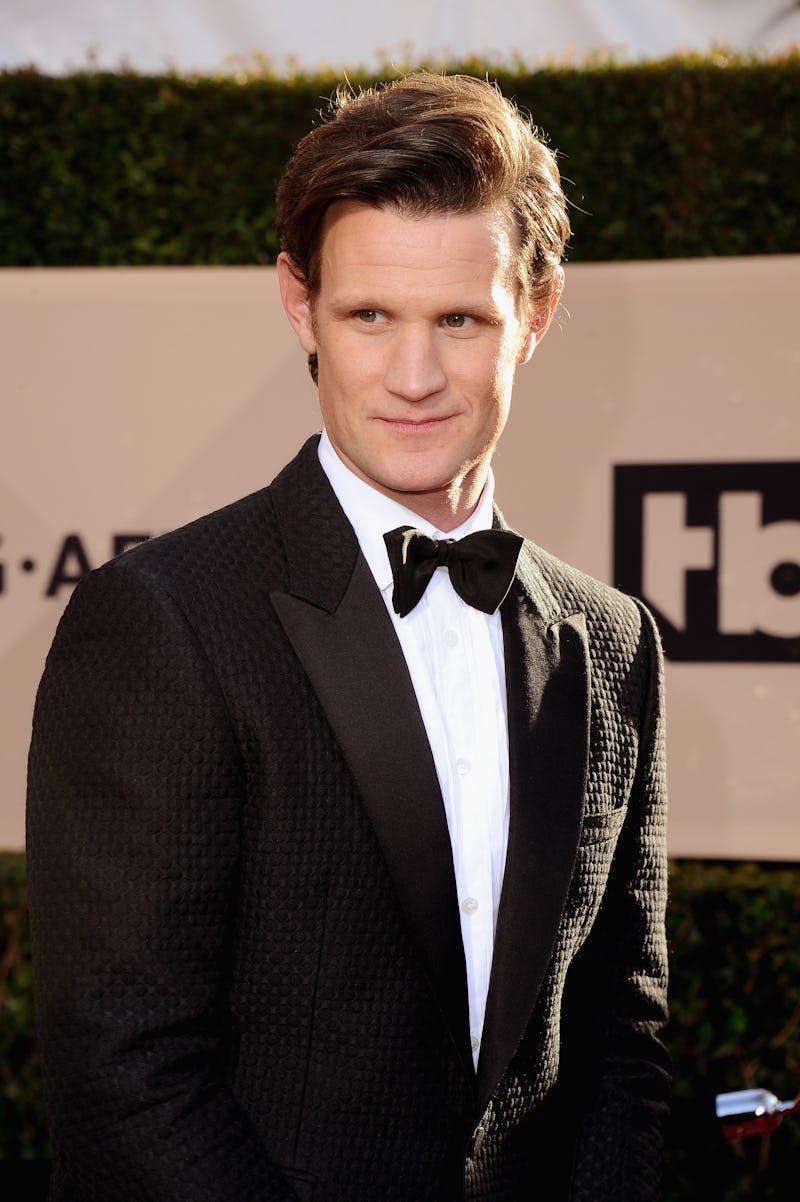 Jon Kopaloff/Getty Images Entertainment/Getty Images
Buckle your TARDIS seat belt, because it looks like the 11th Doctor may soon jump to hyperspace. On Tuesday, Aug. 28, Variety reported that Emmy nominee Matt Smith will reportedly be in Star Wars: Episode IX. There is no word on whether The Crown actor will play a good guy or a bad guy in J.J. Abrams' second Star Wars movie, but Variety did reveal Smith will reportedly take on a "key role." Hmm, now what kind of "key role" are we talking about here? Could he be one of Kylo Ren's cronies? Someone who joins the Resistance, perhaps? A Force Ghost? A fish nun? A Stormtrooper who never takes off his helmet? Let the predictions palooza commence.
As many of Smith's fans pointed out on Twitter, this particular morsel of Star Wars: Episode IX news just so happened to pop up on the internet on National Bow Tie Day of all days. Talk about perfect timing: Smith, of course, played the 11th Doctor on Doctor Who. As any Whovian will tell you, the Eleventh Doctor basically created the bow tie. And now, here we are, celebrating National Bow Tie Day and Matt Smith Will Apparently Be In The New Star Wars Movie Day. Wow, Aug. 28, 2018 really is Smith's day.
Variety's tidbit about Smith and Episode IX surfaced a few days after Deadline reported Lost star Dominic Monaghan and Lost co-creator Abrams will reunite for the third installment of the Star Wars sequel trilogy. Unsurprisingly, the Lord of the Rings actor sure seems thrilled to be part of this iconic franchise. Monaghan told Deadline, "The galaxy far far away has had almost as much influence as the one I live in, so I am delighted to be involved."
Monaghan has wanted to be part of this franchise for quite a while, and he's been pretty open about it. When the actor appeared on Ora TV web series DweebCast back in 2014, he said he let Abrams know he would love to be in Star Wars: The Force Awakens. "Give me a lightsaber, I'll do anything," Monaghan told DweebCast's Andy Riesmeyer. Monaghan did not appear in The Force Awakens, but it looks like his dreams will come true in Star Wars: Episode IX.
Monaghan and Smith are two of the many awesome actors that'll make up the upcoming Star Wars movie's incredible ensemble. As Star Wars' official site confirmed back in July, the cast will also include Daisy Ridley, Oscar Isaac, John Boyega, Adam Driver, Kelly Marie Tran, Domhnall Gleeson, Lupita Nyong'o, Billie Lourd, Joonas Suotamo, Mark Hamill, Billy Dee Williams, Anthony Daniels, Keri Russell, Naomi Ackie, and Richard E. Grant. Leia Organa will be portrayed by the late Carrie Fisher via unused footage that was filmed for The Force Awakens.
Star Wars: Episode IX is set to hit theaters on Dec. 20, 2019. Do you think the 13th Doctor would be down to fire up the TARDIS and take us on a trip to next December so we can see this movie? Because uh, not to be hyperbolic, but that really does feel like a long time from now in a galaxy far, far away. Ah, you're right. Not unlike bow ties, Stetson hats, bunk beds, and glasses, waiting patiently for a new Star Wars flick is cool.