McDonald's Just Launched A Frozen Cold Brew That You Can Customize With McFlurry Toppings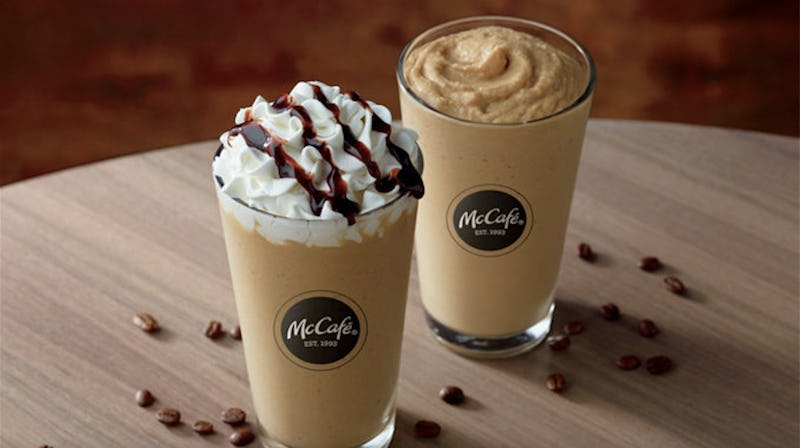 McDonald's
The coffee gods have heard your prayers. There's no doubt that iced coffee is already pretty flipping great — but this new treat may be even better. Frozen? Yup. Affordable? You bet. Available with Oreo topping? Shut your mouth — because of course it is. The new McDonald's Cold Brew Frozen Coffee is here and the internet is super stoked about it. For anyone who likes to hit up McDonald's for cheap morning options, this is very exciting news. Starting at just $2, these are so much cheaper than some of those other coffee giants I won't mention even though I spend hundreds of dollars a year of my hard earned cash on their oat milk lattes. And from what fans have to say, their just as delicious – if not more so.
The truth is, we need it now more than ever. It's summer outside. It's effing hot, our legs are chaffing like two angry hams rubbed against each other in the Kentucky heat, everyone in England is obsessed with a thing called Love Island and no one can really explain why. Oh — and our student loan debts are still very much there. So what better time for a simpler pleasure, an easy treat, and an affordable pick-me up? It's not going to do anything about your student loans or island-related confusion, but you can imagine yourself lounging under a palm tree and breathe a little deeper, just for a while.
Now don't let the "cold brew" name fool you — even though it's made with cold brew, it's definitely a frozen, blended drink. None of that slightly bitter twang or black coffee here. In fact, it looks like something halfway between an iced coffee and a milkshake. But the best part is that it's totally customizable. So not only can you choose your sugar and milk options, you can also play around with delightful extras like whipped cream, drizzle, syrup, according to McDonald's. In fact, the Frappe option comes with whipped cream and a chocolate drizzle automatically. Although apparently the coffee already has a sweetness thanks to the cold brewing process, says Chew Boom — so just keep that in mind when you're adding in your sugars and syrups. Or, if you like your coffee with a bit more edge, add an extra espresso shot.
But more importantly, Oreo topping is an option, which means I have been thinking about zero else for the last twenty minutes. Cookies, cream, coffee. Oreo-topped frozen coffee exists. Just take a minute to breathe in and remember that 2018 has given us something good. There's a reason the internet has thrown up its hands in celebration.
Seriously, fans of the new Cold Brew frozen coffee are ride or die — and they are not be shy about slamming the competition.
Yikes — they are not holding back. You'll have to try it for yourself to see which you prefer. The truth is, because it's already made with milk and blended, it's probably not going to be your go-to drink if you're a die-hard Americano or black coffee fan. But if you're someone who loves more of a sweet treat or a milkshake vibe, this drink certainly seems to deliver.
Whether you're heading for a road trip or need a pick-me-up on your way to work, cold brew coffee just tastes like summer. And this particular option seems to be affordable and, according to the people who have tasted it, downright delicious. The Cold Brew Frozen Coffee or Cold Brew Frappe are waiting for you — just don't forget the Oreo topping.