This Woman Will Change How You Think About Underwear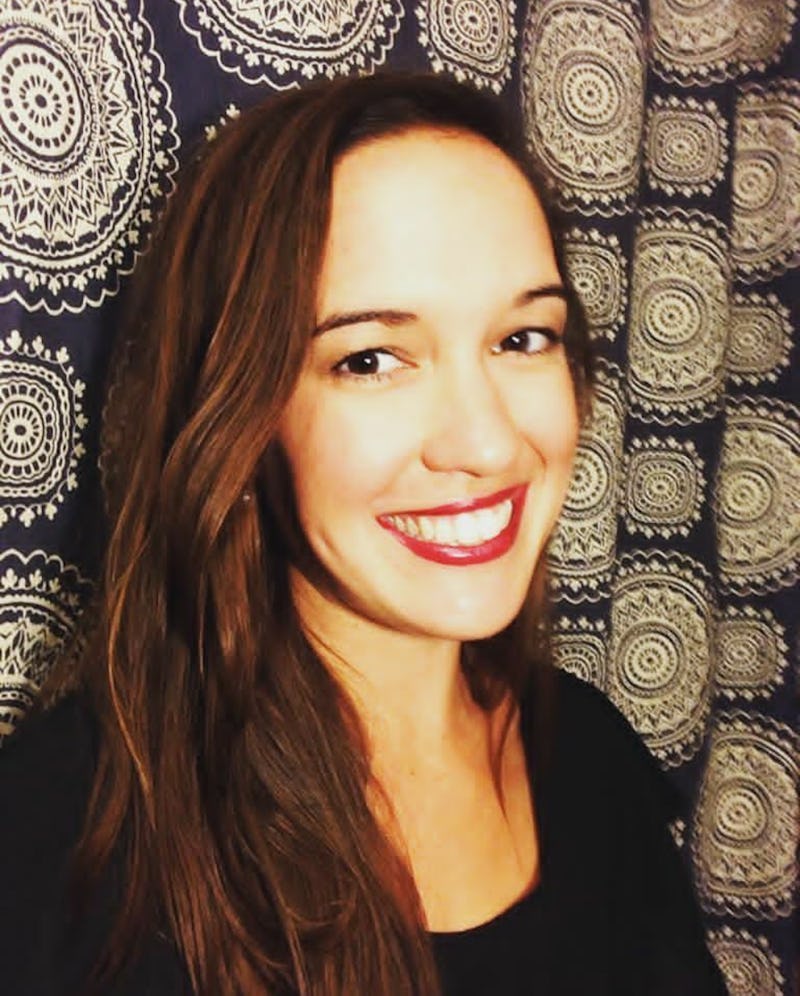 Courtesy of Megan Beck
For the third year in a row, Bustle's Upstart Awards are honoring young women who are doing incredible things in the realms of business, STEM, fashion and beauty, the arts, philanthropy, and beyond.
For Megan Beck, everything changed with the flush of a toilet.
After a month-long service trip to several villages in the southeast African country of Malawi, then-15-year-old Beck returned home to Texas, distraught that she and her family had unthinkingly wasted so much water with every flush their entire lives.
"I had such a hard time reconciling places that are in need versus the plethora of things I had at my fingertips that I refused to flush the toilet whenever I came back," Beck tells Bustle. "I remember I had multiple teary-eyed conversations with my mother talking about how we couldn't flush the toilets because we were wasting water."
"I came back and I've never been the same."
Now 28, Beck is the co-founder and chief operating officer of The Unmentionables, which provides items in the oft-overlooked but totally necessary personal hygiene category to displaced people and refugees — think underwear, bras, period products and condoms, to start. It's not only a matter of public health, but of dignity and productivity.
"When a girl or woman does not have a means to stop blood from going down their legs, they're not going to go out in public," Beck said. "So that is a girl who's not going to school, that is a woman who's not going to a market, who is not going to pick up either a formal or informal means of income. That's half of society, stalled for a quarter of their month, every month — so that's incredibly far-reaching."
By providing these supplies, Beck and The Unmentionables hope to abolish at least one barrier that young women face.
As Beck points out, "This is not the only influencing factor that makes it really difficult for a girl to get to school" — in many societies, being a woman in the first place is an economic and educational disadvantage. But by getting these supplies to young women, Beck and The Unmentionables hope to abolish at least one barrier. "If something as simple as a reusable pad, which will last for three years, can go to a teenage girl," says Beck, "that can get her through secondary school" — helping her avoid being kept out of class by "biological processes that she has no control over."
Beck co-founded The Unmentionables about a year ago, after witnessing the disastrous effects of poor hygiene and lack of infrastructure during a volunteer trip around Athens, Greece. The septic system in the area where she was working had only been built to be temporary and was overwhelmed, presenting a significant public health risk; many of the toilets were broken, leaving people to slog through standing human waste in order to access makeshift latrines. "Human waste doesn't stop because it's inconvenient. It's consistent," says Beck. There wasn't running water, let alone any way to wash and dry laundry.
Beck realized that this was a problem that was not being fully addressed by programs that currently existed: "While I was volunteering and helping with donations and distributions I realized there were few undies, bras, boxers, whitie tighties and there were even fewer period products." She also realized the difference that a fresh pair of underwear could make for many of the people she was serving on the trip, both hygienically and psychologically.
So Beck reached out to a few friends and family, explaining the situation and seeing if they might like to donate, She then took that money and went to the garment district in Athens. She bartered in Greek — a language that she doesn't speak — and came up with around 2,700 pairs of underwear to distribute, beginning what would become The Unmentionables.
Now, she and co-founder Kaleigh Heard oversee the organization, which currently has around 20 remote volunteers on four continents, and five active project sites, including a fast-response mobile distribution in Houston in the wake of Hurricane Harvey. They aim is to fill a gap in relief efforts for groups of displaced people, whether in Sudan or Texas.
"There are other organizations that are doing a good job of either recycling non-food items or purchasing them," Beck said. "However, the items that are donated to these other groups are not frequently the undergarments or period products. … There just wasn't a place to get these things, and you can't DIY a condom very successfully. All of these things are intrinsically tied to a little bit of dignity you can give somebody and also directly tied to their self-determination to go to school, go to work, function in society."
In less than a year, the organization has distributed tens of thousands of items to refugees. As a bonus, Beck can now say "condom" and "underwear" in several languages.
In her free time, Beck loves to travel alone, which she says stretches her limits and teaches her about herself. She spoke to Bustle after a week of off-the-grid camping on the Texas-Mexico border — her summer vacation — and notes of such trips that "every time I do something that makes me really uncomfortable and stresses out my family and loved ones, it helps me to be bold but also be humble."
Though many would view this young philanthropist as a role model herself, she pulled two surprising (and memorable) icons as examples for her own outlook on life.
"My main life inspirations are taking the approach to risk and limits that Evel Knievel had and the approach to limitless self-sacrifice that Mother Teresa had. On a good day I'm trying to channel both of those things into what I do," she says, laughing. "On a good day."
Learn more about Bustle's 2017 Upstart Awards here.