Meghan Markle & Prince Harry Reportedly Watch This Netflix Show Together & It's SO Meta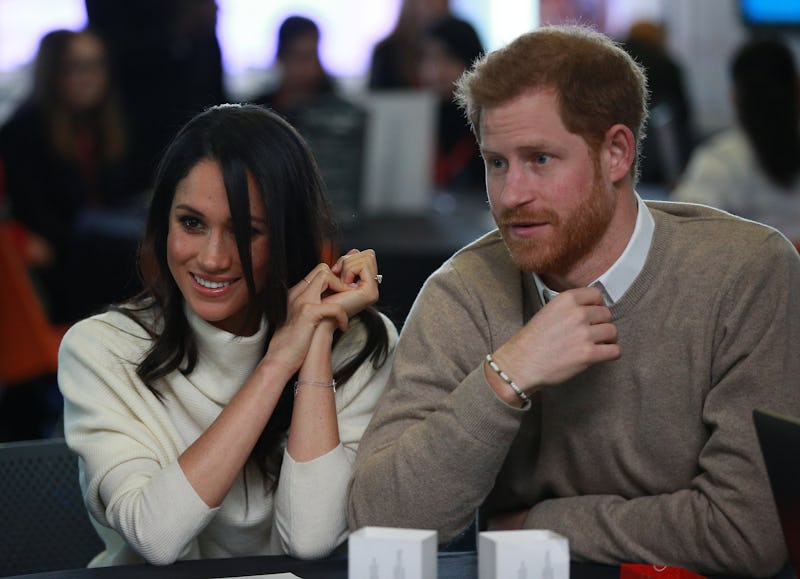 WPA Pool/Getty Images Entertainment/Getty Images
Meghan Markle and Prince Harry might not be your average soon-to-be newlyweds, but that certainly doesn't mean they don't enjoy a good ol' fashioned Netflix and chill session, just like the rest of us. (Well, sort of like the rest of us.) Adding to the list of real-life royals who've endeavored to watch fictional renderings of themselves play out on TV, Meghan Markle and Prince Harry reportedly watch The Crown, too. Granted, marathoning the acclaimed Netflix series (which is a dramatization of the reign of Queen Elizabeth II, Prince Harry's grandmother) probably takes on an entirely new meaning when you're literally a member of the real-life royal family. Or, in Markle's case, an member-to-be.
Per the release of her new book, Harry: Life, Loss, and Love (out Tuesday, March 20), author and proclaimed royal expert Katie Nicholl painted a delightfully intimate picture of Markle and Prince Harry's relationship from a coveted fly-on-the-wall perspective. And, much to the delight of eager royal enthusiasts everywhere, one particularly romance-centric excerpt from Nicholl's upcoming book (which appeared in the New York Post Saturday, March 17) provides readers with a candid glimpse into what "date night" looks like for the happily engaged pair. If the excerpt is any indication, Date Night: Royal Edition looks a lot like a quiet night in at Nottingham Cottage (Prince Harry's former bachelor pad, which, according to Nicholl's new book, has recently seen some stylish, Markle-helmed new additions), cooking homemade meals and cozying up in front of the TV. In the New York Post's excerpt from Harry: Life, Loss, and Love, Nicholl wrote,
"An accomplished cook, Meghan loved to make extravagant dinners for Harry, and they enjoyed staying in and eating her delicious homemade meals and watching films and TV shows like The Crown on Netflix."
Because, in addition to superior aptitude for screen-acting, activism, and philanthropy, Markle is apparently also an exceptional chef. And, honestly, who's surprised?
Since Markle and Prince Harry first announced their engagement last November, inquiring fans have flooded the internet with questions about the details of their relationship — many of which the couple had managed to keep under wraps, pre-proposal. At the time, everyone was dying to know more about the behind-the-scenes of Markle and Prince Harry's romance: How did they meet? When did they start dating? What do they do for fun? Royal enthusiasts did get some of the answers they'd been looking for, mostly thanks to the couple's adorable joint interview with the BBC immediately following their engagement announcement. But, with the couple's highly-anticipated wedding ceremony just two months away, the trans-continental hype over Markle and Prince Harry's love affair seems to be kicking into high gear.
For all those royal relationship inquiries left unanswered, fans can now turn to the latest biographical workings of Nicholl, whose upcoming biography touts "the most intimate and informative portrait yet" of Prince Harry. And, judging by the book's recently released excerpt, it seems like a solid chunk of that portrait will (quite appropriately, given the pre-matrimonial timing) delve into his relationship with Markle. In the excerpt, Nicholl essentially speaks to the couple's bona fide fairytale romance, writing that Markle felt "so at home at Nottingham Cottage," basically from the start. Nicholl continued, writing,
"[Markle] had a wardrobe of clothes in Harry's closet and had flown several more suitcases of belongings over. She referred to Kensington Palace as 'home,' and there were reports in the press that she had unofficially moved in with Harry."
And cue the chorus of swoons. As if the details of Markle and Prince Harry's sweet romance didn't already speak for themselves, Nicholl's excerpt makes it pretty clear: the couple is madly in love. "Harry was convinced he had met 'the one,'" Nicholl wrote, closing the excerpt.
If their relationship is half as heartwarming as Nicholl's book suggests, then it seems pretty safe to say that Markle and Prince Harry are in it for the long haul. And, who knows? A few years down the line, that might even mean Markle gets a fictional rendering of her own on The Crown. (For the record, if that does ever come to fruition, The Crown's EP wants Markle to play herself.) Until then, we'll just have to embrace for the knowledge that, at least, they're watching, too.