Seeing Meghan Markle On 'The Crown' Could Actually Happen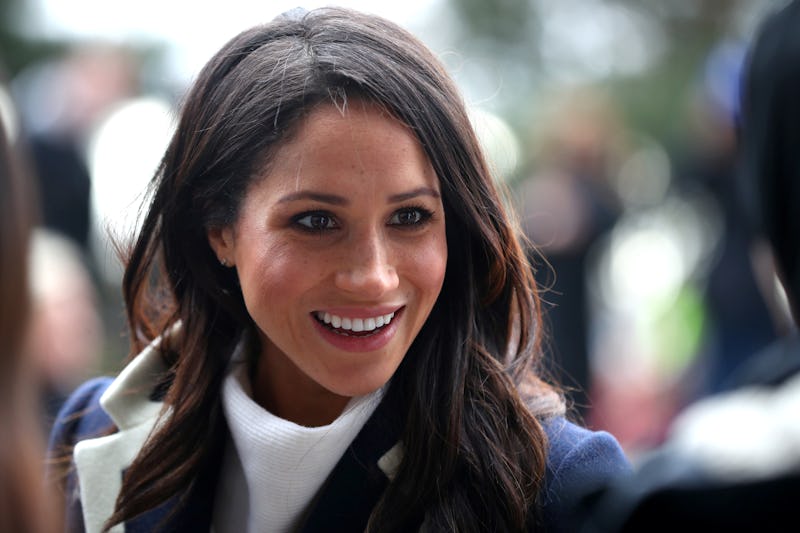 WPA Pool/Getty Images Entertainment/Getty Images
Prince Harry and his soon-to-be bride are gearing up to tie the knot this spring, and The Crown is creeping ever closer to the present day. So, when asked who would play Meghan Markle in Netflix's The Crown should upcoming seasons feature the former Suits star, a producer gave a joking answer that will make fans of the actor excited. During a discussion at INTV Conference in Jerusalem on Tuesday, executive producer, Suzanne Mackie discussed the possibility of bringing the show into present day, revealing: "I want to see an episode where Trump comes to Buckingham Palace." And, when it comes to Markle, "She can play herself."
There has been much discussion about the actor being featured on television again in the past, though not as herself. Crown star Matt Smith made the suggestion that Selena Gomez would be a good fit for the role, while Lifetime chose to cast Parisa Fitz-Henley as Markle in their upcoming Harry & Meghan: A Royal Romance movie, according to ELLE. While all of those ideas sound great, Mackie's joking solution would obviously be the best.
Though a seemingly simple resolution, however, it would be a nearly impossible feat due to Markle's retirement from acting during her journey to join the Royal Family. She explained her decision to walk away from the entertainment industry during an interview with BBC, saying:
"What's been really exciting, as we talk about this as the transition out of my career... is that the causes that have been very important to me, I can focus even more energy on."
However, fans should never say never, especially if a producer would be on board with the idea if Markle had the time or inclination. With or without the actor, however, the show is doing great.
During a discussion at the BFI & Radio Times Festival in London in April of last year, Mackie shared a tidbit of what fans can expect in the show's return. She explained, "We start meeting Camilla Parker Bowles in Season 3. We have to be honest, season three and four are being mapped out." Variety reported that the show will also revamp the cast in its third installment; Olivia Colman will take over for Claire Foy as the Queen Elizabeth II. The recasting of Prince Philip has yet to be announced, but Helena Bonham Carter has signed on to play Princess Margaret.
However, not all news about the series has been positive. It was revealed that Crown star Claire Foy was paid less than co-star Matt Smith, according to Variety. The pay disparity between Foy and Smith first came to light during a discussion at the INTV Conference earlier this week, when Mackie and co-producer Andy Harries were asked if the the actors playing Queen Elizabeth and Prince Philip were paid the same amount. After reportedly revealing that Smith made more doing the first two seasons due to his fame on the BBC series Doctor Who, Mackie and Harries explained that the disparity would be amended in future seasons. "Going forward, no one gets paid more than the queen," said Mackie. (Bustle reached out to Netflix for comment on the situation, but did not receive an immediate response.)
With at least two more seasons to come, Crown creator Peter Morgan revealed that Season 3 will take place between 1964 and 1976. He went on to explain that they intend to film the next two seasons concurrently, saying: "I'm writing them all at the moment." According to the timeline, Season 4 will most likely take place in the late 1970s and early 1980s. The season will reportedly feature Margaret Thatcher and Princess Diana.
Although Meghan Markle won't be available to play herself on the hit Netflix series for a long time, if ever, at least a real life fairytale will soon get underway when she marries Prince Harry on May 19, 2018.