Here's How Prince Harry & Meghan Markle Will Celebrate Princess Diana At Their Wedding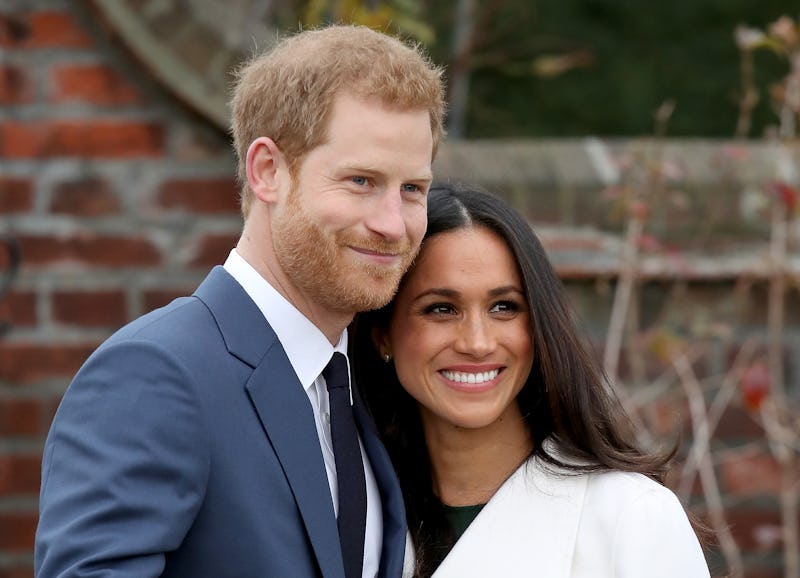 Chris Jackson/Getty Images Entertainment/Getty Images
TGIF! There's lots of new news about the royal wedding, which is finally almost here. Prince Harry's communications secretary released loads of details about the upcoming nuptials, the most exciting being the roles that Harry and Meghan Markle's families will play in the wedding. Markle's father, Thomas, will be walking her down the aisle, while her mother, Doria, will be in the car with her on the way to the ceremony. But on the Prince's side of things, it was also revealed how Prince Harry and Meghan Markle will honor Princess Diana during their wedding.
The royal announcement says that Harry is "keen to involve his mother's family in the wedding," and that all three of the late Princess of Wales' siblings will be in attendance. Princess Diana's sister Lady Jane Fellowes will give the reading at the ceremony, and her other siblings, Lady Sarah McCorquodale and Earl Charles Spencer, will also attend.
According to Town and Country, Lady Jane, who is now 61 years old (Diana would have been 56 today), has stayed out of the spotlight since her sister's death 20 years ago. So, it's extra special that she'll be by her nephew's side at Windsor Castle in such a public appearance. Prince Harry is still very close to his aunt — she's even met Markle already, according to Vanity Fair.
Harry was only 12 years old when his mother died in a car crash in 1997, but she has been kept very much alive through the love of her family and the love of the public. As the Palace says in their press release, Harry and Markle "both feel honoured that Lady Jane will be representing her family and helping to celebrate the memory of the late Princess on the wedding day." But celebrating his mother's memory is something Harry has always done, especially in his love story with Markle.
In their first official interview together after announcing their engagement, according to Town and Country, Harry said that his mother would have been overjoyed for him: "I think she would be over the moon, jumping up and down, so excited for me. But then, as I said, [she] would've probably been best friends with Meghan."
Harry also used two diamonds from his mother's jewelry collection in Markle's engagement ring "to make sure that she's with us on this crazy journey together." Markle was touched by the sweet gesture, and said, "It's so important to me to know that she's a part of this with us."
His older brother, Prince William, also included their late mother in his own wedding to Kate Middleton in 2011. He proposed to her with the Princess of Wales' own engagement ring, a huge sapphire and diamond affair, according to Vanity Fair. At the ceremony itself in 2011, Diana's brother, Earl Spencer, and sister Lady Sarah were present to see their nephew tie the knot and become the Duke of Cambridge.
And while the wonderful woman who Princess Diana was will be present in tribute at the May 19 ceremony, there won't be any maid of honor. There was much speculation about whether Markle would have a maid of honor at all, and who it might be, but according to what a Palace rep told Us Weekly, Markle "has a very close circle of friends and she could not just choose one." What a fun problem to have, to have so many best friends. But her friends will be there on her wedding day, including Markle's close pal Priyanka Chopra, who confirmed to Us Weekly last month that she will be in attendance (though she hasn't picked out an outfit yet; hats are mandatory, by the way).
So, while it is heartbreaking that Princess Diana can't be there in the flesh for her son Prince Harry and his beloved bride-to-be Meghan Markle, she will certainly be there in spirit for the royal wedding on May 19 — and in their life together after. Is it getting teary in here or what?