Meghan Markle Will Visit A Charity For Sexual Assault Survivors On A Trip Next Week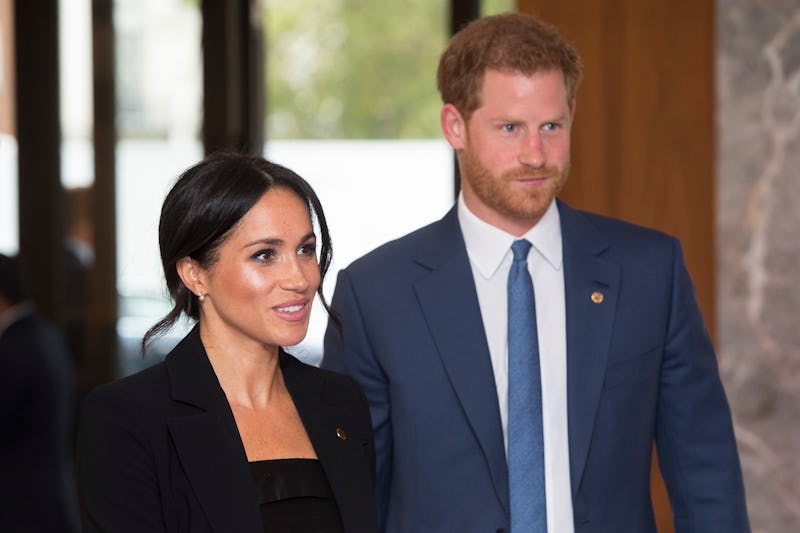 WPA Pool/Getty Images Entertainment/Getty Images
During their recently announced trip to Sussex next week, Meghan Markle and Prince Harry will visit Survivors' Network, a charity supporting survivors of rape and sexual assault. This will be the royal couple's first official trip to the English county, according to a tweet Kensington palace.
In addition to Survivors' Network, Meghan Markle and Prince Harry's October 3 trip will also include visits to the Royal Pavilion and Peacehaven Youth Centre.
The timing of the trip is even more noteworthy as it comes at a time when conversations about sexual harassment and assault are especially heightened in the U.S. In fact, the couple's trip was just officially announced today, the same day as Brett Kavanaugh's hearing for the Senate Judiciary Committee where Christine Blasey Ford will be testifying. Ford is one of three women who have come forward accusing Kavanaugh of sexual assault and harassment in high school and college since Trump nominated Kavanaugh as his pick for the open Supreme Court seat. In addition to survivors speaking out, walkouts are happening across the country to protest Kavanaugh's nomination for Supreme Court and to show solidarity for people who have experience sexual violence.
While the announcement of the royal couple's trip makes no specific mention of the conversation currently happening in the United States, it is undoubtedly a bright spot of support in a news cycle that has been barraged with allegations that are disheartening at best and triggering at worst.
The Survivors' Network is a U.K. rape and crisis center. Established in 1990, the organization was created by survivors for survivors. The charity works to support female survivors of childhood sexual abuse through resources like counseling and support groups. They also provide a step-by-step guide noting what to do if you've experienced sexual assault. "We've grown from those humble beginnings to an organisation that now offers a range of professional relevant services to survivors of any gender aged 14+ who have experienced any form of sexual violence," the organization's website states.
You can support Survivors' Network through Every Click, a site where you can raising money for charitable organizations by browsing online.
Meghan Markle has previously expressed her support for women's issues, speaking to the importance of movements like #MeToo and Time's Up. In February, she spoke at the inaugural forum for the Royal Foundation about the importance of not only giving women the space to be heard but for the public to actually listen:
"What's interesting is that I hear a lot of people saying when speaking about girls' empowerment, finding and knowing their worth, and women's empowerment as well, you'll often hear people say, 'You're helping women find their voices.' And I fundamentally disagree with that, because women don't need to find a voice; they have a voice. They need to feel empowered to use it, and people need to be encouraged to listen."
She also specifically called out women's movements supporting survivors of sexual harassment and assault as well as women's equality as a whole:
"[I] think right now in the climate that we're seeing so many campaigns, I mean, Me Too and Time's Up, there is no better time to continue to shine a light on women feeling empowered and people really having to support them—men included in that. It makes such a tremendous difference."
One of the most straightforward ways to support survivors of sexual assault is simply by showing up: voicing your support for people who have come forward, giving people space to tell their stories and actually listening, and voting for government representatives who support survivors. While Meghan Markle and Prince Harry's trip may not have an explicit political agenda tied to the current U.S. news cycle, their support is loud and clear.