Meghan Markle Has The Perfect Response To People Saying Women Need To "Find Their Voices"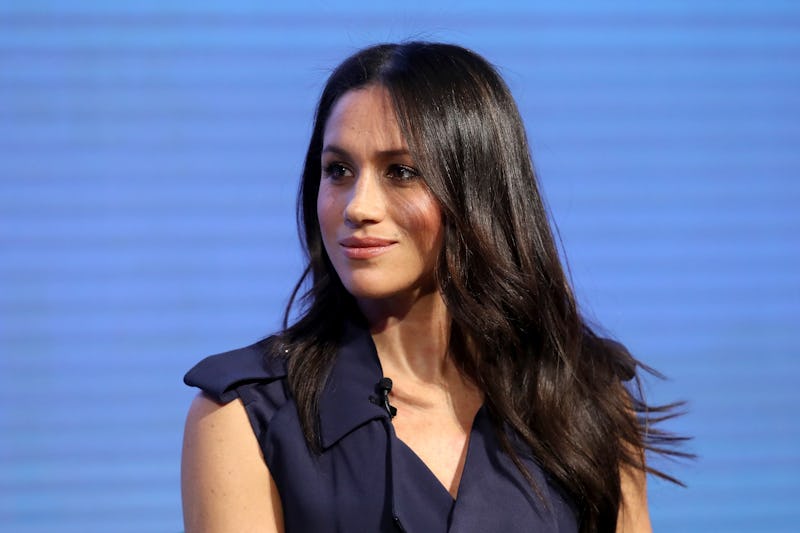 Chris Jackson/Getty Images Entertainment/Getty Images
During her first official royal engagement alongside her future in-laws and husband-to-be, Meghan Markle spoke out about women's rights, and had a pretty interesting take on what people are getting wrong. The issue came up at the Feb. 28 inaugural forum for The Royal Foundation — an organization that was launched in 2011 to enable Prince Harry, Prince William, and Kate Middleton to pursue their charitable passions. And even though Markle won't become an official patron of the foundation until after she marries Prince Harry, according to Us Weekly, she's long been an activist and already looked right at home.
When the event's moderator asked Markle about whether or not she'd continue supporting women's empowerment issues in her soon-to-be royal capacity, the 36-year-old replied, "I hear a lot of people speaking about girls' empowerment and women's empowerment — you will hear people saying they are helping women find their voices," she said. "I fundamentally disagree with that because women don't need to find their voices, they need to be empowered to use it and people need to be urged to listen."
According to The Cut, she then went on to say, "Right now … we're seeing so many campaigns — Me Too, and Time's Up. There is no better time than [now] to really continue to shine a light on women feeling empowered and people really helping to support them, men included in that. It makes such a tremendous difference."
Markle is undoubtedly an advocate for the current women's rights movements, but her comment about "helping women find their voices" provides a refreshing perspective about how we discuss these movements. She's right to point out that "women don't need to find their voices" — we all have a voice, but not everyone is comfortable and confident enough to use it.
The #MeToo movement and Time's Up initiative have certainly helped a number of women feel more empowered to speak out. These movements are slowly chipping away at the pressures and stigmas that have prevented women from openly discussing gender equality and their experiences with sexual harassment in the past — but, ultimately, what Markle is saying, is that we shouldn't assume that women don't have their voices already.
Markle has basically been a bonafide feminist since she was a kid, so there's no doubt that she knows what she's talking about. At 11, Markle appeared on Nick News to criticize a TV commercial for soap, which stated that "women all over America are fighting greasy pots and pans." Markle's on-air response — a result of a letter she wrote to the company that produced the product — was incredibly mature for her age. "I don't think it's right for kids to grow up thinking these things, that just mom does everything," she said.
In 2014, a 32-year-old Markle addressed attendees at the One Young World conference, where she discussed how she'd fought to change the way her character on Suits — Rachel Zane — was portrayed, according to ET. "This season every script seemed to begin with 'Rachel enters wearing a towel,' and I said, 'Nope, not doing it anymore. Not doing it.' And I called the creator, I was like, 'It's just gratuitous. We get it, we've already seen it once.' So I think at a certain point you feel empowered enough to just say no. I think it's a challenging thing to do if you don't know your worth and your value."
Now that Markle has a global stage to discuss philanthropic issues, she'll undoubtedly be able to do a lot of good. Whether or not she'll champion women's rights as one of her official royal issues remains to be seen, but her passion and perspective will always inspire.