Meghan Markle Wore One Of Princess Diana's Rings To Her Wedding Reception & Now I'm Sobbing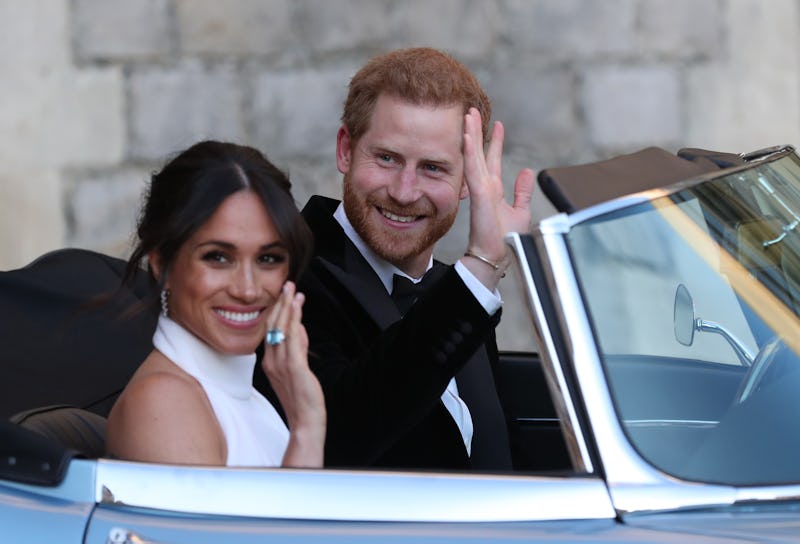 WPA Pool/Getty Images Entertainment/Getty Images
If you haven't heard, there was a royal wedding. Prince Harry and Meghan Markle are officially married, and they've taken on the titles of Duke and Duchess of Sussex. Now, it's time to party, but the duchess still had one last detail to make you cry. Meghan Markle wore Princess Diana's ring with her second wedding dress as her something blue, and honestly, it's so perfect that if you don't have a moment of saying, "aw," are you even human?
In case you missed it in all of the hubbub of the wedding ceremony, Markle and Prince Harry headed off to a lunch reception with the queen right after. While the new member of the royal family didn't appear to change clothes beforehand, prior to departing for their second, more intimate (read: party time) reception, she donned a new dress and new jewels. Because honestly, that Givenchy boatneck gown may have been stunning but can you do the electric slide in it? For the event, she chose a stunning Stella McCartney, high-necked halter gown, but it was the jewelry that is going to make a tear well in your eye.
According to Elle, for the reception, Markle chose a gorgeous, aquamarine ring that belonged to Prince Harry's late mother, Princess Diana, for the occasion, and it was a perfect choice.
The ring is a stunning aquamarine ring that Princess Diana wore in the past, and according to some Twitter users may have been a gift from her now husband, Prince Harry, not just on loan from Princess Diana's collection.
The ring wasn't just a sweet gesture, though. If you're wondering whether Markle participated in old, "Something old, something new, something borrowed, and something blue," adage, then it appears the ring may have been her something blue. While the public doesn't know her something old, the something borrowed could well be the tiara she wore for her ceremony that was on loan from Queen Elizabeth herself.
Princess Diana's ring, however, wasn't the only blue item that Meghan wore. According to the royal report Richard Palmer, her Aquazurra shoes that she paired with her stunning Stella McCartney reception dress were painted blue on the soles. Too cute, right? While Markle has been breaking royal tradition since she and Prince Harry became engaged, there seem to be some traditions that she wishes to keep.
How did the world of social media feel about her reception look? After all, it is the last time that the public will see the couple on the royal wedding day. They're off to a private, more intimate reception where they can celebrate freely.
Hint: People loved her second look.
Princess Diana's ring seemed to be a stand out for those who recognized it on Markle's finger.
Of course, people appreciated the homage to the late member of the family.
Some drew parallels between the ring given to Kate Middleton and Markle's ring.
Markle's aquamarine ring isn't her own bejeweled connection to Princess Diana, though. Prince Harry specifically designed his now bride's engagement ring, and it wasn't an off-the-rack kind of deal. Instead, it featured not one but two diamonds from Princess Diana's own collection. While it may not be her original sapphire ring (which actually now belongs to Prince William's wife Kate Middleton), the incredible thought that was clearly put into both Markle's engagement ring and her decision to wear the aquamarine ring will surely give you the feels.
With Prince Harry and Meghan Markle off to their private reception, the royal wedding day has basically come to an end. The fashion, however, will live on forever.