Meghan Markle Just Broke Another Major Fashion Rule Because She Does What She Wants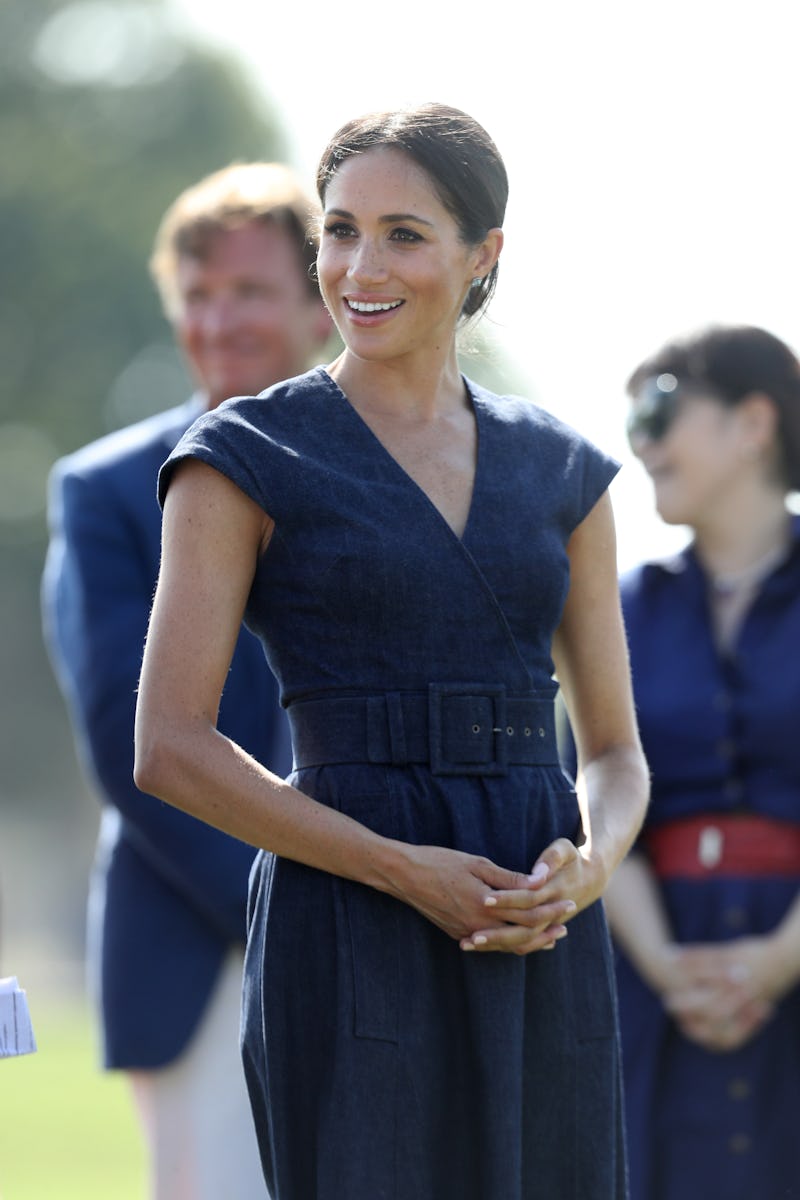 Chris Jackson/Getty Images Entertainment/Getty Images
When it comes to royal fashion rules, Meghan Markle typically abides by them. However, she is known to break arbitrary style rules dictated by the style gods above. Recently, Meghan Markle's black and blue outfit broke even more style guidelines, but it just proves that this duchess only abides by her own rules, and that's why she's so damn cool.
If you're not well acquainted with fashion's color pairing rules, apparently, you shouldn't wear black and blue together (yes, it does seem odd). While your casual denim and black tee-shirt are exceptions, when it comes to things like dresses, coats, trousers, and blouses, the rule applies. Except, the rule doesn't seem to apply to Markle because she wore a black dress with a gorgeous blue coat over top and proved that some fashion rules are clearly meant to be broken.
During an event for Markle's cookbook project Together: Our Community Cookbook, the Duchess of Sussex looking stunning in a black, high collared dress that was paired with a beautiful royal (no pun intended) blue trench coat. While some would say she committed a fashion faux pas, Markle looks as stunning as ever as she joined her mother at the celebration for the book.
Together is not actually Markle's cookbook, but she has been promoting it and even wrote the forward to the book. The book is actually a collection of recipes from the women of the Hubb Community Kitchen, a group of women who came together after the tragic Grenfell Tower fire to cook for their friends, family, and community. After meeting these women, Markle was clearly taken with what they were doing and has been lending her voice to the project.
While her fashion rule-breaking may be a big deal to some and is interesting in that she seems to not care at all what the stylish would have to say about her choices, her appearance at the event and decision to use her royal power to promote the book are paramount to it all. Markle, however, is not stranger to philanthropic causes and community fundraising. In fact, some of her most notable fashion moments have been at similar events.
Only a few weeks ago, Markle made headlines by wearing a blazer as a dress to a special performance of Hamilton. At the event, Markle and husband Prince Harry met Lin-Manuel Miranda and Harry even performed his own rendition of part of Prince George's Hamilton refrain. While her more daring dress made headlines, she and Prince Harry weren't just there for fun. Their appearance and the performance was to benefit Prince Harry's charity Sentebale which helps to support children in Botswana and Lesotho affected HIV and AIDS.
Seeing Markle break fashion rules is always fun as it's almost as if the world gets a sneak peek at who she is, someone who clearly does her own thing. Aside from her fashion choices, though, Markle is clearly passionate about making the world a better place, and that's the coolest thing about her.