Meghan Markle Wore A Blazer As A Dress & The Look Is Super Daring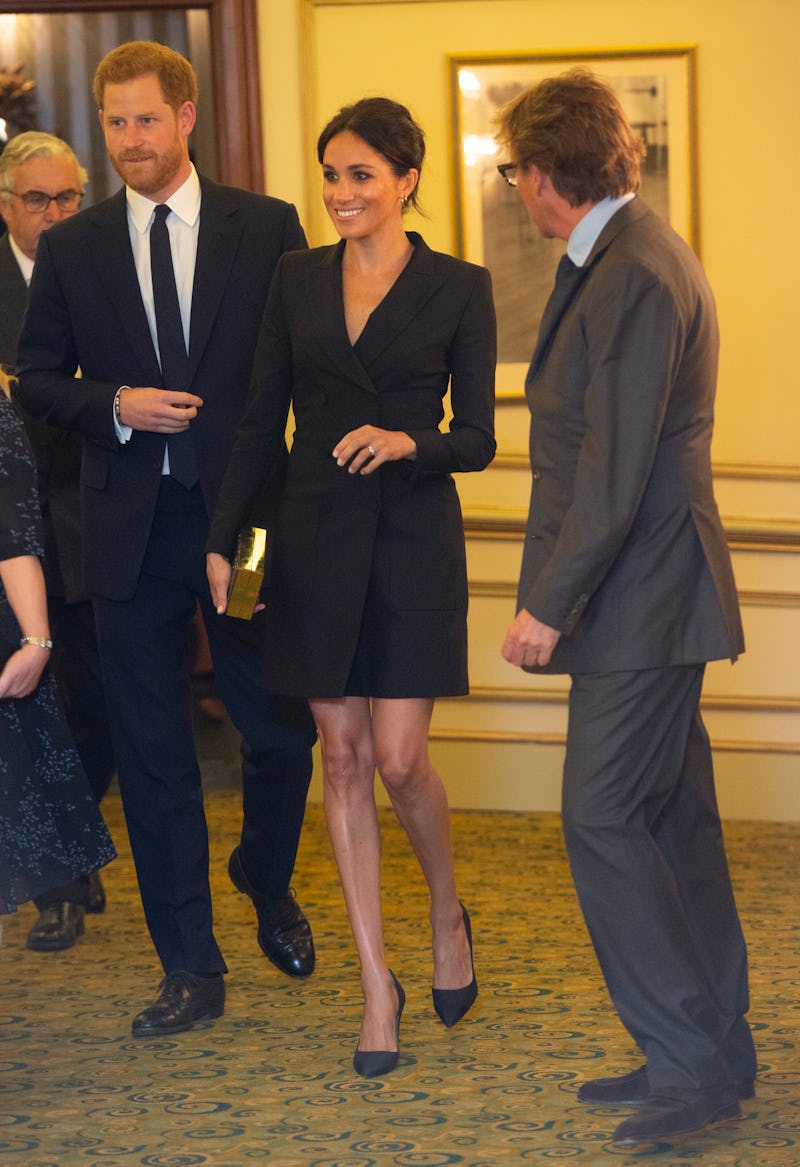 WPA Pool/Getty Images Entertainment/Getty Images
"Daring" isn't a word you'd typically think of when imagining the styles of the royal family. That is until now. Meghan Markle wore a blazer as a dress on Wednesday evening, and it was a totally different look than fans have seen from the actor since she became the Duchess of Sussex. Honestly, she was totally rocking it.
Markle and her husband Price Harry stepped out on Wednesday to attend a special performance of Hamilton in order to raise money and awareness for Harry's charity Sentebale. The charity helps children in both Botswana and Lesotho by providing, "programmes of education and care provide the tools and knowledge this vulnerable generation need to live long, happy, healthy lives in future."
Basically, it's the perfect outing for the pair who have had a special connection to Botswana. After all, they spent time there together during their dating life, and one of the diamonds on Markle's engagement ring is from there as well. Even if Senetebale were not Prince Harry's own charity, the pair attending a fundraising event that benefits children in Botswana would certainly not be shocking.
While the reason why the pair were there is obviously the most important part of their outing, it's hard not to notice that not only is Markle wearing a blazer as a dress, but gasp! It rises above her knee!
According to E!, the dress is from Judith & Charles (offers sizes S - L; 00 - 12) and retails for $595. Markle paired the mini with classic pumps and what seems to be a reflective clutch that gave the perfect pop to the all-black ensemble. Of course, you could see her engagement ring and wedding band shining on her finger.
The dress is definitely daring compared to styles the public has seen Markle in since she wed Prince Harry. She has attended several royal events that have seemed to call for more conservative clothing. While always stylish, her look on Wednesday evening definitely stood out for its more fashion forward look and shorter hem.
Markle's style is already becoming damn near close to iconic. Not only do items like her Mother jeans sell out, but people are consistently searching for alternatives to some of her more expensive styles. Her appearance with Prince Harry at Hamilton comes only a few hours after the announcement that her wedding gown (alongside Harry's uniform) will be placed on display beginning on October. Yes, Markle's style is so good that it's being display.
Okay, so maybe it's more so because she's royal, but it's hard to deny that her wedding gown was body unexpected and gorgeous, which is exactly what it should be.
While fans of the royal couple are used to seeing Markle in more conservative styles, her look at Hamilton on Wednesday evening could just be her most daring choice yet, and it was certainly a good one. After all, this was an evening event with her husband, it makes total sense that she wouldn't be wearing a dress down to her shins. Even if she were, though, let's be honest, Markle looks great in everything.