Check Out A Recipe From Meghan Markle's Cookbook 'Together'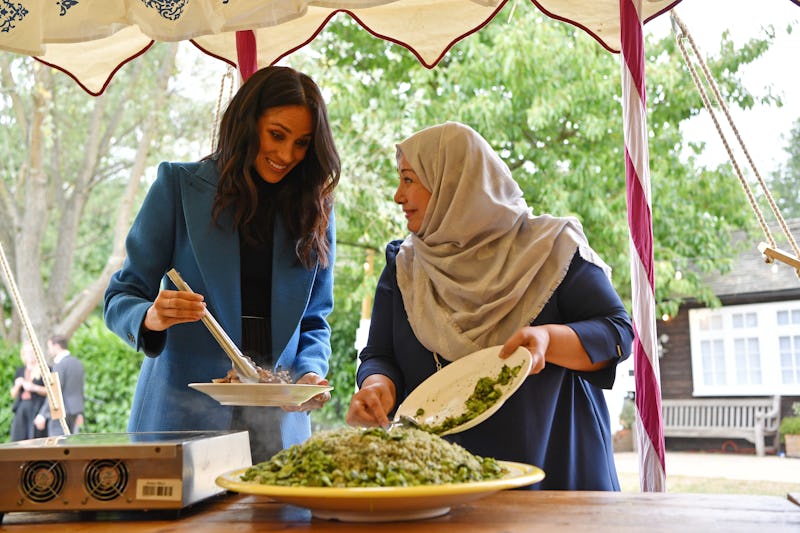 WPA Pool/Getty Images Entertainment/Getty Images
When Meghan Markle joined Britain's royal family this past May, everyone was speculating about what the Duchess of Sussex's first project would be. Many guessed that she would use her new platform to support women, especially since she has long been an outspoken member of the women's rights movement. With the recent announcement of her first solo charity project — Together: Our Community Cookbook — Markle is doing just that: supporting women. Bustle has a recipe from the book below!
Together, which hit shelves on Sept. 20 in the UK and will make its way to the U.S. on Sept. 25, is not your average collection of recipes. The book was actually inspired by Markle's time visiting women affected by the devastating June 2017 Grenfell Tower fire in London. That community of women, dubbed the Hubb Community Kitchen (Hubb means "love" in Arabic), found solace in the aftermath of the tragedy by preparing meals for their families and neighbors. They were united by their shared loss, but also by their passion for cooking as a way to bring people together, heal, and look forward to the future.
But when Markle learned that the women were only able to use the kitchen twice a week due to lack of funding, the idea for the cookbook was born. All proceeds from sales of Together will go toward keeping the Hubb Community Kitchen open and able to serve the community seven days a week.
In the forward to the book, Markle writes:
"I immediately felt connected to this community kitchen; it is a place for women to laugh, grieve, cry and cook together. Melding cultural identities under a shared roof, it creates a space to feel a sense of normalcy – in its simplest form, the universal need to connect, nurture and commune through food, through crisis or joy – something we can all relate to."
Together: Our Community Cookbook, $16.99, Amazon
The book features 55 recipes created by the women of the Hubb Community Kitchen, including one by 34-year-old Munira Mahmud, who was one of the very first members of Hubb. In the book, Mahmud writes:
"We all have a big dream for the wider community. We want to reach out to others who might benefit in our community, like the elderly, the homeless, children and teenagers. So it's not just to feed people from Grenfell, who don't have kitchens, but it's for the whole community. This community has given us so much since the fire, it's unbelievable. The love they've given us is unconditional, and the care. So this is a way of giving something back."
Mahmud's recipe for her Green Chilli & Avocado Dip is just one of the dishes you'll find in the book, which also includes recipes for Coconut Chicken Curry, Vegetable Samosas, and even a Caramelized Plum Upside Down Cake. If you've been looking for a collection of fall recipes, Together has how-to's for all the rich, savory, spicy foods of your autumnal dreams. Check out Mahmud's dip recipe below.
Munira Mahmud's Green Chilli & Avocado Dip
Ingredients:
2 green chillies; halved and de-seeded
25g fresh coriander
3 tbsp natural yogurt
grated zest and juice of 2 lemons
4 garlic cloves, peeled
flesh of 1 ripe avocado
4 tbsp mayonnaise (optional)
salt and pepper
Directions:
Put all the ingredients except mayonnaise into a food processor and blend until smooth. Taste and adjust the seasoning if necessary. Add mayonnaise (if you wish) and stir to combine, then transfer to a serving bowl.
Extracted from Together: Our Community Cookbook (Penguin Random House, $16.99, hbk). Photography by Jenny Zarins