Meghan Markle Wore THAT Bracelet Again & People Are Wondering What It Means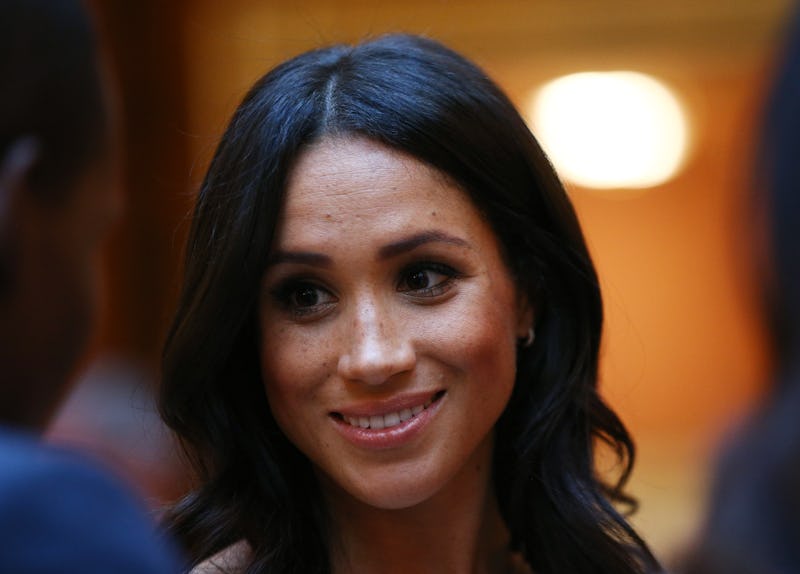 WPA Pool/Getty Images News/Getty Images
If there's one thing I know about the royal family, it's that they sure do love their jewellery. From glitzy tiaras to huge gemstone rings, the Queen's jewels are priceless. While some designs are worn simply because they look nice, others — like Meghan Markle's diamond cross bracelet — have a deeper meaning.
Before marrying into the royal family, Markle's choice of accessory received much less scrutiny. But now she is a fully-fledged Duchess, eagle-eyed royal fans are keen to know exactly where the 36-year-old's jewellery comes from and why she's wearing it.
Since the royal wedding, the Duchess of Sussex (as Markle is now known) appears to have taken a liking to diamonds. She regularly wears diamond earrings and has been seen sporting a simple sparkly bracelet every now and then.
On Tuesday night, Markle attended a glamorous ceremony in the form of the Queen's Young Leaders Awards at Buckingham Palace. Joined by her husband as well as the likes of David Beckham and the Queen (duh), Markle wore a blush pink Prada skirt suit, a Prada clutch, and £600 black Aquazzura heels.
Jewellery-wise, the latest addition to the royal family donned a pair of pink gold and diamond earrings by Vanessa Tugendhaft and the aforementioned cross bracelet that has got everyone talking.
Markle's diamond bracelet was first worn on a trip to Birmingham back in March. Seeing as a cross is a typical symbol of Christianity, it's possible that Markle's bracelet was created to mark her reported entry into the Church of England.
Growing up, Markle contended with a number of faiths. Her dad belonged to the Episcopal church, according to The Express, while her mum was of a different Protestant denomination. And although she went to a Catholic school, according to the Daily Mail, Markle was never actually part of the religion.
The Queen is the head of the Church of England, a role Prince Charles and later Prince William will ascend to. Before marrying Prince Harry, according to the Daily Mail, Markle chose to be baptised by the Archbishop of Canterbury. The secret ceremony was said to have been held in St. James's Palace with only Markle, Harry, Prince Charles, and Camilla in attendance.
After a big religious ceremony such as a baptism, it is customary to be gifted jewellery. For Christianity-based religions, these are often adorned with crosses, a scripture from the bible, or even a person's name. I was raised Catholic and was showered with bracelets and necklaces after my First Holy Communion. Markle, too, appears to have received the bracelet soon after her baptism.
It's unclear who gave Markle the expensive-looking present — or if she bought it for herself — but the women behind the What Meghan Wore blog believe that the bracelet could be a custom design by Canadian brand Birks. Why? Well, because Markle has repeatedly worn Birks items and the diamond-shaped tag on the back of her cross bracelet closely resembles the logo found on every Birks design.
However, this £525 Vanessa Tugendhaft bracelet looks almost identical to Markle's design, leading me to believe that this may be the design, too.
Markle isn't the first royal name to wear jewellery with a religious link, according to royal expert Grant Harrold. Namedropping Princess Diana's unmissable Garrard cross, he told Mail Online that "members of the royal family have been wearing jewellery with both personal or religious connections for centuries."
While some might jump to the conclusion that Markle is wearing a cross in public out of duty, Harrold notes that "this would have been a personal choice" for the royal. So while it may reportedly be compulsory to put on a pair of flesh-coloured tights, when it comes to jewellery, these royal women can make their own decisions, thank you very much.