Meghan Markle's Ex-Husband Just Got Remarried & The Deets Sound Beautiful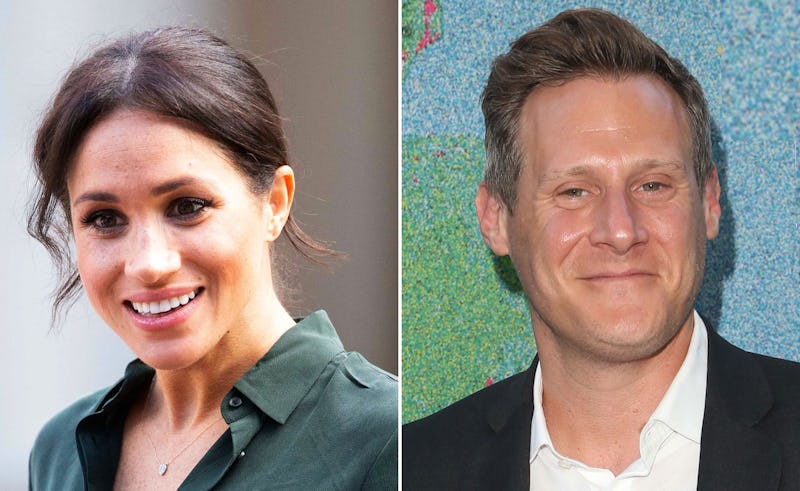 DAVID HARTLEY/Shutterstock/MediaPunch/Shutterstock
Meghan Markle and her royal beau Prince Harry have been an absolute delight to watch and have also given me faith that you can find love more than once, given that the new Duchess of Sussex was previously married. And it turns out, Meghan Markle's ex-husband Trevor Engelson has also remarried. He has been lucky enough to find a new love in Tracey Kurland, a nutritionist and daughter to multi-millionaire Stanford Kurland. The couple got hitched on Saturday and the pics of their big day have surfaced online, and honestly, it looks like it was beautiful.
According to the Daily Mail, Engelson and Kurland were married in a "low-key ceremony" over in Hidden Hills, California. In screenshots of Instagram stories and photos shared by the outlet, the pair looked seriously loved-up as they posed together. He wore a steel blue suit paired with a pink button up, while she opted for a sweet off-the-shoulder dress.
"The wedding seemed like a small, casual but intimate affair — a world away from Meghan's huge marriage to Harry in England," a source told the newspaper. "The bride and groom looked so much in love and very happy together. The whole event was so them."
I have reached out to Engelson and Kurland's reps for further comment, however, they are yet to get back to me. As soon as they do however, you will be the first in the know.
According to The Sun, Engelson and Kurland "have been dating for at least a year." The paper claims that Engelson proposed to his new life partner "just two weeks after [Meghan Markle] married Prince Harry." At the time, it was reported that he had posted an engagement announcement on Instagram to share the big news with his friends and family, along with a photo of Kurland showing off her new bling in Napa Valley. He apparently captioned the pic: "Luckiest guy I know! Get ready to party!"
Markle and Engelson dated for six years and were later married in a 2011 "beachfront ceremony" at the Jamaica Inn in (you guessed it) Jamaica. The pair were married for two years until deciding to divorce on the ground of "irreconcilable differences" in 2013.
At the time of their break-up, it was claimed that Markle's role in the U.S. series Suits contributed to the breakdown of the relationship. A source told the Daily Mail: "Meghan landed her role in Suits just a few months before they married. And despite being together for six years before getting hitched, things started to fall apart not long after the wedding. They really battled with long distances. Trevor was based in LA while Meghan was in Toronto, a five-hour flight away. It was a very difficult way to start married life."
I have contacted their spokespeople for comment but am yet to hear back.
IMHO, it's kind of ironic that long distance was what supposedly what drove the former couple apart, as distance proved tricky for both Markle and Prince Harry while they were dating. Given that she was still filming Suits in Toronto and he was either based in the UK or jet-setting round the world, it must have been challenging to schedule time together. However, royal biographer Andrew Morton has claimed that they had a plan in place to make sure their relationship didn't fizzle out.
The author of Meghan: A Hollywood Princess wrote: "The trick was in planning and timing. Many long-distance couples apply the twenty-one-day survival rule to make sure they see one another at least every three weeks. Harry and Meghan managed every fourteen days."
Well, that sounds like some pretty intense planning and a lot of air miles, but it seems like it was all worth it in the end. Here's hoping that both the Duchess and her ex-husband Engelson have both found true happiness now that they have moved on.