Meghan Markle's Extended Family Is In London, But Not For The Reason You Think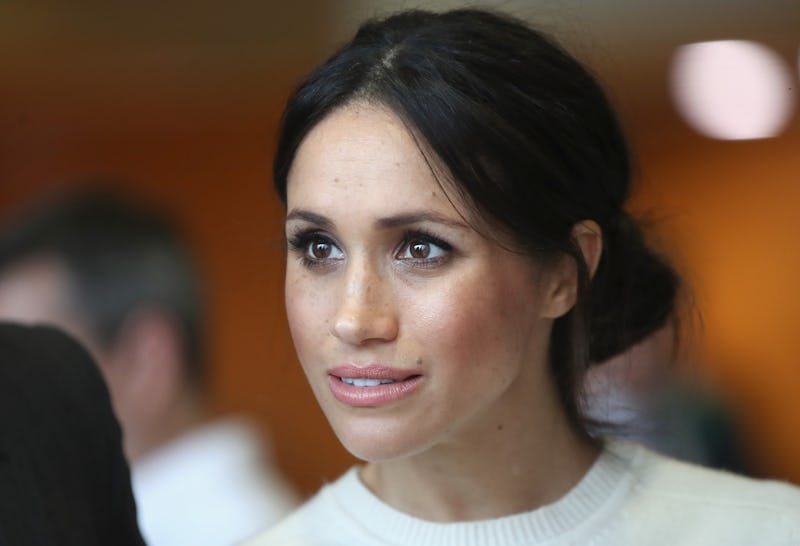 Chris Jackson/Getty Images Entertainment/Getty Images
Some members of Meghan Markle's extended family won't be attending the royal wedding, but they're still reportedly traveling to London for the week's festivities. TMZ reported Monday that Markle's extended family was seen in London arriving at Heathrow Airport, including her nephews and their mom. The Daily Mail adds that Tyler Dooley's girlfriend, Sandra Bazan, is also with the Dooleys in England.
The family members in question — Tyler and Thomas Dooley, and their mom, Tracy Dooley — weren't invited to the wedding, according to TMZ. The trio is related to Markle through her half-brother. Tracy Dooley was married to Thomas Markle Jr. for 11 years, making her the royal-to-be's former sister-in-law. The Dooleys aren't just in London as tourists, though. The outlet notes that the three family members will be serving as "special correspondents" on Good Morning Britain this week.
It's not too surprising that the Dooleys didn't receive invitations to the wedding, though. As the Daily Mail pointed out, Tracy Dooley has said that she hasn't seen Markle in roughly two decades. Tyler Dooley has appeared on Good Morning Britain in the past, too, and he shared on the program that the last time he spoke to Markle was three years ago. It's not clear why the family is qualified to appear on Good Morning Britain if they don't know Markle well enough to get invited to the wedding in the first place, but what they share on the show should be interesting, to say the least.
The news about the Dooleys' arrival in England comes after shocking reports involving Markle's dad, Thomas Markle Sr., allegedly faking paparazzi photos. Markle's father reportedly won't be attending the royal wedding, though he was originally set to walk his daughter down the aisle. The report came after Markle's half-sister, Samantha Markle, claimed she suggested her father stage photos for the paparazzi.
The pictures featured Thomas Markle seemingly engaging in pre-wedding festivities, including reading a book about British landmarks and getting his measurements taken, presumably for a tuxedo. But after the photos were revealed to be staged, some people speculated that Thomas Markle could have been paid for selling the images.
In her statement about the situation, though, Samantha Markle said the photos weren't about money. The Daily Mail shared a screenshot of a tweet she posted (her account is private), in which she states,
"The bad press over my father doing staged photos is my fault. The media was unfairly making him look bad so I suggested he do positive photos for his benefit and the benefit of the royal family. We had no idea he would be taken advantage of. It was not for money @KensingtonRoyal"
Samantha Markle also told ITV on Monday that she wanted her father "to be seen in a respectable light," which she didn't feel the media was portraying him in before the staged photos. The royal family hasn't commented on the photos or on whether Thomas Markle will attend the royal wedding on Saturday, though the palace has asked for "understanding and respect."
In a statement provided to The Guardian, Kensington Palace said,
"This is a deeply personal moment for Ms. Markle in the days before her wedding. She and Prince Harry ask again for understanding and respect to be extended to Mr. Markle in this difficult situation."
TMZ also reported that Thomas Markle suffered a heart attack six days ago, though it's not clear if his health has any impact on whether or not he'll be at the wedding. Sources have also speculated that Meghan Markle's mother, Doria Ragland, may walk her daughter down the aisle. Again, though, fans will have to wait until Saturday to see exactly how everything plays out — and what kind of "commentary" Markle's extended relatives will supply while they're in London.