The Super Meaningful Gift Meghan Has Earmarked For Her Daughter Will Make You Sob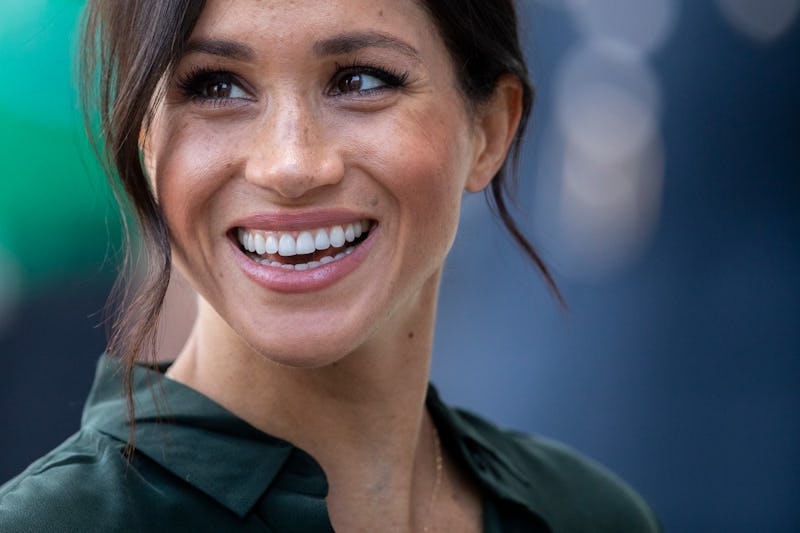 Dan Kitwood/Getty Images Entertainment/Getty Images
A bond between mother and daughter can be extremely special, especially when it comes to passing down objects of significance. From knick-knacks to jewellery, a seemingly trivial item can be priceless when love and memories are attached. The Duchess of Sussex is no different, and the gift Meghan Markle will give to her daughter has a very touching story behind it.
In an interview with Hello! Canada in 2015, Meghan Markle spoke of the time she celebrated Suits being picked up for a third season by purchasing at two-tone Cartier Tank Française watch. "I had it engraved on the back, 'To M.M. From M.M.' And I plan to give it to my daughter one day. That's what makes pieces special, the connection you have to them." I just can't, what a special, meaningful gift to pass down your daughter. I can already tell how close of a bond Meghan and Harry are going to have with their kids, and I don't think my heart can deal with it.
While my heart recovers, you could make a baby name assumption with this interview. "M.M." could point to a potential name, but I'm pretty sure Meghan engraved it as a personal gift to herself. Who knows, if Harry and Meghan do indeed have a baby girl, there are plenty of names that begin with M.
Kensington Palace announced the couple's news on Monday morning (Oct. 14), but plans for a future family has been in the cards since Meghan and Prince Harry's engagement. And even before the couple met each other, they were both pretty set on having kids.
Back in 2015, Meghan mentioned that having a family was a major part of her bucket list to Best Health magazine, and Harry mentioned plans for his future children to lead an ordinary life in a very open interview with Newsweek a couple years later.
"My mother took a huge part in showing me an ordinary life [...] thank goodness I'm not completely cut off from reality," he said. "People would be amazed by the ordinary life William and I live.
"I am determined to have a relatively normal life, and if I am lucky enough to have children, they can have one too." Much like Prince William and Kate Middleton have been like with raising their three children, I'm sure Diana's influence on the importance of an ordinary life will feed into Harry and Meghan's first child as well.
When asked if they were planning on having children in the near future in their first interview together, Harry jovially replied "Not currently, no," which made Meghan burst into laughter. Harry then continued: "No, of course, you know, one step at a time and hopefully we'll start a family in the near future."
Both Harry and Meghan issued similar statements while visiting the team behind the Shnuggle baby range. According to the Daily Mail, when the couple were offered a non-slip baby bath for free, Harry said: "How many have you got?" Meghan then "laughed and gestured to all the products," and added: "I'm sure at some point we'll need the whole [lot]."
Oh, I cannot wait to see these two as parents. Spring is just too far away.