Meghan Markle's Iconic Messy Bun Has A Brand New Look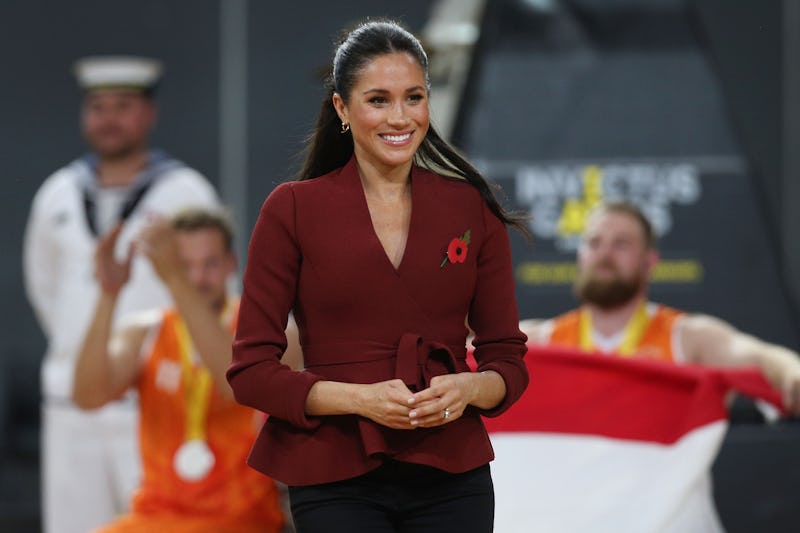 Lisa Maree Williams/Getty Images Entertainment/Getty Images
Meghan Markle's Australian fashions have been blowing up the internet. Now, though, she's made a beauty change that puts a new spin on one of her classic looks. Meghan Markle's messy bun got a brand new update while she was on a royal tour of Australia with husband Prince Harry, and the look is going to be so relatable.
Markle and husband Prince Harry attended the basketball finals for the Invictus Games while in Australia, and according to website What Meghan Wore, the duchess actually awarded the medals. Of course, this isn't Prince Harry and Markle's first time at an event for the games while in the country. In fact, they have attended a multitude of Invictus Games events because Prince Harry is actually the creator of the games. While the importance of the games shouldn't be overlooked, it's hard not to notice Markle's style while she's been there. After all, she's been wearing some casual and affordable pieces while at the events.
While her latest ensemble doesn't really meet the affordable mark, it's actually her hair that's notable. One of the styles Markle is known for is her signature messy bun, and at the games in Australia, it got a major update.
The duchess's hair was pulled away from her face in a half up half down style that featured a new take on her classic bun. Basically, the new style looks like the perfect second day hair style, and you'll definitely want to copy it.
Typically, Markle wears her hair in two distinct styles. There is, of course, her signature messy bun which sits just above the nape of her neck and almost always includes some pieces framing her face. Then, there's her gorgeous, blown-out waves. While she does change up those looks from time to time, she's definitely got staples that she seems to stick with. After all, she did wear her messy bun for the royal wedding.
Her latest look, though, is one of those departures from her typical look, but it also seems to take a note from the popularity of her messy up-do. Markle's half-up bun at the Invictus Games basketball final doesn't feature those same face framing layers, it retains the somewhat loose, somewhat messy look of the original bun. It's definitely a new take on that signature style, and it totally works for the duchess.
Of course, this new bun style isn't Markle's only hair departure from her two signature looks. Back in September, she stepped out rocking straight hair that had no wave in sight. The look actually fueled rumors that she was pregnant thanks to sister-in-law Kate Middleton also changing her hairstyle before her pregnancy announcement.
While it's unusual to see Markle wear a ponytail, she also did just that while in Australia. In fact, the Duchess of Sussex wore a ponytail not once but twice while on the royal tour. Given that hair stylist George Northwood is said to be traveling with her, it makes total sense that she may experiment a bit more. Plus, with a baby on the way, a good pony may be super useful.
While Meghan Markle's signature messy bun doesn't seem to be going any where any time soon, that doesn't mean she can't experiment with her look. Her latest half-up half-down bun is a new take on her classic look, and Markle is totally rocking it.